Paska kraffin: step-by-step recipe for the most beautiful pastries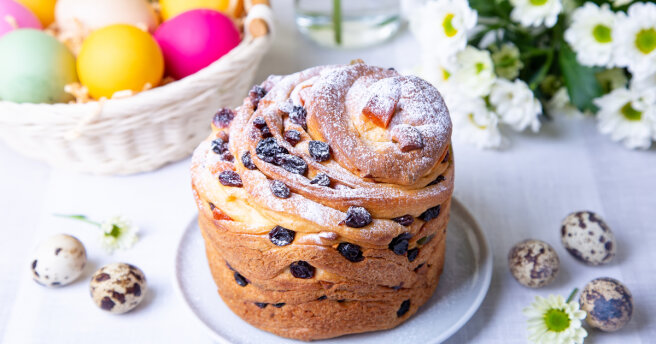 Three days left untilEaster is the biggest Christian holiday. We have already advised you different types of krashenok and told you what to cook for Easter.  Yes, and we have published quite a lot of pasok recipes, but do not remind you of the recipe for the most beautiful Easter baking — paski-kraffin. What it is, how to cook and with what filling-read on MustHub.
What is Easter kraffin?
Pasca kraffin is a new kind of dessert pastry that came to us from San Francisco. Now it is gaining huge popularity all over the world. This dessert is a kind of combination of puff croissant and muffin, hence the compound name. It is prepared from yeast puff pastry, both with and without filling.
How to make kraffin dough
Housewives have a lot of recipes. We will tell you about the most classic. To prepare the dough for kraffin, first you need to prepare the sourdough and activate the yeast. In warm milk, add 1 tsp sugar, 1 tsp flour and dry yeast. Mix well and leave in the heat for 10-15 minutes.
Take 2 yolks and 1 egg, add sugar, a pinch of salt and beat with a mixer, until the sugar crystals are completely dissolved and a light fluffy foam. In the pre-sifted flour, pour the yeast dough, warm melted butter, orange juice, orange zest, beaten eggs, and knead the dough.
How and what kind of filling to prepare for Easter kraffin
There are many variations for kraffin. For example, dried apricots + cranberries + almonds. Or light raisins + dark raisins + almonds. The third option is chocolate. Approximately 80 g of each filling should be placed on each kraffin. Spread the filling evenly and twist the roll.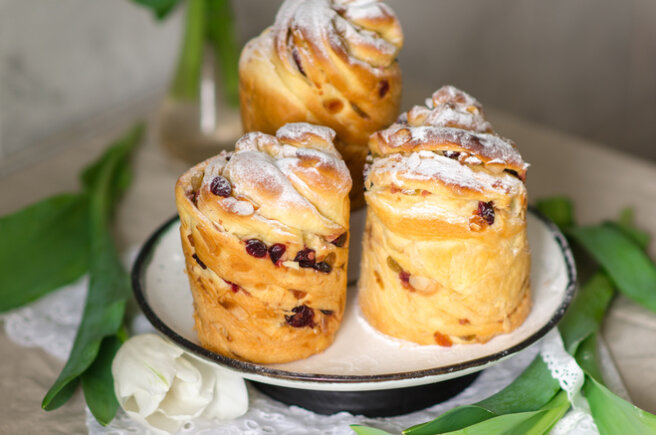 Paska kraffin-ingredients:
flour - 400 g
milk - 100 ml
dry yeast - 10 g
sugar - 100 g
salt-1/2 tsp
eggs - 2 pieces
egg yolks - 2 pieces
melted butter - 50 g
butter - 60 ml
raisins - 100 g
chopped nuts-50 g
candied fruits - 30 g
powdered sugar-bag
Pasca-kraffin-cooking:
 In a saucepan, heat the milk, add the yeast. Add 1 tsp of sugar, mix and leave for 15 minutes in a warm place.
In a bowl, beat the egg and yolks, add sugar. Whisk until white.
In a separate bowl, add flour and salt. In the flour, we make a recess (funnel) and pour in the yeast mixture. We also add eggs. Pour in the melted butter.
Knead the dough with your hands. We do this scrupulously, without rushing.
Then put it in a dry, clean bowl, cover with a towel and leave for 45 minutes. During this time, the dough should double in size.
Divide the dough into 2 parts - large and smaller. Roll out a large piece into a thin, long, wide layer. Brush with melted butter.
Sprinkle with raisins and nuts. Roll it up. 
Do the same with a smaller piece of dough.
Put both rolls on the board with the seams down and leave for 15 minutes. Then cut the larger roll in half, without cutting to the end of 5 cm.
Roll the first piece into a circle, make the bottom. Wrap the second one around the base. Do the same with the smaller roll.
Put the smaller paska on the larger one, press it down slightly. Place the pasca in a greased form, cover with a towel and leave for an hour.
Preheat the oven to 200 degrees. Bake the pasca there for about 15 minutes.
Cover the mold with foil, reduce the temperature to 180 degrees and bake for 40-45 minutes.
Cool the finished pasca in the form, carefully remove it. Sprinkle with powdered sugar, candied fruits, raisins.
Find out how to quickly and deliciously prepare a pasca of cottage cheese for a festive table.