Easter 2021: how to make puff pastry for baking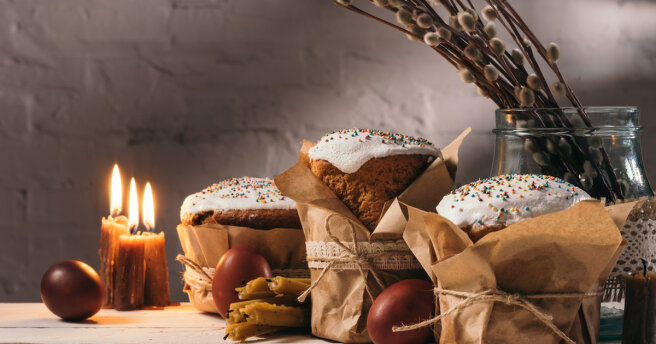 On Maundy Thursday, people traditionally start baking paski and painting eggs. There are countless recipes for Easter baking in cooking, MustHub offers you to prepare an amazing puff pastry pasca.  Pasca made of rich puff pastry - light, airy and incredibly beautiful! Jam and nuts are evenly distributed in the baking, it is well baked, has a layered structure, after cooling it does not crumble. Prepare Easter cakes with us andEaster 2021 will be the most delicious for you.
Ingredients for puff pastry pasty:
Yeast - 1 package.
Milk - 250 ml
Butter - 100 g
Sugar - 50 g
Flour - 400 g
Salt - 0.5 tsp.
Jam (any) - 70 g
Nuts (any) - 100 g
Chicken egg - 1 piece
Vanillin - 1 sachet
Ingredients for the glaze:
Powdered sugar - 50 g
Egg white - 1 piece
Salt - 1/2 tsp.
Lemon juice - 1 tbsp.
Cocoa - 1 tbsp.
Ingredients for mastic:
Powdered sugar - 100 g
Milk powder - 100 g
Condensed milk - 100 g
Food grade dye 
Starch - 2 tbsp. l.
Preparation of puff pastry paschi:
In a deep bowl, pour warm milk, add salt, sugar, melted butter, add yeast, 100 g of flour. Mix everything, cover the bowl with a towel and put it in a warm place without a draft for half an hour. 
After 30 minutes, beat in the egg, slowly pour in the flour, vanilla, all the yeast and knead the dough. Knead the dough thoroughly, and then roll it into a ball, put it in a deep bowl, cover with a towel and set aside for an hour in a warm place.
Divide the dough into 8 parts, roll each of them into a ball. Roll the balls into flat cakes (the size of the base of the paski).
Brush the first tortilla with butter, sprinkle with nuts and place it on the bottom of the pasok baking dish.
Smear the second tortilla with jam and put it in the mold on top of the first one.
According to this principle, alternate layers until the end-nuts-jam-nuts-jam.
The topmost tortilla smear only with oil, cover with a towel and leave in a warm place without drafts for half an hour. Then remove the towel and put it to bake in the oven for 30 minutes at 180 degrees.
As for the glaze: whisk the protein with a pinch of salt. Add powdered sugar, cocoa, lemon juice and whisk again. We take a brush and lubricate the top of the paste with glaze. Leave to dry for 4 hours.
Now we make mastic: mix powdered sugar with condensed and powdered milk and whisk for about 10 minutes, until it thickens. Then add the food coloring, mix, roll up as a dough and cut out the mastic decorations for the puff pastry pasty.