Patacones: a simple recipe for a traditional Costa Rican banana dish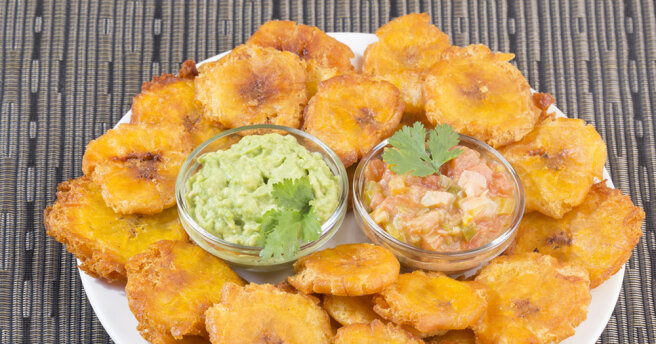 Patacones-tortillas made from fried green bananas-are prepared in many Latin American countries. Host of the travel show "Heads&Tails. Wonders of the World", which shows the New Channel, Vasilisa Khvostova tried them in Costa Rica and remained under pleasant impressions.
The advantage of Costa Rican national cuisine is that it is simple, which means that it is affordable. In any roadside cafe, you can prepare an inexpensive meal. I, for example, ordered the cheapest and most popular dish of local cuisine — patakones, - said Vasilisa Khvostova. — These are banana tortillas, but not regular ones, but vegetable ones. They are also called platano here. The taste of patacones is not at all like a banana — more like a potato pancake or a corn tortilla.
To prepare patacones, you need a minimum of ingredients:
Sycamore (large vegetable banana)
Olive oil
Preparation:
Make a vertical incision on the banana and remove the thick skin from it.
Cut the platano diagonally into medium-thick slices and lightly fry them on both sides in olive oil.
When the bananas are slightly softened, put them on a board and mash each plate into a flat cake with the bottom of a glass or mug.
Once again fry the bananas in a frying pan and sprinkle with coarse sea salt.
I was served patacones with lettuce, tomatoes, bean paste and vinegar dressing,
To view the photo, scroll to the right.
Watch the whole family travel show "Heads&Tails. Wonders of the World "on Saturdays at 10: 00, as well as the final editions of the holiday season" Heads&Tails. 10 years " sVera Brezhneva and Verka Serdyuchka this Saturday, April 24, from 10: 00 on the New Channel.
And in addition to patakones, you can prepare delicious lean salads.