Easter 2021: TOP 5 delicious and beautiful dishes for children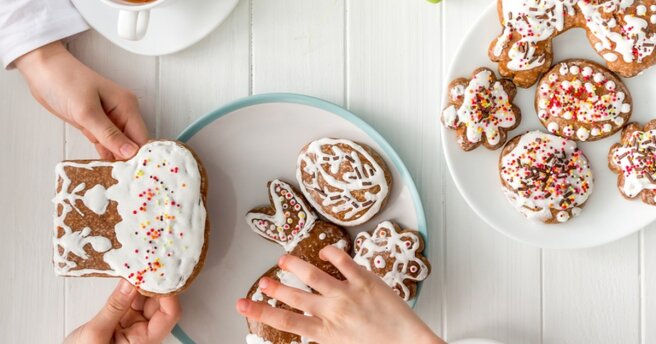 Easter is a family holiday, and children are waiting no less than adults. However, not all dishes from the festive table are suitable for them. What treats can you come up with to feed the children delicious, festive and at the same time useful?
MustHub has collected for you five elegant, interesting universal recipes of dishes that you can prepare for a child, but they will also appeal to adults.
Rabbit buns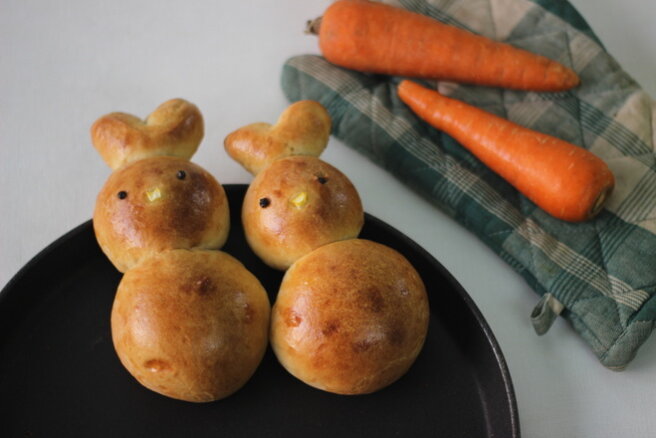 On the Easter table, there are gifts from the bunny-fluffy yeast and bright carrot buns. It is difficult to pass them by, because they are appetizing, elegant and very tasty.
Ingredients:
1 carrot,
1 egg (stir it immediately and leave a small part for the subsequent coating of buns)
50 g butter,
1 tablespoon of milk,
300 g flour,
2 tablespoons sugar,
2 g vanilla sugar,
1 bag of dry yeast,
a pinch of salt.
Preparation:
Mix 2 tablespoons of flour, dry yeast, sugar, vanilla sugar and milk. Let it stand in the heat for a while.
Grate the carrots on a fine grater.
Add the egg, sifted flour, salt, carrots and warm butter to the sourdough that has come up.
Knead the dough, cover and leave to approach for about an hour.
Knead the dough and leave it to fit again.
Divide the dough into small pieces, roll them into balls, so that you get two large balls, one smaller.
Form bunnies from the dough: two balls – the torso and head, and the third ball is slightly flattened – these will be ears.
Place the hares on a parchment-lined or greased baking sheet so that there is a distance between them. Cover and leave for 20 minutes – they will fit a little more.
Lubricate the buns with protein and send the baking sheet to preheated to 200°Place in the oven for 15-20 minutes.
Ready-made buns a little sprinkle with water and cover with napkins – so they will become softer.
Pumpkin and mashed potatoes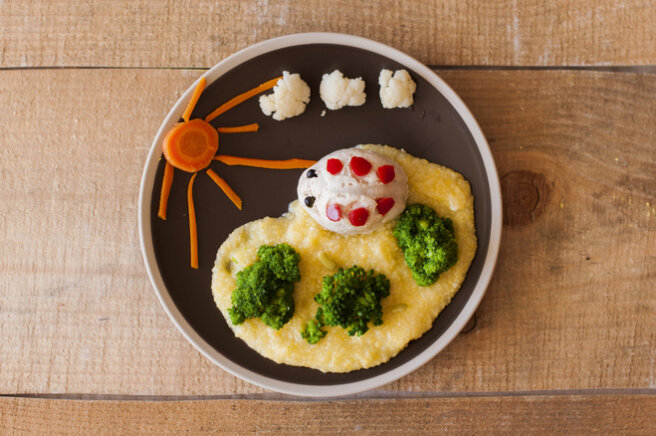 Mashed potatoes with the addition of pumpkin – not only useful, but also very tasty. Pumpkin adds unusual tenderness and pleasant sweetness to an ordinary dish. Not only the child will like it, so prepare it with a reserve.
Ingredients
200 g of potatoes,
100 g of pumpkin,
1 teaspoon butter,
2 tablespoons of milk,
salt to taste.
Preparation
Cut the potatoes and pumpkin into small pieces.
Fill the vegetables with water, salt and cook until tender after boiling for about 20 minutes.
Drain the water and mash the vegetables until smooth.
Add butter, boiled milk and make a puree.
If necessary, if the puree is steep, add more milk or broth.
Steamed turkey cutlets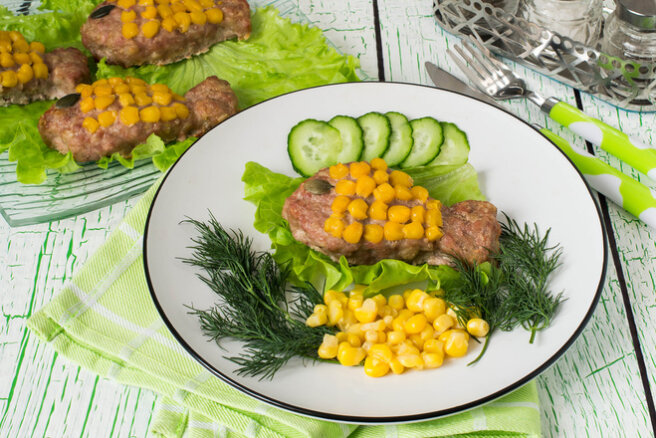 We offer you to cook delicious and very healthy, as well as dietary, steamed turkey cutlets. These cutlets are very good to cook for children, for those who need to adhere to a diet, and for those who monitor their weight.
Adding vegetables to the turkey mince for cutlets gives the cutlets a richer taste and a beautiful color, because usually steamed meat does not look as appetizing as fried.
Ingredients:
400 g turkey fillet,
1 onion,
1 small carrot,
a little dill,
1 tablespoon olive oil,
salt to taste.
Preparation:
Finely chop the onion. It is better not to twist it in a meat grinder, because it will lose juice and add bitterness.
Grate the carrots on a fine grater.
Chop the dill.
Put the turkey fillet through a meat grinder.
Mix the minced meat with carrots, onions, dill, salt and pour in the olive oil.
Mix the minced meat well, and then beat it off, picking up a small portion in your hand and throwing it back into the bowl with force.
Form cutlets – round, oval or in the shape of some small animal.
If there is no steamer, cutlets can be prepared using a colander and a saucepan.
Put the cutlets in a colander, place it in a pot of boiling water so that the water does not reach the level of the cutlets, cover with a lid and cook for 15-20 minutes.
Stuffed Eggs Chicken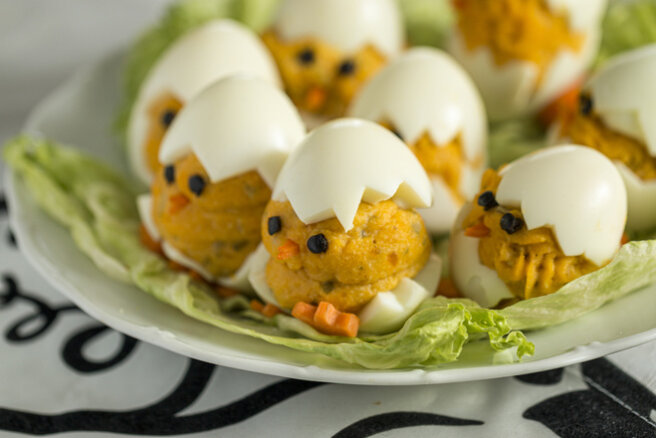 There are a lot of eggs going to be collected for Easter. They can be used to make cute chickens that children will love. And adults will not refuse such a snack.
Ingredients:
5 eggs,
100 g of cheese,
1 carrot,
10 highlights,
1 tablespoon sour cream or mayonnaise,
salt to taste.
Preparation
Cook the carrots, cool them, and cut out the legs and beaks. Rub the rest of the carrots on a fine grater.
The cheese is also rubbed on a fine grater.
Cut the boiled eggs so that you get two neat beautiful lids. The rest of the protein and yolk are crushed.
Combine the chopped eggs, carrots, cheese, sour cream (or mayonnaise), salt and mix well.
Stuff the lids with the mixture and feed the chickens.
Stick in carrot legs and beaks, and make eyes out of raisins.
Easter cookies with icing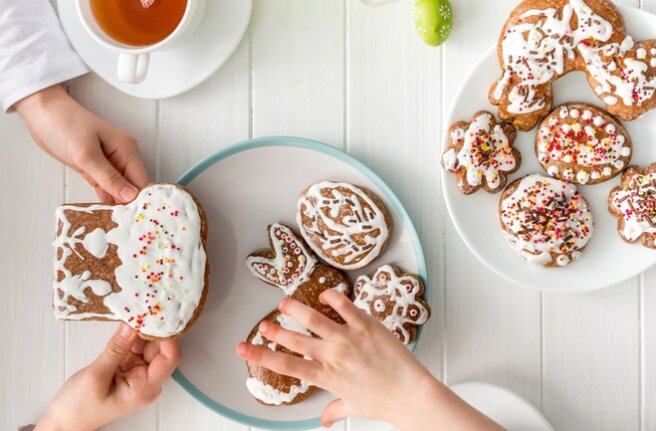 In addition to festive baking, make elegant Easter cookies together with the children. There is a place to turn around for children's imagination and creativity.
Ingredients
for the test:
200 g butter,
1 egg,
350 g flour,
130 g of sugar,
5 g vanilla sugar,
5 g baking powder,
pinch of salt,
for the glaze:
1 egg white,
100 g powdered sugar.
Preparation
Mix all the loose ingredients: sifted flour, sugar, vanilla sugar, baking powder and salt.
Add to the bulk products cut into small pieces of soft butter and grind everything into crumbs.
Add the egg to the dough and mix well again until smooth.
Roll the dough into a ball, wrap it in cling film or a napkin and put it in the refrigerator for half an hour.
Mash the cooled dough and roll it out into a layer 5-8 mm thick.
Using a shaped knife or molds, cut out the cookie blanks.
Place the cookies in a parchment-lined baking dish and bake in a preheated 200°C oven.In the oven for 15-20 minutes.
Get the pechremove from the oven and allow to cool completely.
Whisk the protein with powdered sugar until thick.
Decorate the cooled cookies with protein glaze using a pastry bag.
Bon Appetit!