What to cook for Easter: TOP 5 delicious meat salads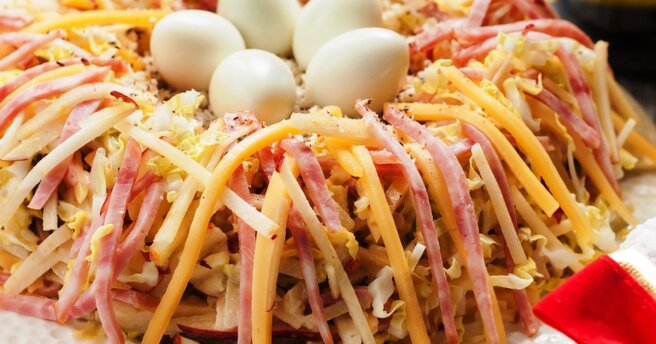 Every hostess with excitement and joy is waiting for the bright holiday of Easter and, of course, thinks in advance what to cook for the Easter table, buys food, makes recipes and menus.
MustHub decided to share with you delicious and varied recipes for meat salads for Easter. Choose to your taste, which is more like it, and cook with pleasure.
Elegant salad " Easter Nest"
Prepare a festive festive themed salad that looks very much like a nest with eggs.
Ingredients:
200 g chicken fillet,
3 chicken eggs,
5 quail eggs,
150 g hard cheese,
4 potatoes,
2 cucumbers,
2-3 sprigs of dill and green onion,
100 g of mayonnaise,
1 cup vegetable oil,
bay leaf,
allspice,
salt to taste.
Preparation:
Grate the potatoes on a grater for Korean carrots, wash, dry and fry in small portions until golden brown.
Place the fried potatoes on a paper towel to drain the fat.
Boil the chicken fillet in salted water with spices until tender, cool and cut into strips.
Cook hard-boiled eggs. Leave the quail to decorate the salad, and the chicken to grind.
Cut the cucumbers into strips.
Rub the cheese with a thin long straw.
On a wide dish, lay out the cooled potato straws, forming a "nest".
Put cucumbers on the potatoes, sprinkle with grated egg, salt and make a thin mayonnaise mesh.
Put the chicken and cheese straws on top to make a nest, as in the photo.
Garnish with quail eggs and herbs.
What to cook for Easter: Cobb meat salad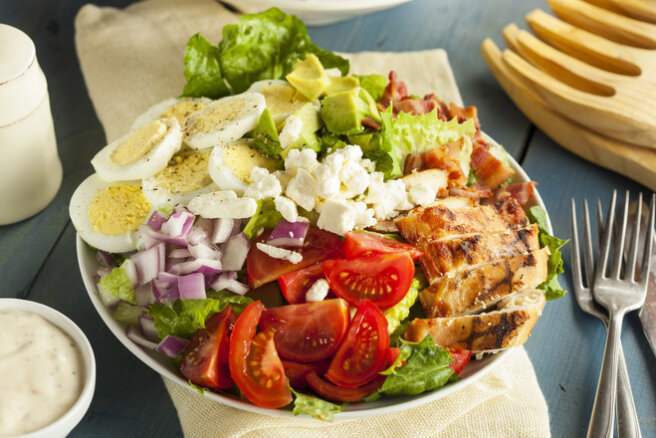 An amazing, elegant and democratic salad, which has everything, and at the same time everyone can put themselves as many ingredients and in such a proportion as they wish.
Ingredients:
500 g turkey fillet,
200 g of bacon,
2 eggs,
50g cheddar cheese,
half a lemon,
5 cherry tomatoes,
100 g canned corn,
50 g of olives,
lettuce leaves,
4 tablespoons dry white wine
4 tablespoons olive oil
2 cloves of garlic,
2 teaspoons mustard,
salt to taste.
Preparation:
Add salt to the turkey and marinate for half an hour in a mixture of lemon juice and 2 tablespoons of oil.
Bake the fillets in the oven for 1.5 hours at 180 degrees. Cool and cut into small pieces.
Hard-boiled eggs, cool and cut into circles.
Thinly slice the bacon and brown it in a frying pan.
Lettuce leaves lay out the bottom of the salad bowl. Top with strips of crumbled cheese, corn, olives, sliced turkey, tomatoes, bacon and eggs.
All a little salt.
Mix the wine, olive oil, garlic, mustard, salt in a blender and serve the sauce separately.
Salad for Easter " Ruby"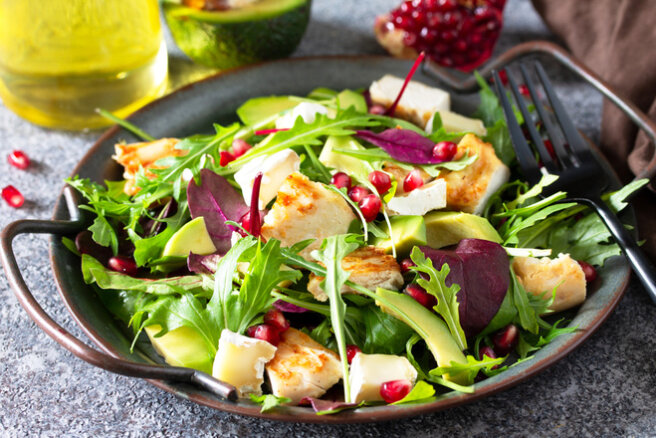 Chicken is perfectly combined with avocado, and the salad got a beautiful appearance thanks to the scarlet splashes of pomegranate.
Ingredients:
400 g chicken fillet,
200g avocado,
half a grenade,
bunch of greens (arugula, basil),
1 tablespoon olive oil,
ground black pepper to taste,
salt, to taste.
Preparation:
Boil the chicken fillet in salted water until tender for 20-30 minutes.
Cut the meat into small pieces.
Peel and slice the avocado.
Chop the greens.
In a salad bowl, mix the chicken, avocado, herbs, sprinkle with pomegranate seeds, salt, pepper and a little olive oil.
Portioned Olivier with beef in tartlets
We offer you an original recipe for a festive Olivier, with a beautiful serving, but not in a salad bowl, but in tartlets.
Ingredients:
300 g beef,
5 chicken eggs,
4 potatoes,
2 carrots,
1 onion,
1 sweet and sour apple,
3 pickled cucumbers,
half a lemon,
100 g canned green peas,
100 g of mayonnaise,
spices to taste,
salt to taste,
tartlets.
Preparation:
Boil the beef until tender in salted water with bay leaf and allspice. Cool and cut into small cubes.
Potatoes and carrots are also cooked, cooled and cut into cubes.
Hard-boiled eggs, cool and finely chop.
Peel the apple from the skin and core, cut into cubes and sprinkle with lemon juice.
Cucumbers, if necessary, peel from the skin and also cut into cubes.
Finely chop the onion.
Combine all the ingredients, add salt and pepper, season with mayonnaise and mix.
Once the olivier is infused, place small portions in the tartlets just before serving.
Bright Easter salad with pumpkin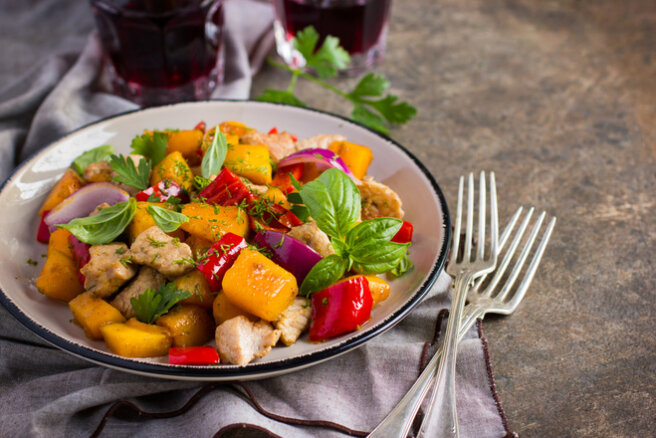 The salad according to the proposed recipe turns out bright and beautiful – like the Easter holiday itself.
Ingredients:
200 g ham,
250 g pumpkin,
1 red onion,
1 bell pepper,
1 cucumber,
2 tomatoes,
1 clove of garlic,
bunch of herbs: parsley, dill, basil,
1 tablespoon lemon juice,
2 tablespoons vegetable oil,
ground black pepper to taste,
salt to taste.
Preparation:
Cut the pumpkin into small cubes, fry in vegetable oil, add a little salt and cool.
Cut the ham and all the vegetables into large cubes and put them in a salad bowl
Coarsely tear the greens and add them to the salad bowl.
Combine the crushed garlic, salt, pepper, lemon juice, vegetable oil, mix and add the salad.
Add the roasted pumpkin and serve.
Bon Appetit!