Cottage cheese Easter: TOP 3 best recipes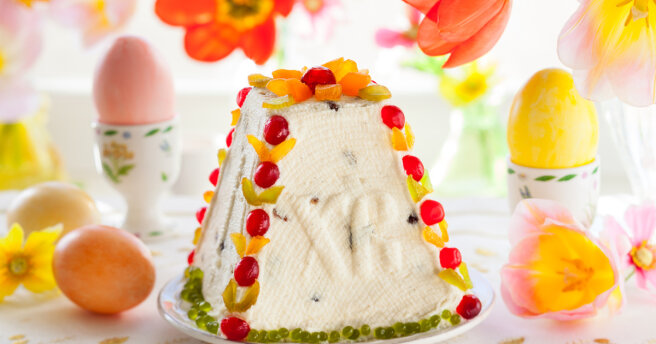 In addition to the usual flour pasty on theEaster was a tradition to cook also cottage cheese Easter. This festive culinary product was made only from cottage cheese, without the addition of flour.
Easter according to the traditional old Ukrainian recipe did not need either cooking or baking. According to custom, sour cream, butter, candied fruits, raisins, cookies, and chocolate were added to the cottage cheese. Easter according to the Old Kiev recipe was decorated with crosses made from the famous Kiev dry jam. Curd Easter was laid out in a pile on a festive dish, decorated with a" crown "of parchment paper, painted with Easter symbols, "belted" with lace, intertwined with a crown of flowers. They called the old cottage cheese Easter "Princess", "Princess", "Lybid", "belted", etc.
The editors of MustHub invite you to try to embody both a traditional recipe and modern versions of cottage cheese pasty. 
Cottage cheese Easter " Knyazha"
Ingredients:
Cottage cheese - 1 kg
Sugar-1.5 cups
Butter - 200 g
Sour cream (fat) - 200 g
Vanilla sugar - 20
Nuts, raisins, marmalade, candied fruits - to taste
Cooking method
Well grind the cottage cheese to a homogeneous consistency through a sieve, so that there are no lumps.
Melt the butter and mix with the sugar.
Add the sour cream and mix thoroughly.
Chop nuts, marmalade, and candied fruits into crumbs. Raisins, dried fruits, pre-soak in water to soften them.
Carefully mix the cottage cheese and all the ingredients until smooth.
Put the curd mass in a form for Easter, covered with gauze or napkins, and put it in a cold place under a light press for 12 hours or a day. Periodically drain the serum from the mold.
When the Easter is ready, carefully pull out of the mold, remove the cheesecloth and put it on a platter. Decorate as you please. To do this, you can use cookie crumbs, nuts, candied fruits, chocolate, and the like.
Baked cottage cheese Easter with zest
Ingredients:
cheese - 800 g 
eggs - 6 pcs.
sour cream - 1 cup
sugar - 1 cup
cinnamon - 1 tsp
lemon zest - 2 tbsp.
raisins - 1 cup
flour-0.5 cups
baking powder - 0.25 tsp.
Cooking method
Grind the cheese to a smooth consistency.
Mix eggs, sour cream, sugar, cinnamon, zest, baking powder with a mixer at medium speed.
Put the curd mass in a bowl, gradually add the flour and mix thoroughly. Then add the raisins.
Put it on a form with parchment paper, greasing it with oil.
Put the mold with the curd mass in the cold for 25 minutes.
Brush the top with whipped whites and bake in a preheated 180 degree oven for 40-50 minutes.
Ready-made cottage cheese Easter cool to room temperature and put in the refrigerator overnight.
Decorate Easter with candied fruits, dried fruits or nuts.
Cottage cheese pasca with condensed milk
Ingredients:
cottage cheese — 600 g
butter — 100 g
sour cream — 3 tbsp.
condensed milk — 200 g
raisins — 100 g
vanilla sugar — 1 tsp.
powdered sugar-1/2 cup
Cooking method
Soak the raisins in hot water for 20 minutes.
Melt the butter at room temperature.
In a blender, whisk the cottage cheese and sour cream until smooth, so that there are no grains left.
Add vanilla sugar, condensed milk and melted butter to the curd mass. Whisk in a blender until smooth.
Add the raisins and mix well. 
The form for paski was covered in two layers of gauze and spread the curd mass. Cover the top with gauze and put the yoke. Put it in a cold place for 12 hours. 
Carefully remove the finished Easter from the mold, remove the cheesecloth and put it on a dish, sprinkle with powder. Decorate as you like.