Dolma with rice: we cook delicious, though lean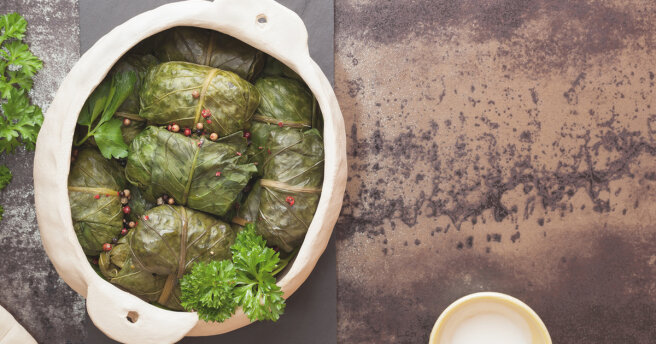 Lent continues, namely, the third week of Lent has begun. KEaster 2021 we prepare delicious lenten dishes and learn new culinary delights. If we can't fly to Europe right now, then Europe will be right next to us - MustHub offers you to try cooking dolma in Greek (dolma with rice). This is a simple dish with the usual ingredients for us. You only need to get grape leaves.
What kind of rice to choose for dolma in Greek?
In this case, the rice variety does not matter - you can take any long-grain or round-grain. The main thing is to wash it well.
Dolma with rice: ingredients
rice - 1 cup
dill - 5 sprigs
parsley – 1 sprig
mint - 5 sprigs
prepared grape leaves - 30 pieces
walnuts - 100 g
medium onion - 2 pieces
olive oil - 1 tbsp. l
lemon juice - 2 tbsp. l
paprika, pepper, salt – to taste
flour - 1 tbsp. l
egg - 2 pieces
Dolma with rice: step-by-step preparation
Wash the rice in running water and soak it in cold water for 3 hours.
Then boil the water, add salt and add the soaked rice.
After 10 minutes, remove the rice from the heat and set aside to cool to room temperature.
Finely chop the onion.
Walnuts are ground together with a pinch of salt, black pepper and paprika.
Chop the greens. 
Mix the rice, onion, walnut, herbs and 2 tablespoons of olive oil.
Put the grape leaf with the matte side up, remove the petiole.
Put in the middle of the sheet 2 tsp. filling, roll up the envelope.
Put the large leaves on the oiled bottom of the cauldron, in which the dolma with rice will be prepared. Lay the dolma tightly on the leaves and lightly pour olive oil.
Fill the dolma with water so that it is covered by 2 cm. Cover with a plate, place the weight on top, cover with a lid and put on medium heat. Cook until boiling. After boiling, reduce the heat to a minimum and cook for 30 minutes. After-pour in the lemon juice, and after 30 minutes remove from the heat.
Now the sauce. Mix the flour with half a cup of water. Beat in the eggs and lemon juice. Heat the mixture over low heat, stirring constantly. When the sauce becomes thick, remove from the heat. Fill with dolma sauce when serving.
You're gorgeous!