Lent 2021: a variety of recipes for lean tartlets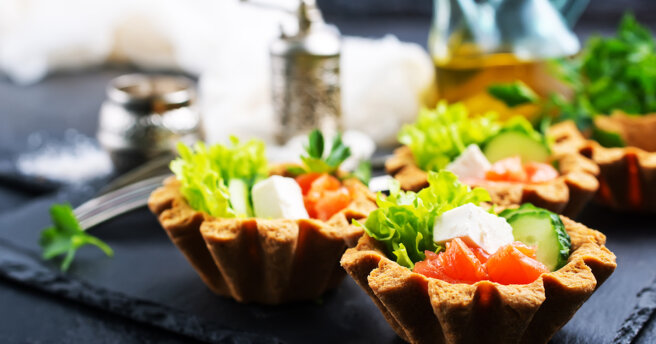 If you want to please your family or friends with interesting, delicious and easy-to-prepare snacks, but you do not know what would be so original to come up with for Lent, you have come to the right place. In our article, you will find some great options for your homemade tartlets.
The dough can be shortbread. You can make tartlets from puff pastry. By the way, without molds, they are even faster to make: the dough needs to be rolled out and cut into squares, and then form boats from them, pinching the edges and leaving room for the filling in the middle. Or instead of homemade tartlets, you can buy ready-made puff pastry.
Tartlet Dough Recipe
Decided to make the dough with your own hands? We suggest you try the recipe for tartlet dough, which is prepared very easily and quickly, and is also suitable for absolutely any filling. You will need only 3 ingredients: butter, flour and boiling water.
Take the vegetable oil and pour it with boiling water in a ratio of 1 to 2.
Immediately add the flour, it needs so much to make the dough cool.
Knead the dough first in a bowl, and then transfer to the table. It will take about 20 minutes for the dough to rest.
After that, you need to roll it out thinly, cut out circles a little larger than your molds.
Put these circles in the molds and smooth them out well.
Bake the baskets for 5-10 minutes in the oven at 180 degrees.
Before adding the filling, the tartlets should cool completely.
Mushroom tartlets
For mushroom tartlets, you need to prepare a puree, not too liquid in consistency. Fry the mushrooms and onions in a frying pan. Take the tartlets and put the mashed potatoes in each one first, and the mushrooms on top. You can decorate the tartlets with herbs or olives.
With this filling, tartlets made of puff pastry are well combined.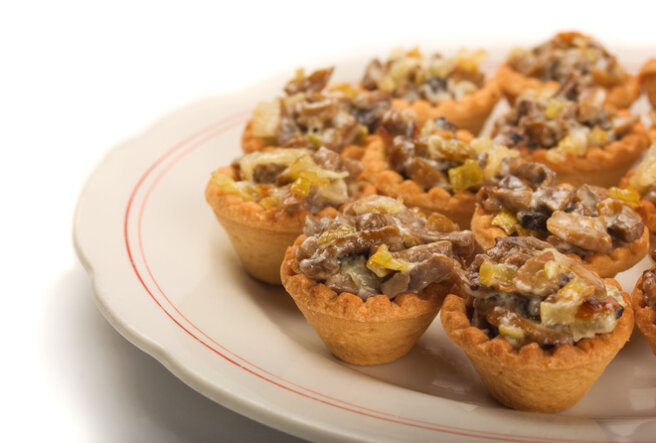 Tartlets with vinaigrette
Prepare a regular salad vinaigrette according to your favorite recipe. Fill the baskets with them. Garnish the dish with herbs or lemon.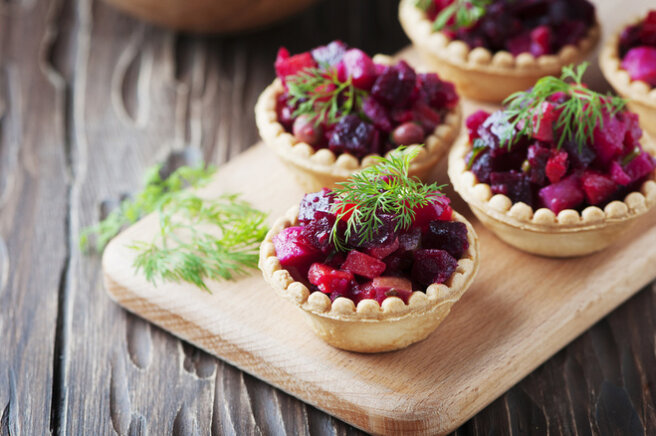 Avocado and salmon tartlets
To start, prepare the avocado paste (guacamole) at home. Take the tartlets and fill them with pasta, and put the salmon slices on top. Such tartlets can be decorated by adding a piece of cucumber or a little caviar.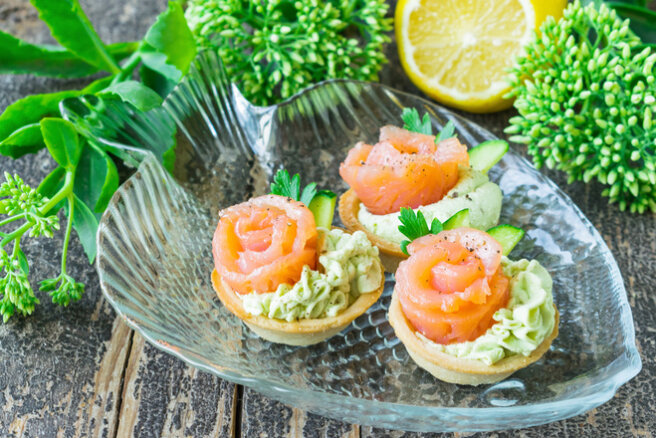 Fruit tartlets
Sweet fruit fillings are best combined with shortbread dough for tartlets. Take an apple, a pear, an orange, a banana, a slice of pineapple, a kiwi cut into cubes – this will be the filling. Fill the tartlet with fruit salad. You can also add honey, jam or jam and decorate with mint leaves and powdered sugar.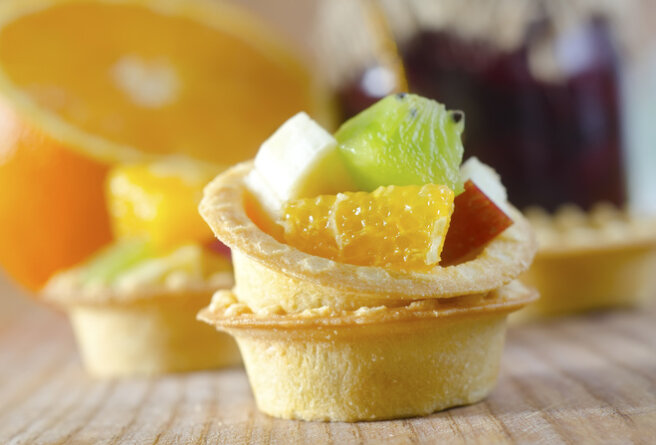 Tartlets with nuts and dried fruits
Mix your favorite dried fruits with honey, such as raisins, crushed prunes, dried apricots, and place this mixture in tartlets. Sprinkle nuts on top – whole or chopped. Suitable walnuts, hazelnuts, peanuts, cashews. This dessert is not only very tasty, but also healthy.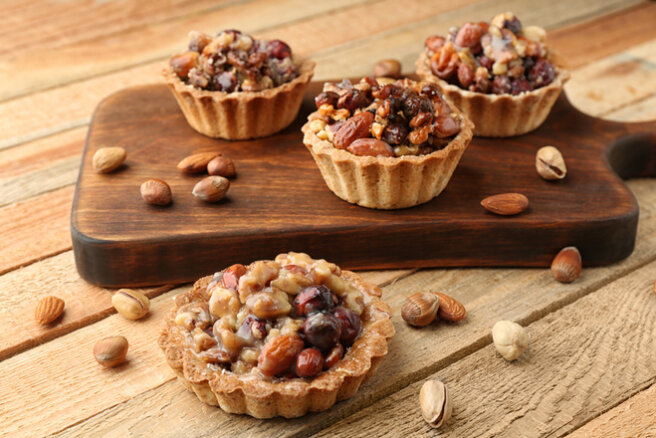 Bon Appetit!