Simple Lean salads: 3 recipes worth trying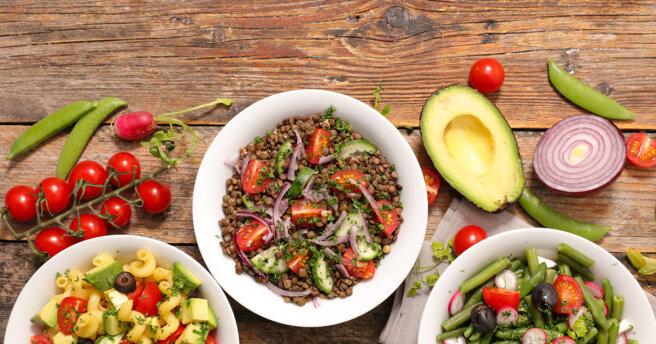 During theLent vegetables-this is just what you need. They can be baked, stewed, boiled or made into delicious lean salads. Well, legumes are responsible for the caloric content and nutrition. Today, MustHub offers you healthy and satisfying recipes for salads without meat, eggs, mayonnaise and dairy products.
Lean Caesar salad"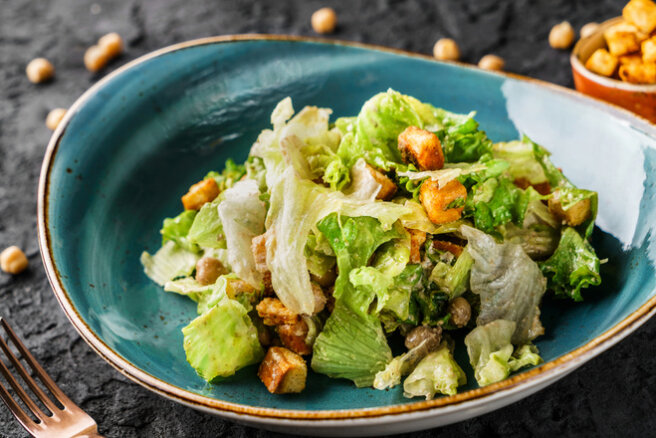 We know what you think-what can a Caesar be without a chicken? But try to make a salad with chickpeas instead of meat, and you will fall in love with this recipe.
Ingredients:
100 g chickpeas
200 g Savoy cabbage or Iceberg lettuce
6 cherry tomatoes
1/4 teaspoon curry
1 tablespoon ghee oil (ghee)
crackers
salt, spices and pepper to taste
For the sauce
1 cup vegan yogurt or sour cream
1-2 teaspoons mustard
1 tablespoon lemon juice
salt, pepper to taste
Preparation:
Pre-chickpeas need to be soaked, so that it is prepared faster. Then mix it with melted butter, spices, salt and pepper. Bake at 180 degrees for 15 minutes.
To make the sauce, add mustard, lemon juice, salt and pepper to the yogurt or sour cream. Mix thoroughly.
Tear the salad into small pieces, cut the tomatoes in half.
Combine all the ingredients, add the sauce and mix. Add a couple of handfuls of breadcrumbs and fried chickpeas, mix again.  
Lean beetroot and orange salad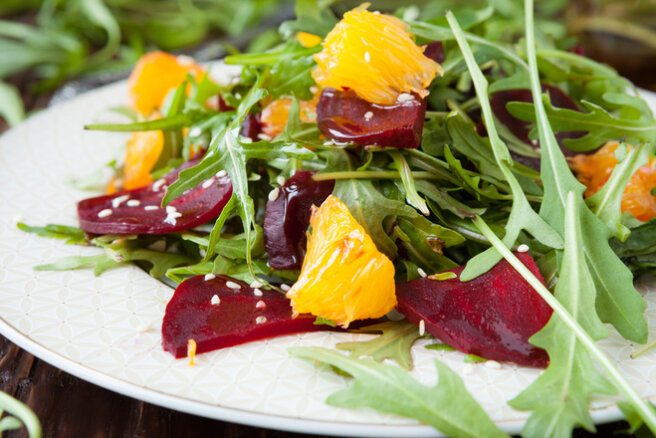 A popular salad with a savory taste is a combination of the sweetness of beetroot, the acid of orange and the bitterness of arugula. It is prepared quickly, only you need to bake or boil the beets in advance.
Ingredients:
2 boiled or baked beets
1 large orange
2 tablespoons olive or sunflower oil
2 teaspoons dijon mustard in grain
a small bunch of arugula
salt, pepper to taste
Preparation:
Cut the finished beets into thin slices or cubes.
Squeeze out the juice from one-third of the orange and set aside. Peel the remaining orange, remove the white film, remove the seeds and cut into small pieces. Put the orange on the beetroot.
Tear the washed arugula and put it on the salad.
Add oil, mustard, salt and pepper to the orange juice. Evenly fill the salad dressing.
Asian salad with corn and peanuts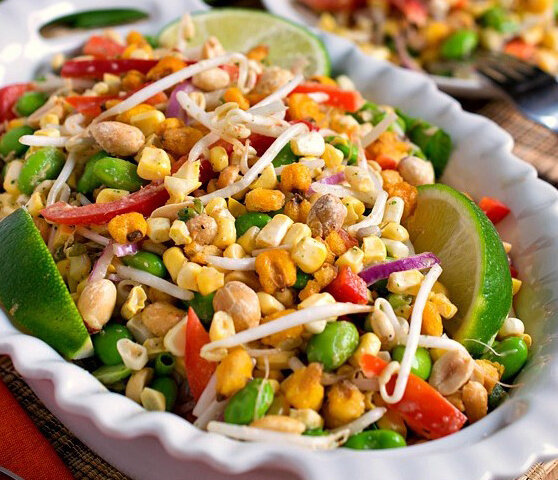 A hearty and bright salad that can replace even the main dish in the post. And herbs like mint and basil with their juicy and fresh will give it a special piquancy.
Ingredients:
1 can of canned or boiled corn
150 g roasted peanuts
ginger root
1/4 lime
1 garlic clove
mint
green basil
green onions
chili pepper
2 teaspoons soy sauce
Preparation:
Peanuts are fried in a frying pan, peeled from the husk. Mix with corn and grate the ginger root (1 teaspoon), wash and chop mint, basil, green onions.
Squeeze out the garlic, lime juice, and season with soy sauce. Add the chili (seasoning or fresh pepper to taste).
Bon Appetit!
Recently, we wrote and published interesting recipes for salads with broccoli.