Broccoli: recipes for interesting salads for dinner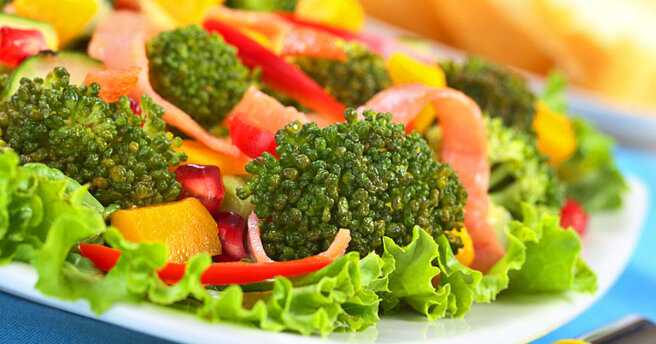 Broccoli cabbage is useful for digestion, cardiovascular and immune systems, has anti-inflammatory and anti-carcinogenic effects. Broccoli contains significant amounts of fiber, vitamin C, potassium, vitamin B6, and vitamin A. 
There are more than one hundred recipes for broccoli dishes in cooking. Healthy and original broccoli is delicious not only in the form of soup, casserole, but also prepared in the form of a salad. We, at MustHub, offer you two recipes for salads with broccoli. The first one is an original snack that is quite suitable for a festive table, but a broccoli salad with almonds and apples is a great option for a lean table.
Broccoli salad with bacon and mango
Ingredients:
150 g of bacon,
500 g broccoli,
1 bell pepper,
1 mango,
1 bunch of green onions,
2 tablespoons vegetable oil,
2 tablespoons apple cider vinegar,
1 teaspoon mustard,
1 tablespoon sugar,
ground black pepper to taste,
salt to taste.
Preparation:
Broccoli was divided into inflorescences and boiled in salted water for 3-5 minutes. Then cool it down.
Thinly slice the bacon and fry over medium heat for 5-7 minutes. Use paper napkins to remove the remaining fat.
Prepare the salad dressing.
In the remaining bacon fat, add mustard, vinegar, sugar, salt and black pepper.
Stir, bring the sauce to a boil, add the vegetable oil and, stirring constantly, keep on fire for 3 minutes.
Finely chop the green onions, add to the hot sauce and remove from the heat.
Cut the bell pepper into thin strips.
Cut the mango into small cubes.
Combine all the ingredients, mix and season with the sauce.
Bon Appetit!
Broccoli salad with almonds
Ingredients:
400g broccoli,
1 apple,
half a lemon,
1 red onion,
1 clove of garlic,
3 tablespoons almonds,
1 teaspoon of honey,
2 tablespoons olive oil,
salt to taste.
Preparation:
Broccoli is divided into inflorescences and blanched in salted water for 30-40 seconds.
Then put the broccoli in cold water for 2-3 minutes and put it in a colander to drain the water.
Chop half an onion and simmer in olive oil until soft.
The second half of the onion is thinly cut into half rings.
Grind the almonds into a large crumb.
Chop the garlic.
Peel the apple and cut it into slices.
Prepare the broccoli salad dressing.
Combine olive oil, lemon juice, garlic, honey, salt and 2 tablespoons of hot water. Whisk the sauce with a blender until frothy.
Combine the broccoli, apple, almonds, toasted and raw onion. Season the broccoli salad with the sauce and stir.
This broccoli salad with almonds goes well with meat dishes.