Menu for the second week of Lent: 7 lunches with photos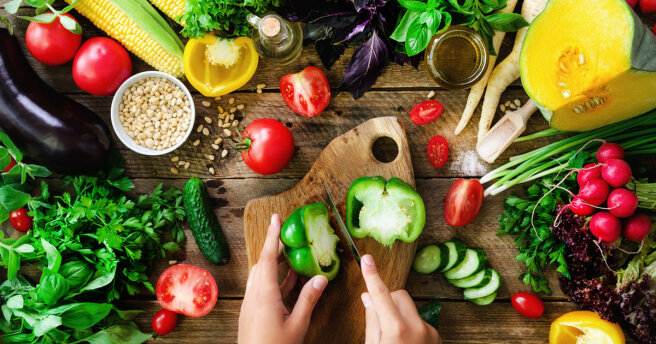 If you observeLent in 2021, we decided to tell you what you can cook for lunch. Read our lunch recipes for every day of the second week of Lent.
Monday
Pea soup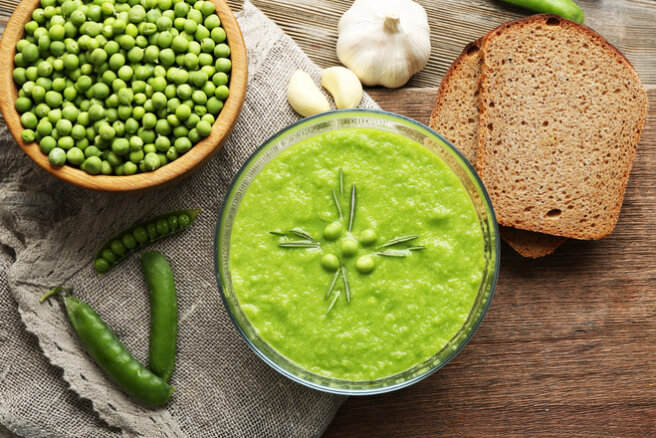 Ingredients:
300 g of peas,
1 carrot,
1 leek,
1 head of onion,
a piece of celery root and parsley,
1-2 tablespoons vegetable oil,
black pepper peas,
1 bay leaf, salt.
Preparation:
Pre-soak the peas.
Peas and spicy roots (carrots, onions, celery, parsley) boil in water until fully cooked, add seasonings and spices at the end of cooking.
When everything is cooked, strain the broth, rub the peas and roots through a sieve.
Combine the puree with the broth, season with salt.
Serve the mashed soup, sprinkled with finely chopped dill or parsley. It will be delicious with croutons made from rye or wheat bread.
Tuesday
Carrot salad with honey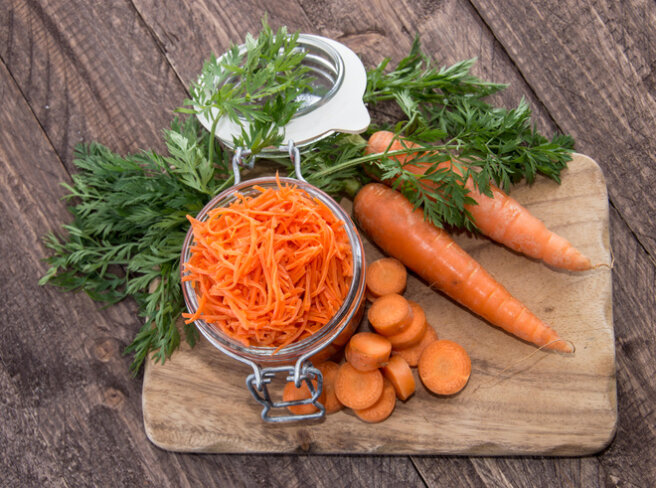 Ingredients:
carrot 500 g;
liquid honey 2 tbsp. l.;
juice of 1 lemon;
olive oil 4 tbsp.;
arugula 100 g;
chicory 1 head;
pine nuts 50 g;
salt and pepper to taste.
Preparation:
Cut the peeled carrots into thin, long strips.
Put it in a pot of boiling water for 2 minutes. Toss in a colander and let cool.
Wash the arugula and chicory.
Divide the chicory into leaves. In a large bowl, combine the carrots, arugula and chicory. Sprinkle with pine nuts.
Separately, you can prepare the dressing. Whisk honey, lemon juice and olive oil, season with salt and pepper to taste.
Pour the resulting dressing into the salad, mix thoroughly.
Wednesday
Buckwheat porridge with mushrooms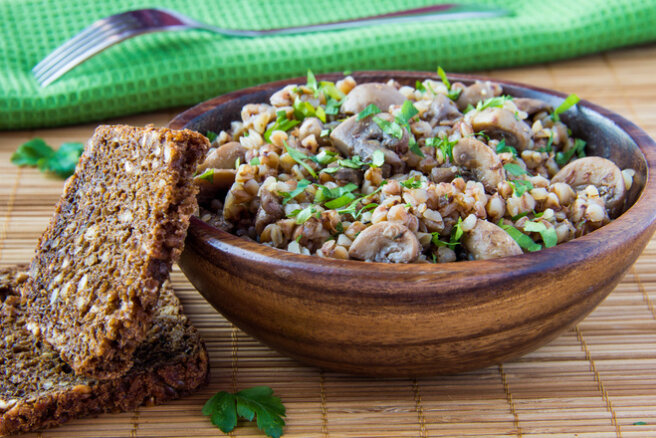 Ingredients:
1 cup dry buckwheat;
1 onion;
garlic clove;
mushrooms - 200 g;
vegetable oil;
hot water - 3 cups.
Preparation:
Cut the mushrooms. If frozen, they must first be soaked for an hour.
Finely chop the onion.
In a container for stewing, pour a little oil, put the mushrooms and onions, put them in the oven for 15 minutes.
Add buckwheat, pour hot water. Put it in a preheated oven (150 degrees) until ready (about 20 minutes).
Thursday
Pumpkin caviar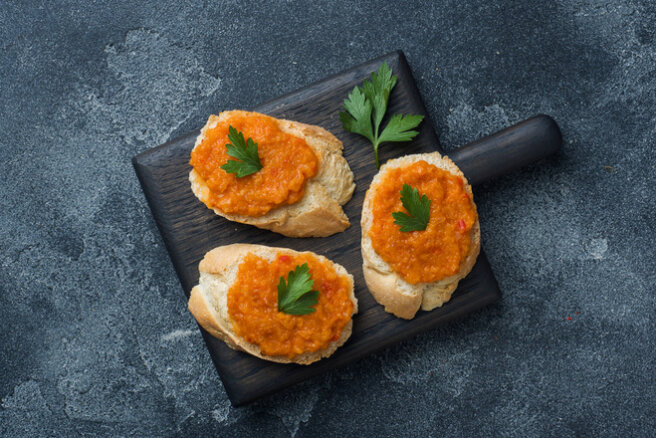 Ingredients:
1 kg of pumpkin,
2 medium sour apples,
2 medium onions,
1 clove of garlic,
1 tablespoon tomato paste,
vegetable oil,
salt,
spices to taste: bay leaf, ground black pepper, coriander, paprika.
Preparation:
Grate the peeled pumpkin on a coarse grater.
Finely chop the onion, chop the garlic.
Peel the apples and grate them on a coarse grater.
Fry the onion in vegetable oil. Then add the grated pumpkin, bay leaf and fry without a lid over medium heat for 10 minutes, stirring occasionally.
Add the grated apples and fry for another 5-10 minutes.
Then add the tomato, garlic, salt and spices, stir and fry for another 5 minutes.
Serve this dish chilled.
Friday
Borscht with sauerkraut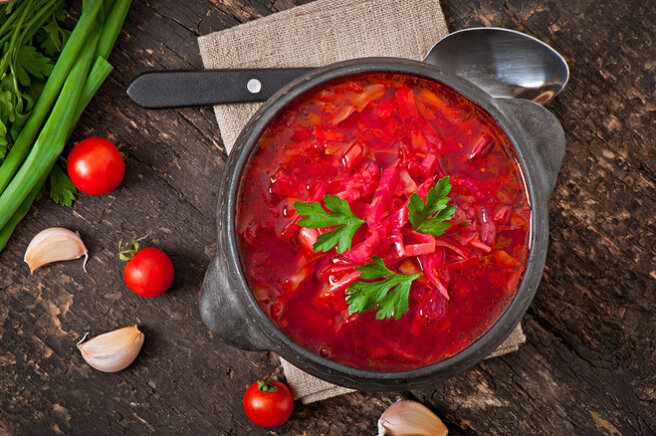 Ingredients:
small beetroot - 1 pc.,
sauerkraut-half a cup,
dry dried mushrooms-5-6 pcs.,
onion - 1 pc.,
carrot - 1 pc.,
flour - 1 tablespoon,
vegetable oil - 25 g,
tomato - 25 g,
pepper, bay leaf, salt, parsley-to taste.
Preparation:
Mushrooms are thoroughly washed several times and cooked until soft.
Remove the mushrooms from the broth and finely chop. Fry them in vegetable oil.
In vegetable oil, we pass sauerkraut, carrots, onions, beets, chopped into strips. When the vegetables are slightly fried, add a tablespoon of flour.
Put the vegetables in a saucepan, pour the mushroom broth. Add tomato paste, pepper and bay leaf.
Add the mushrooms to the borscht and cook it for another 30 minutes. Sprinkle everything with parsley.
Saturday
Salad with tomatoes and beans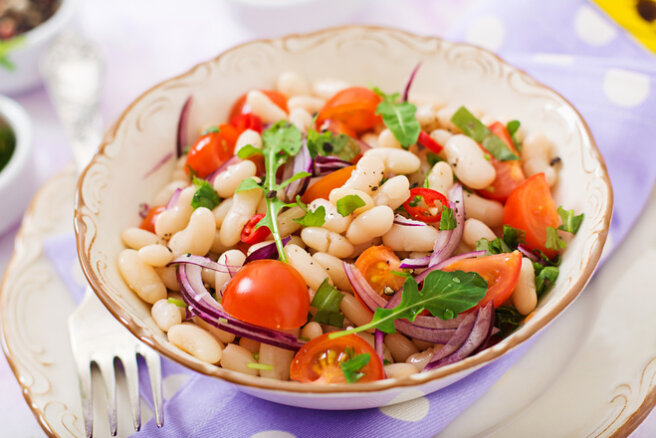 Ingredients:
cherry tomatoes-15 pcs .
canned white beans - 1 can
parsley greens
olive oil 3-4 tablespoons
garlic - 3 cloves
rosemary sprig
lemon juice - 2 tablespoons
salt
freshly ground pepper
Preparation:
Heat the olive oil, add to it coarsely chopped garlic and rosemary. Warm up for 1-2 minutes and set the oil aside for 30 minutes, so that it is saturated with aroma.
Then remove the garlic and rosemary from the oil. Throw away the rosemary, and rub the garlic in a mortar and return it back to the oil.
Add salt, pepper, lemon juice and a pinch of sugar, mix everything well.
Cut the tomatoes in half.
Chop the parsley finely.
Mix the beans, tomatoes, herbs and dressing in a bowl and let it stand for 10-15 minutes.
Sunday
Lean dumplings with mushrooms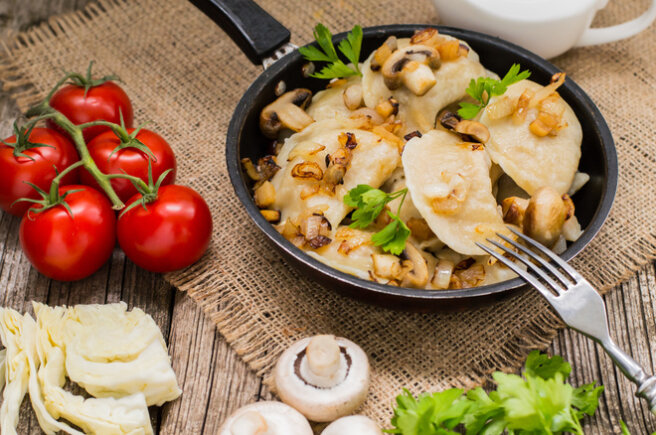 Ingredients:
for the test:
2 cups flour
0.5 teaspoon salt
2 tablespoons vegetable oil
1 cup boiling water
for the filling:
champignons-about 600 g
onion - 2 pieces
vegetable oil for frying
Preparation:
Sift the flour into a bowl, add salt and mix. Make a hole in the center of the flour slide, add vegetable oil and boiling water. Stir, as a result, you should get flour lumps.
Allow to cool slightly, so that the dough is no longer scalding hot and knead well until smooth. Cover the dough and let it rest for 15-20 minutes.
For the filling, finely chop the mushrooms and onions. Heat a little vegetable oil in a frying pan and fry first the chopped onion until transparent, then add the chopped mushrooms and fry everything together until the mushrooms are ready and the minced meat is dry.
Now make dumplings. Boil the dumplings in lightly salted water for about 5 minutes after boiling until the dough is ready.
Take out the ready-made dumplings with a slotted spoon, smear with vegetable oil.
Bon Appetit!