Lean cabbage rolls: a delicious recipe with rice and vegetables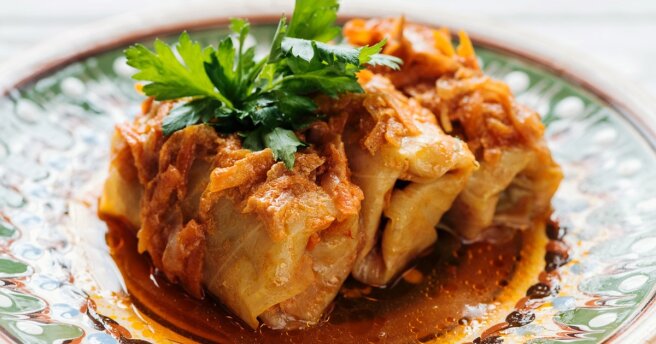 Lent is already in full swing. Do not forget to look at our food calendar, then you will know exactly what and on what day you can cook in the fast.
To diversify the lenten menu, we offer you a recipe for delicious homemade cabbage rolls with vegetables and rice, with tomato sauce. The lack of meat can be compensated with the right spices and aromatic garlic, so that your blueberries taste no worse than meat.
Lean cabbage rolls-ingredients:
200 g of rice;
1 small cabbage;
2-3 carrots;
1 bell pepper;
2 onions;
2 garlic cloves;
300 ml tomato juice;
bay leaf;
ground coriander;
khmeli-suneli;
ground black pepper to taste;
sugar to taste;
salt to taste.
Lean cabbage rolls-recipe for cooking:
In a large amount of salted water, boil the rice until ready. Rinse with cold running water through a colander.
Separate the whole cabbage leaves, blanch in boiling water until soft. Take out the leaves and let them cool.
Fry the finely chopped onion and grated carrot in vegetable oil.
Add the bell pepper, cut into small cubes, and cook, stirring, until it becomes soft.
At the end, throw the chopped garlic and spices into the pan.
Separate about 1/3 of the roast and mix with the rice. Add salt to taste.
Pour the rest of the tomato juice, add a little fire, and let the roast cook for 3-5 minutes. Add salt, add sugar to taste, mix and remove from heat. The gravy should be quite rich, so that the cabbage rolls do not turn out to be fresh.
In each cabbage leaf, cut off the hard part of the root. Put the minced rice on a cabbage leaf and wrap it in an envelope.
Put the cabbage rolls in a saucepan and pour the gravy so that it completely covers the cabbage rolls. If the gravy was not enough, you can add a little boiled water.
Put the cabbage rolls in the oven for half an hour at 180 C.
Bon Appetit!