TOP Irish dishes for St. Patrick's Day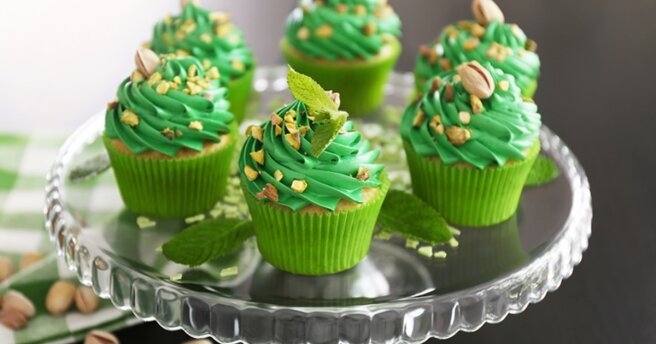 They say that if you see a leprechaun hiding a pot of gold on St. Patrick's Day, you can get fabulously rich. In any case, in Ireland, this belief is popular to this day. 
MustHub has prepared you a selection of recipes for Irish dishes. Perhaps the aroma of these delicious dishes will interest the leprechaun and he will show you where he hides the pot of gold :) 
Shepherd's pie with turkey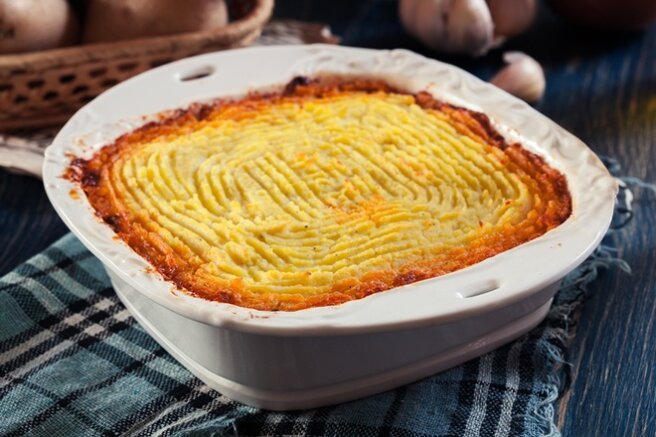 Ingredients:
220 gr. minced turkey;
1 tbsp olive oil;
2 garlic cloves;
1 carrot;
1 small onion;
0.5 tsp finely chopped fresh thyme;
2 tbsp ketchup;
1 tbsp lightly salted chicken broth;
2 tsp premium flour;
0.5 tbsp frozen green peas;
450 gr. potatoes;
0.5 tbsp. warm milk;
1/3 tbsp grated cheddar;
1 green onion feather.
How to cook:
Preheat the oven to 220°C.
In a medium-sized frying pan suitable for the oven, heat the olive oil over medium-high heat.
Add the garlic, carrot, and onion; fry until the vegetables soften and begin to fry, about 5 minutes.
Add the minced turkey and thyme and continue to fry, breaking the minced meat with a spoon, until tender.
Add the ketchup and cook until it is lightly browned.
In a small bowl, mix the broth and flour until smooth, and then pour the mixture into the pan.
Cook until thickened, about 2 minutes.
Add the peas and 1/4 tsp salt. Meanwhile, put the potatoes in a medium-sized saucepan and cover with cold salted water.
Bring to a boil, reduce the heat and cook until soft when pierced with a knife.
Drain the water and return the potatoes to the pot, putting them on a low heat. Stir the potatoes for a few minutes to dry them.
Add milk, cheese and green onions and mash with a masher.
Add salt and pepper to taste.
Mix the mashed potatoes with the filling.
Lightly sprinkle with cooking spray and bake until the potatoes are lightly browned and the turkey filling is warmed up, 10-15 minutes. 
Shepherd's casserole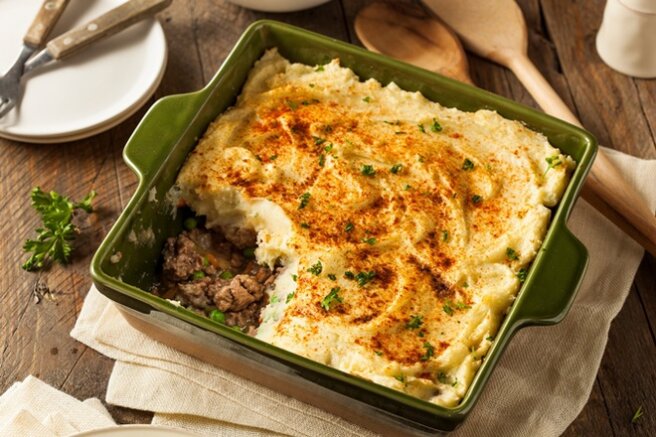 Ingredients:
Topping:
2 medium potato tubers;
2 medium turnips;
4 tbsp unsalted butter;
0.5 tbsp whole milk;
1/4 tbsp grated parmesan;
2 tbsp chopped fresh chives.
Filling:
4 thick slices of smoked bacon;
1 kg minced beef neck;
1 small onion;
2 carrots;
2 celery stalks;
110 gr. champignons;
2 tsp chopped fresh thyme;
3 tbsp tomato paste;
2 tbsp premium flour;
1 and 3/4 tbsp lightly salted chicken broth;
1 tbsp worcestershire sauce;
2 tbsp chopped fresh parsley.
How to cook:
Prepare the topping: put the potatoes and turnips in a large saucepan and cover with cold water; add salt.
Bring to a boil and cook until tender, about 25 minutes; toss the vegetables in a colander, set aside the pan.
Meanwhile, prepare the filling: in a large frying pan over medium heat, fry the bacon, stirring occasionally, until it becomes crispy, about 10 minutes.
Drain almost all the fat, leaving 1 tbsp. l., add the ground beef to the pan and fry, stirring occasionally, until it darkens, about 4 minutes.
Add the onion, carrot and celery and cook, stirring, until the vegetables begin to soften, about 4 minutes.
Add the mushrooms, thyme and tomato paste and cook, stirring occasionally, until thoroughly mixed, about 3 minutes.
Add the flour to the vegetables and stir for about 2 minutes.
Add the broth, Worcestershire sauce, 3/4 tsp salt and a little freshly ground black pepper.
Fry until lightly thickened, about 3 more minutes. Stir in the parsley.
Preheat the oven to 190°C.
Finish the topping: in a set aside saucepan, mix the butter with the milk and heat over medium heat until the butter melts.
Return the potatoes and turnips to the pan and mash with a masher or wooden spoon until smooth.
Add parmesan and green onion, salt and pepper to taste.
Transfer the filling to a 2.5-liter baking dish and cover it evenly with the topping.
Bake until golden brown, about 35 minutes.
Allow to rest for 15 minutes before serving.
Irish mashed potatoes with green peas " Champ"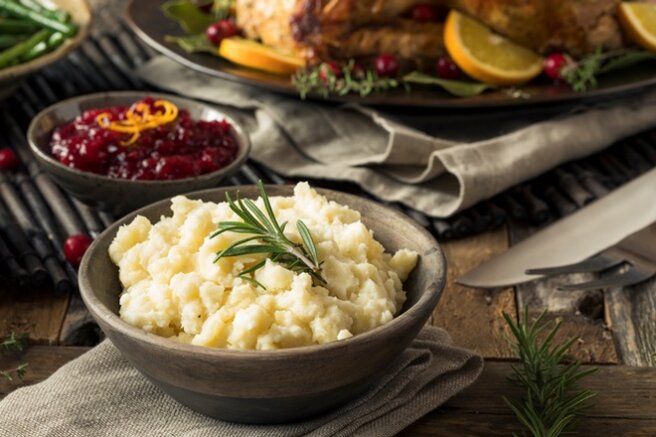 Ingredients:
6-8 potato tubers in the skin;
1 tbsp fresh green peas;
3 finely chopped green onion stalks;
1.5 tbsp milk;
A pinch of sugar;
4-8 tbsp butter;
Salt and ground black pepper 
How to cook:
Put the potatoes in a bowl and wash well under cold running water.
Put it in a medium-sized saucepan, add salt.
Fill in so much water that it completely covers the tubers.
Bring to a boil, reduce the heat and cook at a low simmer, without covering the pan with a lid, until soft, about 15 minutes.
Meanwhile, put the peas and onions in a small saucepan, pour in the milk, add the sugar and put on medium heat.
Slowly bring to a boil, reduce the heat and cook at a low boil for 3-4 minutes. until the peas are soft.
Turn off the heat and let the contents of the pot brew.
Peel and mash the boiled potatoes while they are still hot, with a fork or pass through a cleaning sieve, add the warm mixture with milk.
Add a little butter, salt and pepper to taste.
Serve with the remaining butter, placing it on top. 
Irish potato pancakes with filling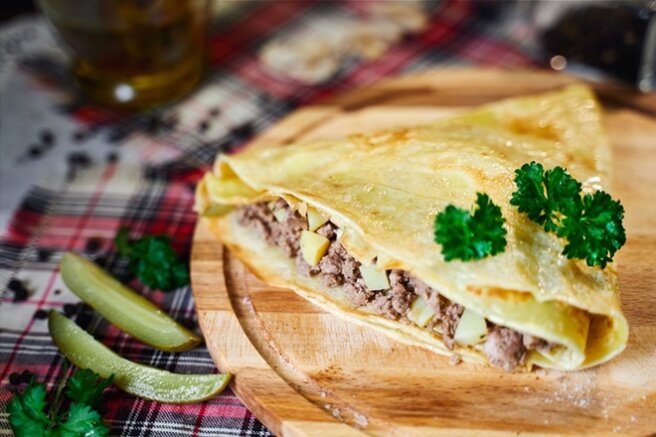 Ingredients:
1 tbsp peeled grated raw potatoes;
1 peeled and cut into 4 pieces potato tuber;
2 tbsp fresh cauliflower inflorescences;
1/2 tbsp milk;
3 tablespoons chicken broth or more, as needed;
2 tbsp cream cheese at room temperature;
1 tbsp premium wheat flour;
1 tsp dried thyme;
1 tsp granulated garlic;
1 tsp crushed black pepper;
1 tsp salt;
1 tsp baking powder;
1 egg;
1/2 tbsp canola oil;
<li>1/2 tbsp sour cream;
2 tbsp chopped chives.
How to cook:
Fill the raw potatoes with milk.
Add 1/4 tablespoon of chicken stock.
In a small saucepan, put the potato quarters, cauliflower, and pour in enough chicken stock to cover the vegetables.
Put it on a high heat and bring it to a boil.
When the liquid boils, cook until soft, 7-10 minutes.
Strain it. In a medium bowl, mash the potatoes and cauliflower with cream cheese.
In a large bowl, combine the flour, spices and baking powder.
Mix well.
Add the mashed cauliflower and potatoes and mix.
Add eggs to the mixture with raw potatoes, then combine both mixtures.
If the dough is too thick, add a little more chicken broth.
Heat a non-stick frying pan over medium-high heat and pour 2 tablespoons of canola oil into it.
When it is hot, put 1 tbsp. of the mixture and gently spread it evenly over the bottom until you get a large circle (20-23 cm in diameter).
Fry until the edges are slightly browned, 2-3 minutes.
Gently turn over with a thin, flexible spatula and cook for 2 minutes on the other side.
Transfer to a plate and repeat the same steps with the remaining dough.
Put the stew on half of the pancake, and wrap it up.
Serve with sour cream, sprinkled with chives.