Lean dishes: a simple fruit cake recipe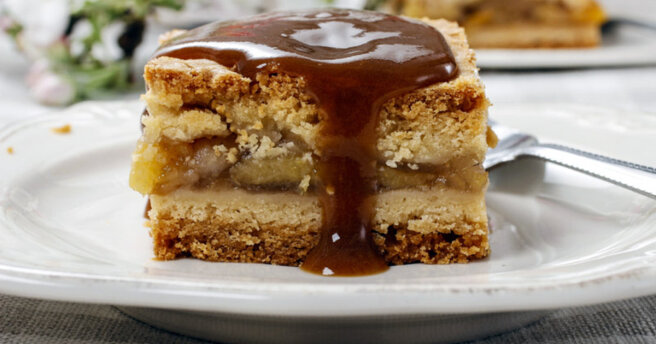 On March 15, 2021, Lent began. During Lent, MustHub invites you to include a nice and delicate fruit cake in your Lenten menu.
Fasting sweet tooths will surely enjoy this simple recipe. After all, this lenten cake is prepared very simply, it is pleasant and moderately sweet, and there are no products prohibited during lent.
Fruits for filling a lenten cake you can choose according to your taste, by the way, jam is also suitable, but in this case, adjust the sweetness of the lenten dessert.
Lean fruit cake-ingredients:
for the test:
100 ml vegetable oil,
250 ml of water,
2 cups flour,
1 cup sugar,
10 g vanilla sugar,
1 teaspoon baking powder,
salt to taste,
for the cream:
2 tablespoons semolina,
2 cups fruit juice,
sugar to taste,
for the filling:
300 g of fruit (apples, pears, quince),
3 tablespoons fruit syrup,
1 tablespoon lemon juice,
Lean fruit cake-cooking:
Mix the sifted flour with baking powder, sugar, vanilla sugar and salt. Gradually pour the vegetable oil and water into the loose ingredients and knead the lean dough well. The consistency of the dough should turn out like thick sour cream.
Divide the dough into two parts and roll each into a layer. Put the dough in greased forms with vegetable oil and send it to a preheated 180°C oven for 30 minutes. Cool the finished cakes.
Peel and core the fruit, cut it into thin slices and sprinkle with lemon juice.
Prepare the cream for the lean cake. To do this, bring the fruit juice to a boil, add sugar to taste, gradually pour in the semolina and, stirring constantly, cook for about 15-20 minutes.
Remove the cream from the heat and cool. Then put the pan with the cream in a bowl of cold water and whisk until a mousse is formed.
Soak the bottom cake with syrup. Spread it evenly with half of the fruit cream and lay out a layer of fruit. Cover the second cake, again soak it with syrup. Top with the remaining cream and garnish with fruit.
All the brightest and most interesting news can be found on the main page of the women's portal MustHub