Potato gnocchi: an original recipe for an Italian dish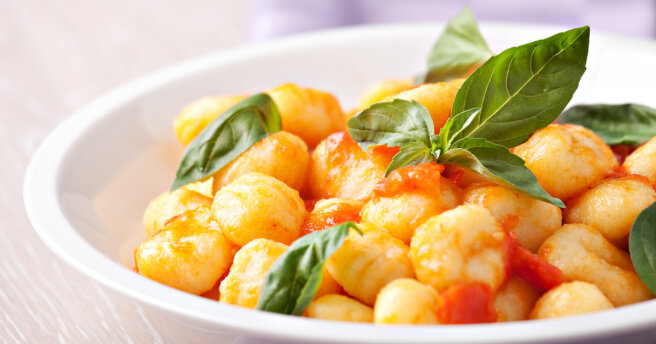 Potato gnocchi
The main place in gnocchi is occupied by potatoes, which, when properly prepared, simply melts in the mouth. In the traditional version, this dish takes the form of balls or small sausages and is served with sauce. Interesting? Then go ahead!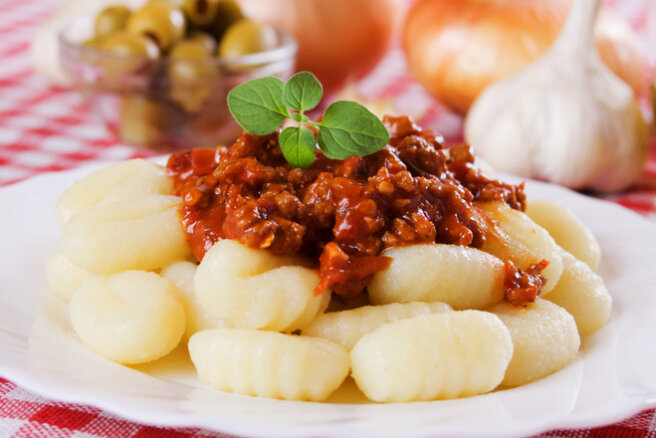 Ingredients:
Gnocchi
potatoes-500 g
flour – 150 g
wheat flour-12 tbsp.
semolina or semolina – 250 g
salt to taste
ground black pepper to taste
Sauce
celery stalks – 2 pcs.
carrots – 2 pcs.
onion - 2 pcs.
canned tomatoes in their own juice-100 g
tomato paste – 70 g
garlic – 3 cloves
dried basil – 1 tsp.
dried thyme – 1 tsp.
sugar to taste
salt to taste
ground black pepper to taste
vegetable oil – 3 tbsp.
water – 250 ml

Potato gnocchi
Preparation
Gnocchi
As you can see, to prepare a dish, you will need a very simple list of products. First, 500 g of potatoes are baked or cooked in a uniform. When it is cooked, clean it carefully, but do not let it cool down at all. While it is warm, it needs to be kneaded into a pulp.
Fill in one teaspoon of salt without a slide and start kneading the dough. Spoon by spoon, add wheat flour, this is about 150 g. Make sure that the dough is not too hard, and it was easy to knead,. Therefore, the flour should be added carefully. At the same time, do not make the dough too much with your hands.
To make the gnocchi inside more soft and tender, try to mix a little ricotta and parmesan into the dough. It's just a matter of your taste.
Moisten your hands with cold water and start forming gnocchi. Naturally, you choose the form that you like best. For example, you can roll out the dough into a sausage about 2 cm thick and cut gnocchi about 2 cm wide. Or you can just roll them into balls with a diameter of 3 cm.
Then pour the semolina onto the baking sheet. It does not differ much from our semolina, it is made from durum wheat. Therefore, if there is no semolina, take semolina. The main thing is that it completely envelops the surface of the gnocchi. The dish is slightly reminiscent of "Raffaello" candies at this moment! You can put them in the refrigerator for a while and start making the sauce.

Potato gnocchi
Put a large pot on the stove to make it easier to cook gnocchi. They usually don't stick together, but gnocchi should fit all at once. When the water boils, take the dish out of the refrigerator. We add a little salt to the boiling water! Cook the dish for only 3 minutes, but no more! In principle, the main course is ready and already edible. However, without the sauce, it looks incomplete.
Sauce
Take the onion, peel and cut into rings, and then — quarters. Cut the celery stalks into rings, and just chop the garlic.
Carrots, too, peel and grate on a coarse grater.
In a saucepan, pour the usual sunflower oil and heat it. Pour a small amount of thyme and let the aroma unfold. This will take about half a minute. The fire should be slightly less than average. Add the chopped onion, carrot and celery. The onion should be fried until transparent.

Potato gnocchi

After that, add the purchased tomatoes and a jar of tomato paste. How many of them to add decide for yourself based on the appropriate consistency and taste characteristics. Then add sugar, salt, ground black pepper, sweet herbs and 200-250 ml of pure mineral water. Mix all this well.
The saucepan should boil again on the stove, then reduce the heat to a minimum level and put out the sauce for another 20-25 minutes. All the ingredients should become quite soft and boil.
Then use a mixer or blender to whisk our sauce until smooth. We give the sauce to warm up on the stove a little more, and as soon as it boils, immediately remove it from the stove. Cover the sauce with a lid so that the flavor does not evaporate. So the dish should stand for 10 minutes.
Pour the tomato and vegetable sauce into a plate and top with the hot gnocchi. You can pour the sauce on top of them and add butter to taste. This is not necessary, since they do not stick together and keep their shape well. Fresh basil leaves can be a profitable addition to the dish and its decoration.
Bon Appetit!