Monastery cabbage pie: a recipe for lazy housewives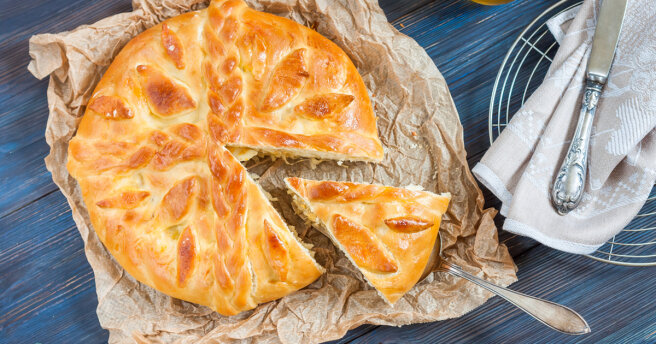 Monastery cabbage pie
We prepare a yeast-free dough for a lean pie. We add cabbage. That's it!
Monastery cabbage pie
Ingredients: 
flour - 300 g
cabbage - 400 g
water - 100 ml
salt - 1 pinch
sugar - 1 h.l.
olive oil - 2 tbsp.
apple cider vinegar-1 tbsp.
Preparation:
Sift the flour and mix it with water, salt, apple cider vinegar and olive oil. Leave it on for 5 minutes.
Add sugar and leave for 40 minutes.
Next, we make the filling. Finely chop the cabbage, fry in oil for about 10 minutes until golden brown.
Take a little more than half of the dough, roll it out and put it on baking paper and on a baking sheet / baking dish. 
Put the filling there, cover with another part of the dough, pinching the edges. This should be done tightly so that the pie does not fall apart and the cabbage does not leak out.
Monastic cabbage pie should be baked at 180 degrees for about 25 minutes. 
We suggest you to study the food calendar in Lent.