What to cook for Shrovetide: dishes for those who do not like pancakes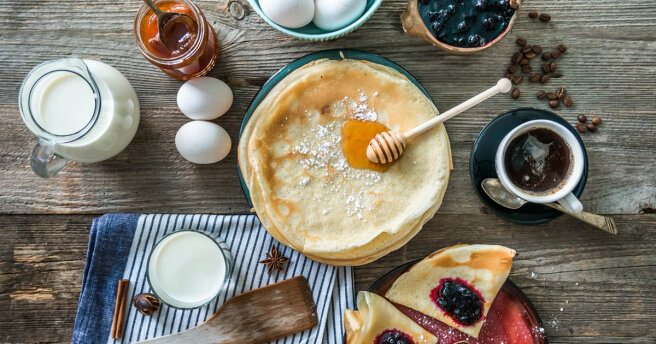 What to cook for Shrovetide: traditional dishes for those who do not like pancakes
You probably already have a recipe for perfect pancakes (or pancakes), and now it's time to find out what, in addition to pancakes, you can cook for Shrovetide. 
Cheesecakes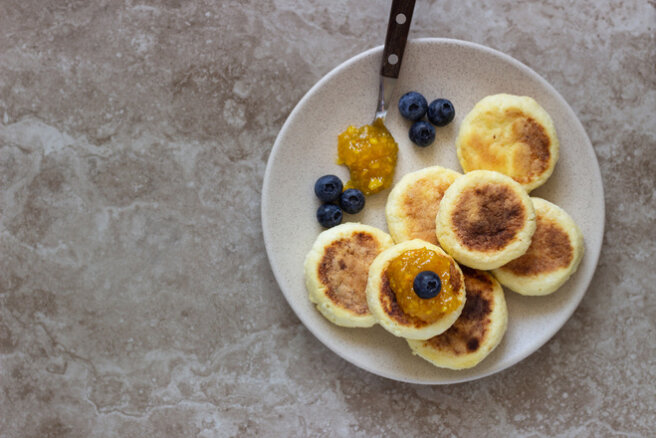 What to cook for Shrovetide: traditional dishes for those who do not like pancakes
No wonder Maslenitsa was called Cheese week. During this period, it is customary to cook not only pancakes, but also cottage cheese dishes. 
Ingredients:
250 g cottage cheese;
1 egg;
1 tablespoon sugar;
2 tablespoons flour.
How do we cook?
Combine the cottage cheese, egg and sugar. Stir the mixture until smooth.
Pour in the flour, mix thoroughly with the mass of cottage cheese.
We will form beautiful balls and, with the help of a wide knife, make cheesecakes of a beautiful shape.
Fry in sunflower oil for 3 minutes on each side.  
Cottage cheese buns
Ingredients:
350 g of cottage cheese
1 egg
1 tbsp sour cream
2 tbsp sugar
1/3 tsp salt
1 tsp baking powder
200-250 g flour
In a bowl, put the cottage cheese, add salt, sugar, egg and sour cream. Mix it up.
Then gradually introduce flour and baking powder. Once again, mix well and roll out the resulting dough into a thin "sausage". We cut it into small pieces. 
We send all the pieces to the frying pan, fry in a large amount of oil, over medium heat. You can bake in the oven at 180 degrees for about 25 minutes, then the buns will turn out dry. 
Sbiten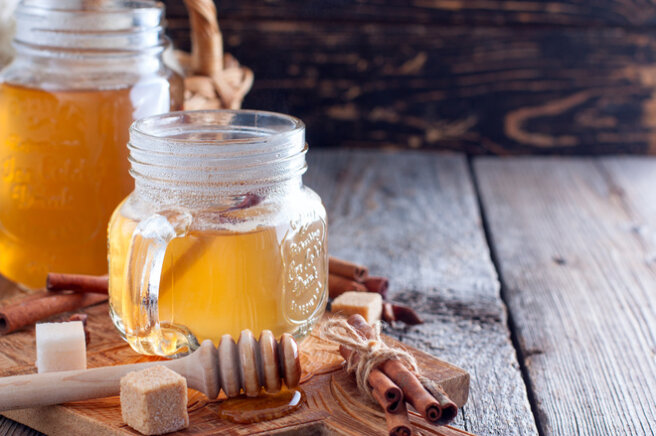 What to cook for Shrovetide: traditional dishes for those who do not like pancakes
You can not only eat, but also have a little drink on Shrovetide. Why not make a popular drink sbiten?
Ingredients:
1 liter of water
100-150 g of honey
2 cinnamon sticks (or 2 tsp ground cinnamon)
2-3 cloves
a small piece of ginger (or 2 tsp ground ginger)
cardamom (3-4 pieces)
How do we cook?
Add spices to the water and put it on the fire. 
Bring the water and spices to a boil and leave to simmer for 10-15 minutes. 
Cool a little and add honey. 
Mix and strain our broth.
Serve hot, with a stick of cinnamon. 
Honey cakes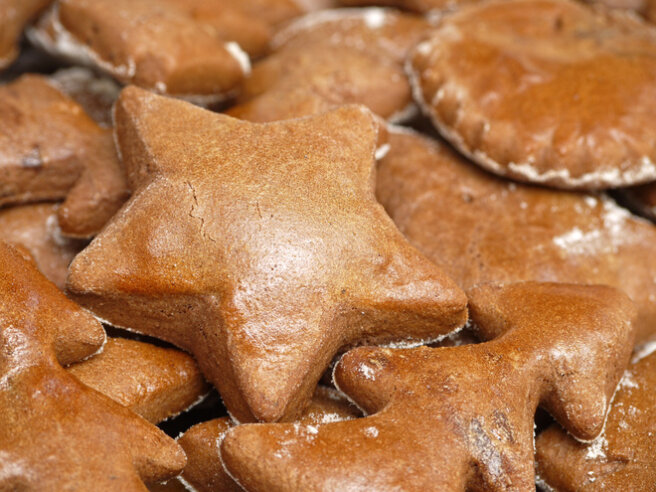 What to cook for Shrovetide: traditional dishes for those who do not like pancakes
One of the traditional dishes on Shrovetide, which you can treat those who do not like pancakes. 
Ingredients:
1 tbsp milk
30 g butter
1 egg
2.5 tbsp sugar
2.5 tbsp powdered sugar
250 g wheat flour
spices to taste
0.5 tsp baking soda
2 tbsp honey
How do we cook?
For gingerbread we need: honey, sugar, flour, egg, butter and spices. It could be cinnamon. For the glaze - milk and powdered sugar.
Combine sugar with honey and add 2 tbsp.l. water to them. Put the mixture on a low heat to make the syrup. When the syrup boils, boil it for 2-3 minutes. Strong boiling should not be allowed. Constantly stir the liquid. Remove from heat, remove the foam.
Mix the butter with the egg and add the cooled honey syrup to the mixture (not cold, warm). Mix well again and add flour, baking soda, and a small pinch of salt. Also, we will send your favorite spices to the mixture (in any quantity).
Knead the dough. It should be soft and pliable. Roll out a round sheet, about 8 mm high, form gingerbread cakes of any shape and send them to the oven, preheated to 190 degrees for 15 minutes.
For the glaze, pour the milk into the powder, while the powder should be 2-2. 5 times more than the liquid. On low heat, cook the glaze for 3-4 minutes, smear the gingerbread and get ready for a gastronomic orgasm. 
Drachena
Ingredients:
For the preparation of cottage cheese drachena:
250 g cottage cheese;
60 g of sugar;
2 eggs.;
30 g butter;
2 tbsp flour.
For lubrication:
1 egg;
1 tsp sugar;
butter and semolina for the mold.
How do we cook?
Combine the cottage cheese with the yolks, ground with sugar, and softened butter. Mix well. 
Then add the sifted flour and mix again.
Carefully introduce the whipped whites into the foam. 
The mass is spread in a baking dish, pre-greased with oil and sprinkled with semolina.
Beat the egg and pour the mass on top, evenly sprinkle with sugar.
Bake at a temperature of 190 degrees for 30-35 minutes. We take out the finished drachena and let it cool down a little, and then transfer it to a dish. 
Serve with sour cream or jam.
Varenets
Ingredients:
1 liter of milk;
250 ml cream;
½ cup sour cream;
1 egg yolk;
1 tbsp sugar.
How to cook:
Mix the milk and cream in a saucepan and put it in the oven. As soon as the foam appears on the surface, we begin to lower it with a spoon to the bottom and stir. Put a little foam on a plate. Continue to boil the milk until reduced by one-third. Boiled milk should be taken out of the oven and cooled to 40°C.
Add sour cream mixed with egg yolk and sugar. Now you need to beat everything with a whisk, pour into cups and put a piece of foam on top. Put the broth in a warm place (30-40°C) until the varenets turn sour.
Then hide it in the refrigerator. Serve varenets with sugar, cinnamon and crackers.
Kurnik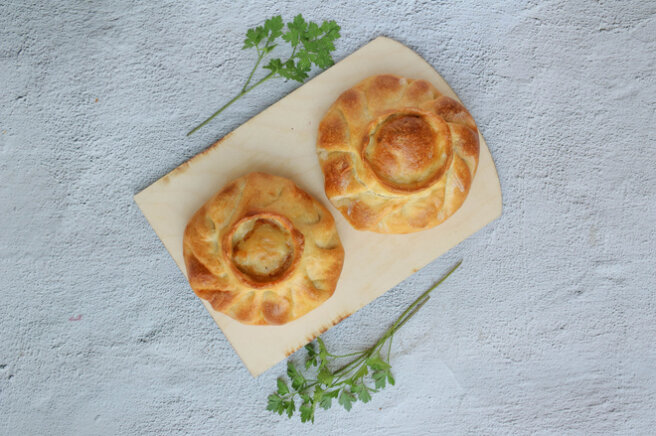 What to cook for Shrovetide: traditional dishes for those who do not like pancakes
Kurnik is one of the most favorite dishes from the selection. Try it and make sure that Shrovetide is loved not only for pancakes!
Ingredients:
100 g butter; 
110 g sour cream;
0.5 tsp baking soda;
pinch of salt;
2 cups flour;
500 g of meat;
2 potatoes;
1 onion; 
1 egg. 
How do we cook?
Melt and cool the butter. Add sour cream, salt, soda and egg to it, then mix everything and knead the dough.
Cover the dough with plastic wrap and leave for an hour.
Meat, potatoes and onions need to be very finely chopped, add salt and pepper, and then mix everything.
The dough is divided into two parts in the following proportions: 2/3 and 1/3.
Most of it should be rolled out 5 mm thick and put on a baking sheet covered with parchment. Step back from the edges of 5 cm and equal towe will distribute the filling evenly. Roll out the second part of the dough and spread it on top. We will fasten the edges, and make incisions in the center so that steam comes out.
Smear the chicken coop with beaten egg and send it to the oven for 40 minutes at 180 degrees.
This Maslenitsa will be the most delicious!
 We also told you what you can and can not eat in the post.