And you're ready to go again: TOP 3 hangover soups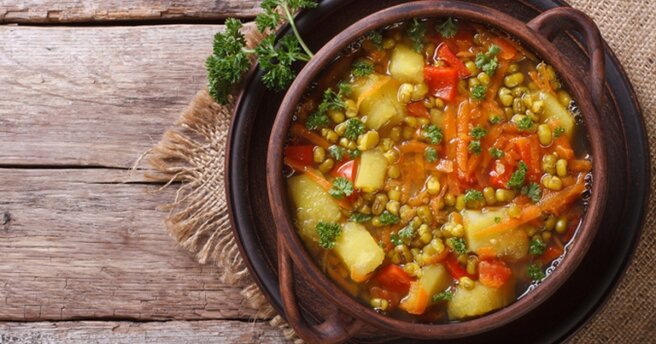 TOP 3 hangover soups
MustHub has prepared for you the TOP 3 recipes of hangover soup, which will not only improve your condition, but also insanely delicious. 
Chicken broth with dumplings

Chicken broth with dumplings
Ingredients:
For the broth:
Water — 1 l;
Chicken — 500 g;
Green onion — 30 g;
Parsley — several branches:
Bay leaf — 1 pc.
 For dumplings:
Flour — 50 g;
Eggs — 1 pc.;
Melted butter — 1 tbsp.;
Water - ½ cup;
Salt
How to cook:
Put the chicken in a saucepan, cover with water and bring to a boil over high heat.
Remove the foam, add salt, add the bay leaf and green onions and parsley tied in a bunch.
Cook the chicken on low heat for 30 minutes. Strain the broth and return to the heat.
Prepare the dough for the dumplings. Bring the salted water and butter to a boil and add the flour, stirring. Mix the mass thoroughly, remove from the heat and allow to cool, then beat the egg into the mixture.
Fill the dough with a teaspoon and drop the dumplings into the boiling broth.
When the dumplings float, remove the broth from the heat. Before serving, season with herbs.
Soup with ribs

Soup with ribs
Ingredients:
Water — 1.2 l;
Beef or lamb ribs-300 g;
Veal or lamb tenderloin-200 g;
Onion - 1 pc.;
Carrots - ½ pc.;
Potatoes — 1 pc.;
Olive oil;
Dried rosemary;
Curry;
Zira.
How to cook:
Prepare a light meat broth: cook the ribs and tenderloin in salted water with bay leaf for 40 minutes.
In a saucepan, heat the olive oil, fry the onion cut into half rings, stirring.
Cut the boiled tenderloin into medium pieces and send it to the pan along with the ribs, continue to fry everything for a few minutes, stirring.
Put the carrots cut into strips in a saucepan and fry for another 5 minutes.
Add salt and pour in the broth so that it completely covers the meat.
Simmer on low heat for about 30 minutes. Add the potatoes cut into large pieces, add salt again and add the broth so that the contents of the pan are completely covered with it.
Season the soup with spices and cook over low heat for another 15-20 minutes.
Tomato puree soup

Tomato puree soup
Ingredients:
Chicken broth-100 ml;
Tomatoes — 300 g;
Garlic — 1 head;
Onion - 1 pc.;
Green basil — 15 g;
Red pepper — on the tip of a knife;
Powdered sugar — 30 g;
Herbs of Provence;
Olive oil.
How to cook:
Cut the tomatoes in half and place them on a baking sheet greased with olive oil.
Sprinkle liberally with powdered sugar, herbs and garlic (½head).
Bake the tomatoes in the oven at 180 degrees for 20 minutes.
Fry the finely chopped onion in olive oil with the herbs of Provence and the remaining garlic, and then whisk in a blender with the tomatoes until smooth.
Add the chicken broth, salt and pepper, strain and bring to a boil over medium heat.