Emoticons, cows and creative freedom: 8 cool ideas for spring manicure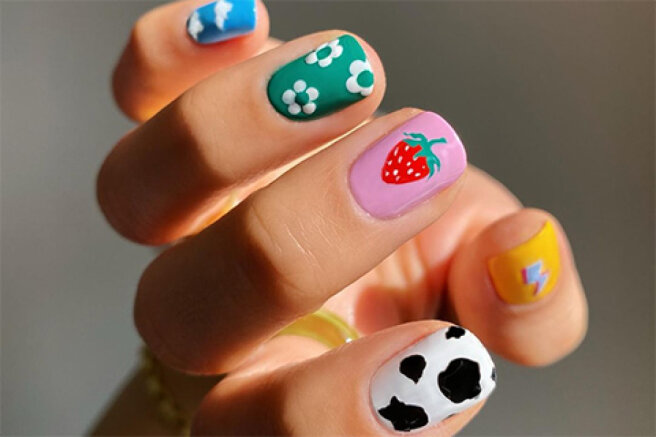 Spring is the perfect time to try new manicure options, especially since over the past year, with lockdowns and the closure of beauty salons, there were not so many opportunities for experiments. It is not surprising that for some, the return to normal life was symbolized by such simple and everyday joys as a long-awaited trip to their master. In our material, we have collected bright and positive ideas for a spring manicure.
1. Emoticons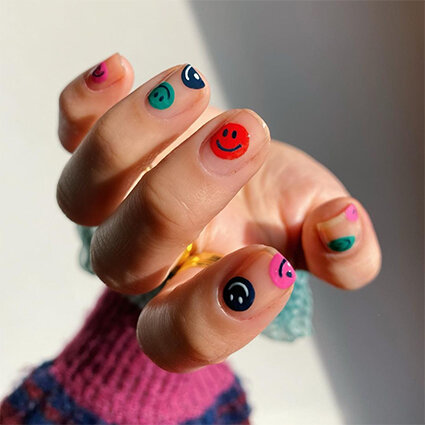 At the end of winter, there is always a lack of vigor and strength, but after a winter overshadowed by the coronavirus pandemic, a charge of good mood will definitely not hurt. If others are still frowning, you can add smiles to this world with a manicure.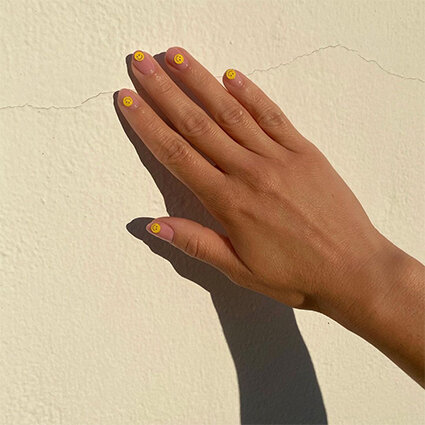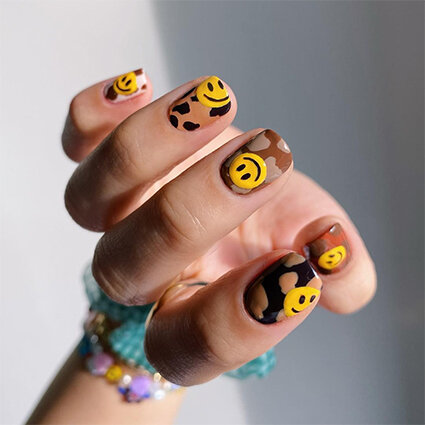 Nail art with emoticons is a popular trend on Instagram, which is not surprising, because it is quite easy to repeat it. To create an even brighter manicure, use several different colored lacquers instead of yellow. Perfectly, this coating will be combined with the now fashionable jewelry made of beads, beads and colored plastic.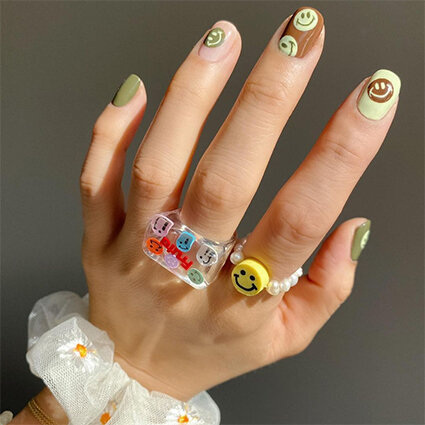 2. Daisies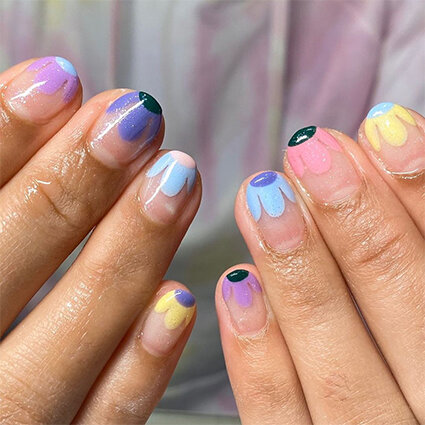 Flowers for spring? Yes, this obvious seasonal trend still does not get bored, no matter how much you irony over it. Both in fashion and in the beauty industry, spring is greeted with flowers — as, in fact, in nature.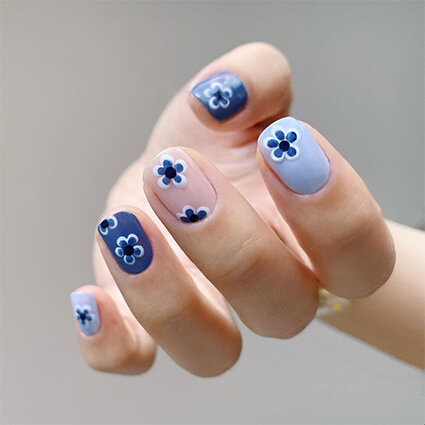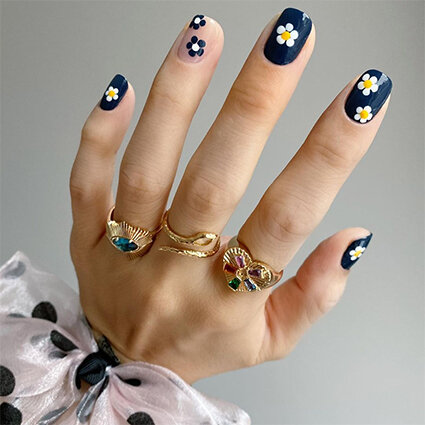 The most popular motif now is simple, child-like flowers like daisies or daisies. This year, we've all become a little more sentimental, so such a cute and slightly naive manicure is definitely super!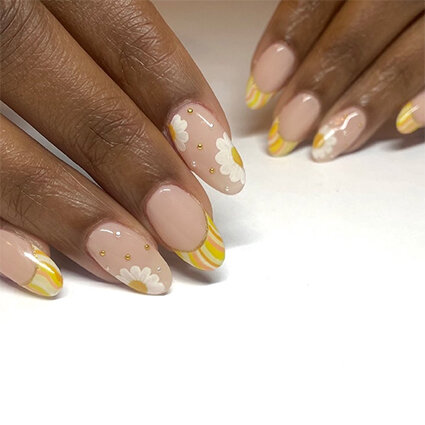 3. Candy period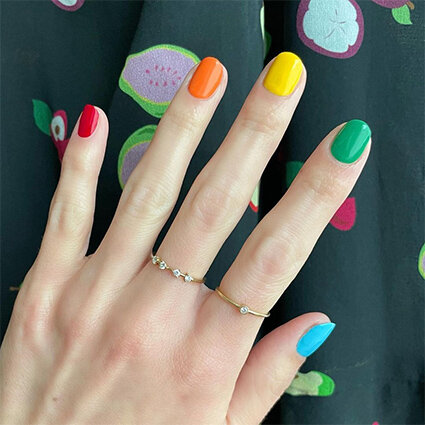 A scattering of bright dragees or caramels is something that reminds us both of childhood and of friendly gatherings while watching a movie. Well, a manicure in this style will definitely not go unnoticed — an ideal option for those who like to stand out, but do not dare to too extravagant images.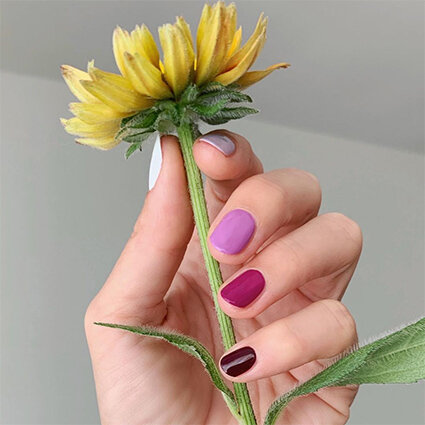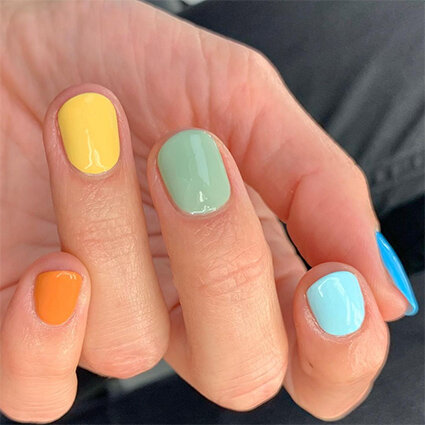 Why choose one bright color when you can use several at once! As an alternative, you can also choose pastel colors that remind you not of sweets, but of a delicate marshmallow.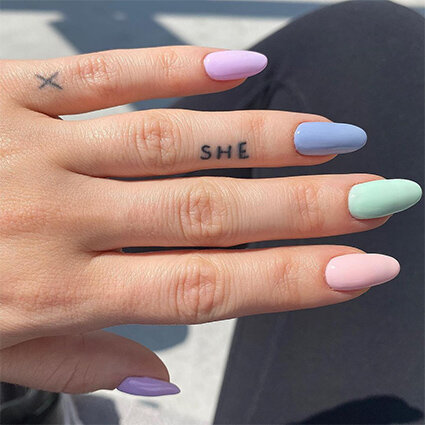 4. Look into your eyes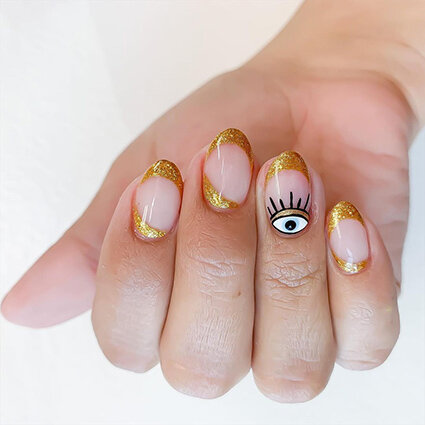 Manicure will appeal to those who like to stick to geometric ornaments, but at the same time want to slightly refresh the usual patterns. Whimsical and funny drawings that resemble eyes are a great opportunity to show your creativity. Just look at this bright and topical manicure, where protective masks are played out!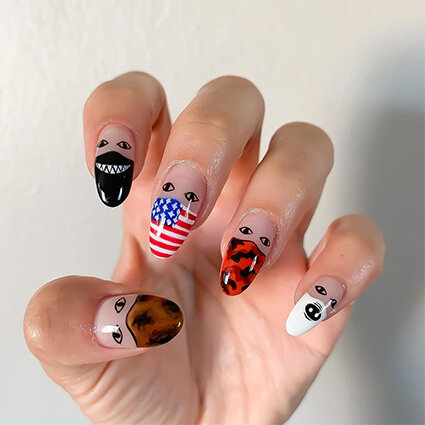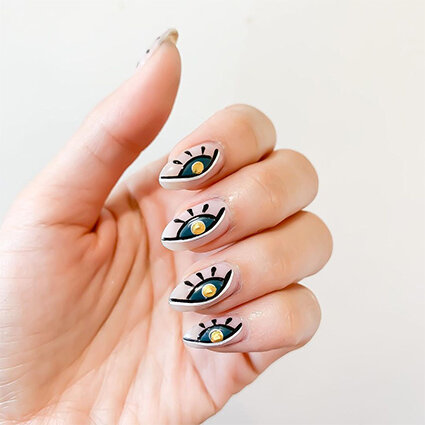 From a minimalistic design with simple dots to a literal image of the eye or wavy lines that resemble makeup and eyeliner, you can really interpret the idea in different ways.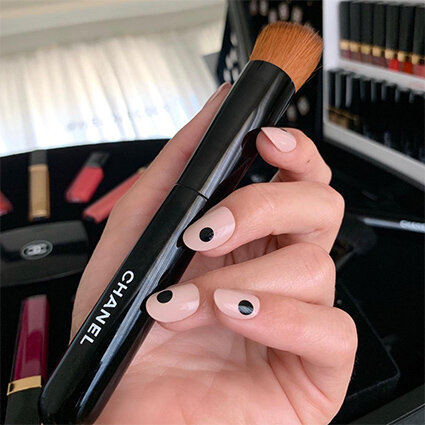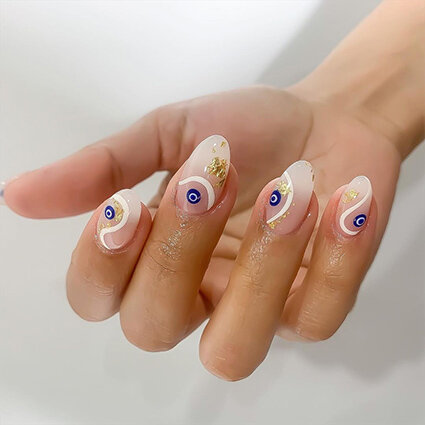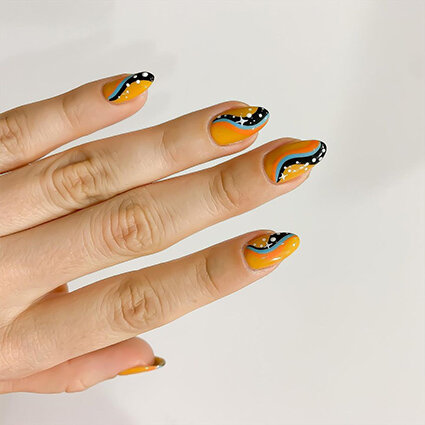 5. Freelance artist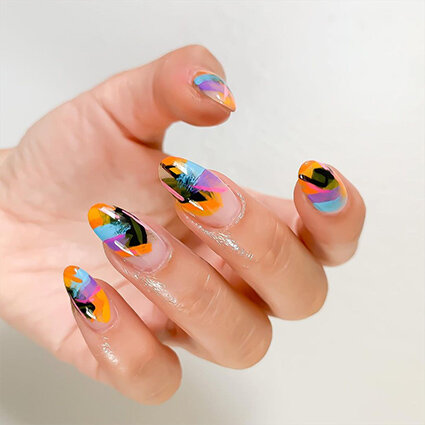 Another way to show your creative nature is this popular Instagram trend inspired by artists. Forget about evenly varnished nails-feel free to mix and apply colors on top of each other, like paint on a canvas. There are simply no tips on how to do it right and how to do it wrong-everything is at the mercy of your imagination.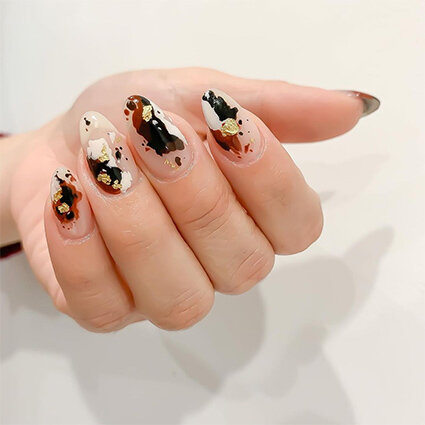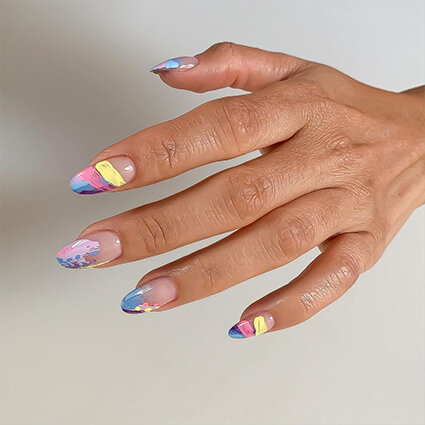 Experiment with a combination of similar shades in the palette or, conversely, with contrasts, combine thick strokes with thin lines or dots. This manicure will definitely be individual!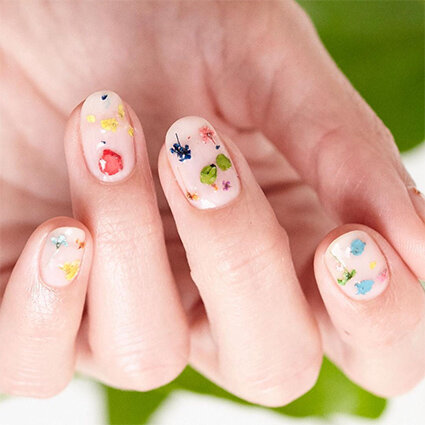 6. Farm holidays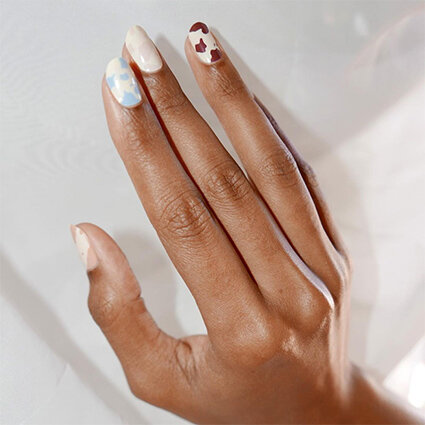 Animal prints in fashion still cause a controversial reaction, but designers repeatedly return them to their collections and even expand the range. So, in past seasons, at the peak of popularity, there was a pattern that imitates the color of cows: the brightest models could be found in the Burberry collection, things from which immediately attracted the stars, including Beyonce and Cardi B.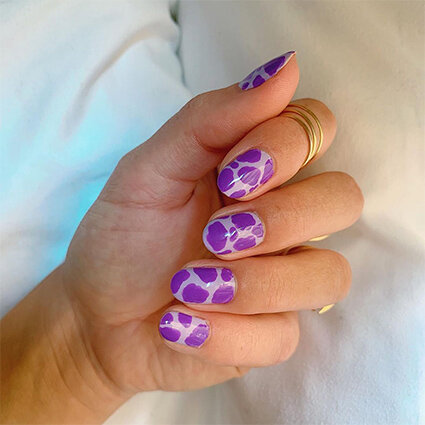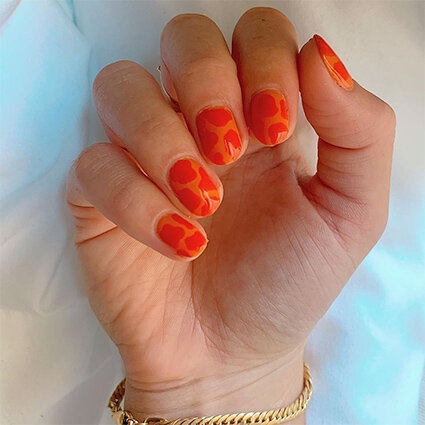 The beauty industry was also not indifferent to this print, especially since it is not so difficult to repeat it. To add originality to a simple pattern, you can use bright shades of varnish instead of natural ones.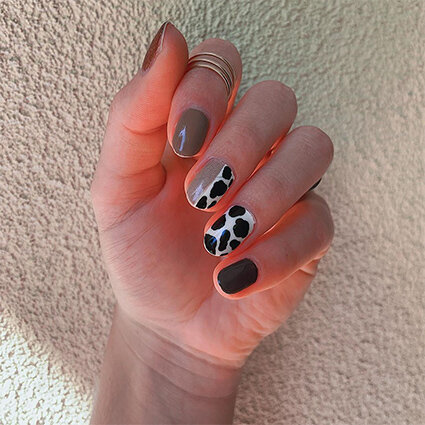 7. Rainbow at your fingertips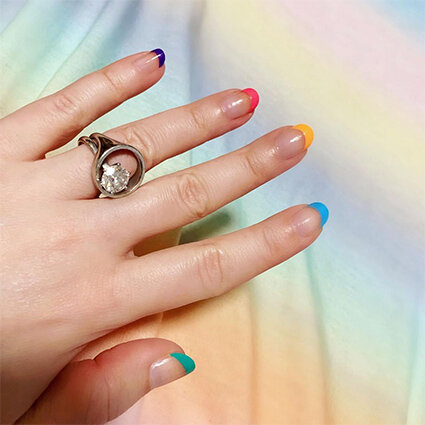 The classic French jacket remained somewhere in the trends of the noughties, but that era in fashion is returning, which means it's time to pay attention to the modern interpretation of the famous manicure. This manicure began to gain popularity in the fall, but do not worry if you missed it then. It's still popular!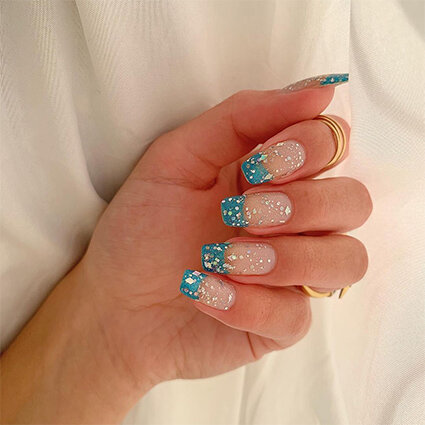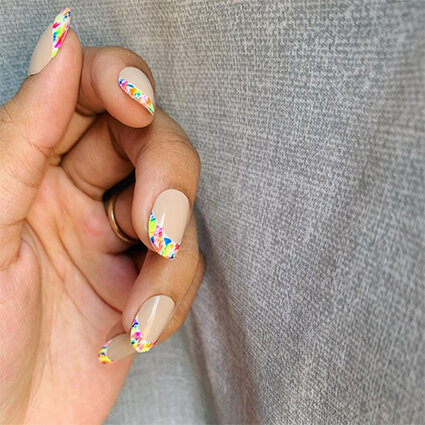 If you like both minimalism and bright accents, then a rainbow jacket is a great idea. Make a base coat in a nude shade and add a colored mosaic to the tips of your nails. 
-nail-29.jpg">
8. All at once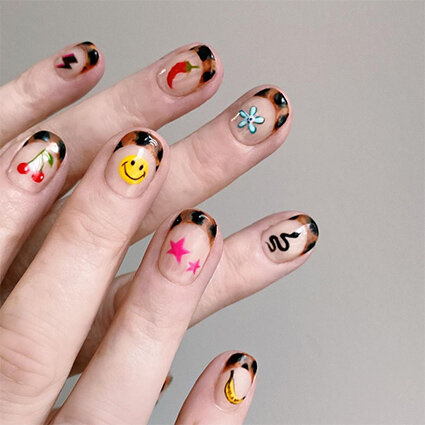 The so — called "indie nails" (indie nails) is one of the most popular trends now, according to Pinterest analytics. This is a real outlet for everyone who is always difficult to decide on a choice. But why choose when you can try several fashionable styles at the same time.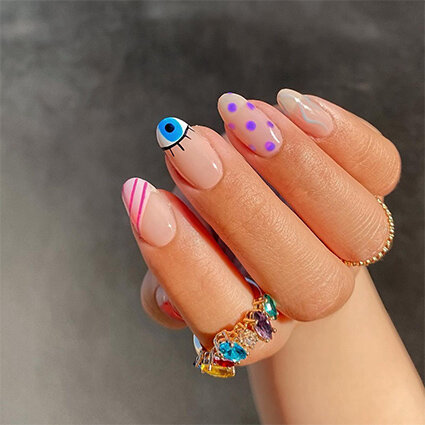 The essence of this manicure is to combine several motifs at once: combine a "tortoiseshell" jacket with emoticons, and fruits with geometric patterns.