From giant hairpins to retro headscarves: 5 accessories to create trendy summer looks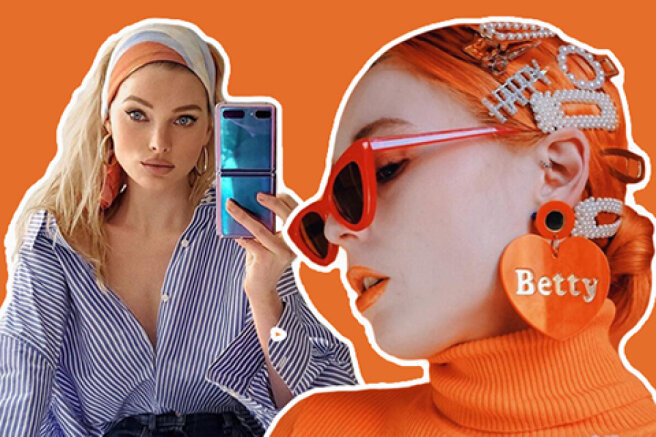 For the next three months, at least, we can finally put away warm hats and scarves and try on new summer looks almost every day. Make them not just comfortable and beautiful, but also incredibly stylish will help the trend accessories of this season-vintage headscarves, panama hats, headbands and more! About how and with what to wear them, "Gossip" tells in a new material.
Organza rubber bands
Large organza elastic bands are a hair accessory that you will definitely not be left without attention this summer. They can be of a variety of colors, solid colors or with interesting prints — everything is up to your imagination!
These elastic bands look especially stylish on the head when they are matched to the main outfit. In this case, do not even be afraid to overdo it: the larger the elastic band, the more luxurious it looks on the tail or in the "malvinka" on the top of the head.
Vintage headscarves
Classic or vintage headscarves are back in fashion! This accessory is an integral part of the wardrobe of Queen Elizabeth II, but fashionistas once again drew attention to it only in the new summer season. Experiment with prints and tie it on your head as soon as your heart desires: a couple of light movements-and the perfect summer look with a slight touch of retro in your pocket.
Panama
Panama, which is literally translated from English also whimsically called the bucket hat — is again on trend this summer season. Forget the times when you had to wear this headdress just because "mom made you": now you probably want to add a couple of such accessories to your wardrobe. Panama can be either plain, or with interesting patterns or bright prints! A stylish accessory will not only fit harmoniously into almost any summer look, but also help to avoid sunstroke on a particularly hot day.
Giant hairpins
Mini hairpins were in fashion a few years ago, but now they have been replaced by XL hair accessories. With rhinestones, beads or inscriptions-today they can be found in almost every clothing store. If you see it-buy more, and in a variety of colors and shapes! A few of these giant hairpins, attached to the face or on the back of the head, will immediately refresh the image and bring a drop of playfulness to it.
Bandages
A wide headband is the perfect accessory that combines practicality and style! It will help to complement the beach image or remove hair from the face during sports. You can also add an accessory to a romantic outfit for a date — with a cocktail dress, this headband will look incredibly cute (you can be inspired by the image of the Disney heroine Minnie Mouse!)