"Whatever you say, we are not on the way": the most high-profile breakups of Western star couples since the beginning of the year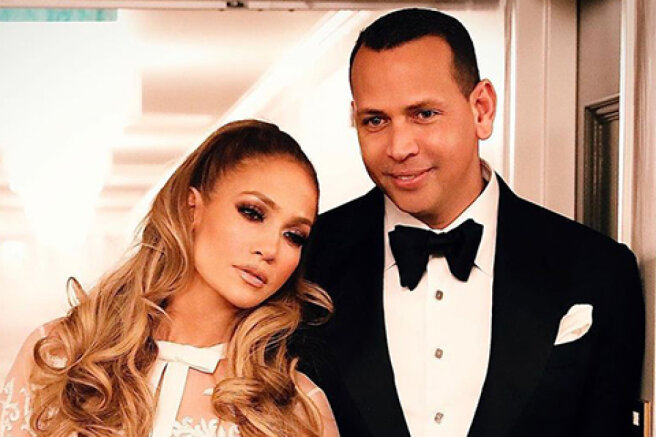 Since the beginning of 2021, several Western star couples have already announced their separation. Some of them could not solve the problems that began during the quarantine period, and others simply realized that they were no longer on the way. In the new material, MustHub recalls the stories of Kim Kardashian and Kanye West, Jennifer Lopez and Alex Rodriguez, as well as other star unions that have ceased to exist in the past few months.
Kim Kardashian and Kanye West
In late February, 40-year-old Kim Kardashian and 43-year-old Kanye West officially filed for divorce, rumors of which began to circulate since the beginning of January. It is known that the couple peacefully approached this difficult process,which to this day has not yet been finalized.
So, Kim and Kanye did not challenge the prenuptial agreement, which was drawn up six years ago, and now they are trying to finally agree on joint physical and legal custody of their four children. The couple's daughters North and Chicago and sons Saint and Psalm are likely to stay with Kim, and she is not going to interfere with their regular communication with their father.
Kanye, in turn, is not going to claim their family home in California, which he once designed himself. The rapper decided to leave the $ 60 million mansion to his ex-wife and children-Kim has repeatedly said that she wants her children to grow up in this house. Where exactly Kanye will settle after the divorce is still anyone's guess.
The divorce of Kim and Kanye did not come as a surprise to many fans of the couple, because the problems in their family became known last summer. The drama developed against the background of the election race, in which the rapper participated. During this campaign, West first tearfully admitted that he was against the birth of his eldest daughter North with Kim and even offered to give her an abortion, but then, fortunately, changed his mind. Then the rapper said on Twitter that he wanted to divorce Kim two years ago, but soon deleted this message.
Kardashian reacted very emotionally to her husband's revelations — according to insiders, she immediately flew to Kanye's ranch in Wyoming, where he spent almost all of his time for the last year, and sobbed hysterically. Then people from the inner circle claimed that Kim and Kanye still genuinely love each other and are doing everything possible to save their marriage. At the same time, there were rumors that the couple's relationship had deteriorated for a long time, and they had not lived under the same roof for almost a year.
Kim herself at first tried to smooth over the situation, reminding that all the unexpected statements of her husband were related to the aggravation of his bipolar disorder, and claimed that she was close to him to provide support. However, after a few months, it became clear that Kim's efforts were not enough to start from scratch. It was even rumored that the last straw for the Kardashians was Kanye's alleged affair with the famous beauty guru Jeffrey Star — this news, by the way, has not received official confirmation.
Kim and Kanye lived together for eight years, six of which were married. From the outside, the relationship between the spouses seemed perfect: the rapper made expensive gifts to his beloved, and she did not tire of publicly calling him a genius and confessing her love.
The couple's eldest daughter North was born a year before their wedding in 2013, and their son Saint was born two years later. Kanye and Kim also have two younger children-three-year-old Chicago and two-year-old Psalm, who were born thanks to a surrogate mother.
Zoe Kravitz and Karl Glusman
At the beginning of the year, it became known about the separation of another star couple-32-year-old Zoe Kravitz and 33-year-old Karl Glusman. At first, the documents confirming the couple's intention to divorce were at the disposal of the press, and then the official representative of the actress confirmed her breakup with her husband, but refrained from explaining the reasons.
The breakup of Zoe and Karl came as a surprise to many fans, because even in the summer, their relationship seemed to be idyllic. Then they celebrated the first anniversary of their wedding, and Glusman very touchingly congratulated his beloved on this holiday. The actor of the film "Under the cover of Night" stressed that this year was not easy due to the coronavirus pandemic, but expressed confidence that together they will be able to overcome all obstacles, and also confessed to Zoey in love.
One year. Not the year we expected, but I feel that if we can get through this, we will overcome absolutely everything. I love you more than anything in the world. You're my best friend,
- the actor wrote, adding that he is ready to do everything possible for his wife until his death.
Zoe Kravitz and Karl Glusman began dating in 2016 and rarely shared details of their relationship with the press. Their engagement became known by chance, when in 2018 the actress let it slip in one of her interviews.
Yes, I'm engaged. I haven't told anyone about this yet, that is, I haven't announced it to the whole world. I wanted to keep it a secret,
the daughter of actress Lisa Bonet and singer Lenny Kravitz said at the time.
Zoe admitted that Karl had originally planned to ask for her hand in a romantic setting in Paris, but at the last moment the plan fell through, which the actress herself was unspeakably happy:
He did it, and I like that it didn't go according to plan in Paris. He did it at home, in sweatpants.
Zoe and Carl's wedding was held in secret. The celebration took place in the summer of 2019 in the Parisian house of Zoe's father, and among the guests were only the most relatives and friends of the newlyweds. The lovers decided to keep the details of the ceremony a secret from journalists. They rarely made any comments about their relationship at all. Only once did Zoe admit that she felt as comfortable and relaxed as possible around Karl.
Next to Karl, I can be with my oddities, I can relax and be one hundred percent myself,
- shared then the star of the TV series "Big Little Lies".
Elliot Page and Emma Portner
In late January, 34-year-old transgender actor Elliot Page, formerly known as Ellen, announced his separation from his wife. Elliot was married to 26-year-old dancer Emma Portner for about three years. In their official statement, the couple stressed that in fact they broke up in the summer of 2020, but then for about six months they did not dare to officially divorce. Elliot and Emma did not specify what caused their breakup, but said that they remained on good terms.
After much thought, we made the difficult decision to divorce after we broke up last summer. We have great respect for each other and remain close friends,
- it was said in the statement.
Two months earlier, Elliot Page, who became famous for his role in the film "Juno", declared himself a transgender man. The actor admitted that since childhood he felt like a boy, but he decided to make a conscious transition only in quarantine, when he was left alone with his thoughts in four walls. At that time, Elliot's wife, Emma Portner, publicly supported him and admitted that she was sincerely proud of him.
I had plenty of free time to focus my attention on things I had previously unconsciously avoided. I was finally able to accept that I was a transgender man and allow myself to become who I really am,
- Elliot told about that period of his life in a recent interview.
Recall that Page publicly spoke about his homosexuality back in 2014. In the summer of 2017, Elliot, who at that time was still known around the world as Ellen, began dating choreographer and dancer Emma Portner: the couple did not hide their tender feelings for each other and often published romantic pictures in social networks. In early 2018, Elliot and Emma got married, which they also announced to all their Instagram followers.
I can't believe I can call this extraordinary woman my wife,
Elliot shared his emotions at the time.
At the same time, after the divorce, Page admitted that coming out and marrying his beloved still did not help him find comfort and negotiate with his own body.
The difference between how I felt before I talked about my orientation and after that was huge. But did the discomfort in my body disappear then? No, no, and no again,
Page admitted.
After the transgender transition, which coincided with the divorce period, Elliot finally felt happy. Recently, he underwent surgery to remove breast tissue, which, according to the actor, not only helped him look more masculine, but also radically changed his life. In a recent interview with Oprah Winfrey, Elliot also said that he can finally look at himself in the mirror without disgust and literally cries with joy every time he sees his reflection.
Ashley Benson and G-Eazy
In early February, their relationship ended 31-year-old Ashley Benson and 31-year-old rapper Gerald Gillum, better known under the creative pseudonym G-Eazy. Their romance lasted nine months, and ended due to the fact that the couple began to quarrel often. According to rumors, Ashley did not like the way her boyfriend allowed himself to communicate with her, and dreamed of being the only one for him.
She told him it was over. She felt that he wasn't completely devoted to her. She hated it when he talked about other women,
- told insiders about the reasons for the breakup of Ashley and Gerald.
For the first time about the romance of the actress and the rapper spoke in May last year, just a few weeks after the separation of Ashley and Cara Delevingne. Then the couple was noticed for kissing, after which Internet users began to hate Benson: according to their version, she cheated on Kara with a musician, which allegedly caused the girls to break up. After a while, by the way, Delevingne herself appealed to fans with a request not to poison her former lover, saying that only the two of them know the truth.
It is more important than ever to spread love, not hate. Everyone who's hating Ashley Benson, please stop. You don't know the whole truth, only she and I do, and that's how it should be,
Kara asked her fans.
Ashley Benson and rapper G-Eazy are rumored to have gotten close while recording a joint track called All The Things You're Searching For. The song has lines about "the best sex I ever had" - subscribers concluded that this is how the actress and musician shared with fans the details of their intimate life.
The couple's relationship developed rapidly. They spent almost all their free time together, and at the end of August, they even brought fans to the idea of their possible engagement. Then Benson appeared on a date with her lover, and the reporters saw on her very finger a ring with a large stone, resembling an engagement ring. Whether Gerald actually proposed marriage to his beloved remained a secret. However, the fact remains that the couple did not go down the aisle, because they decided to break up.
Ana de Armas and Ben Affleck
The news of the separation of 48-year-old Ben Affleck and 33-year-old Ana de Armas came in late January. Rumored to be the initiator of the breakupand became an actress: she allegedly broke up with her boyfriend because they did not have the same priorities and plans for the future. It was rumored that Ben and Ana did not make a drama out of their breakup and put an end to their relationship even without a personal meeting, limiting themselves to communicating on the phone.
Ana broke up with him. Their relationship was complicated. Ana doesn't want to be in Los Angeles anymore, and Ben obviously needs to be there, because that's where his kids live. The decision was mutual. They are at different points in their lives. Ben continues to work on himself. He has three projects ahead of him, and he remains a reliable father. They're both happy with the way their lives are going right now,
- an insider told about their breakup.
Later, Ben's younger brother Casey Affleck admitted that lovers can still give their relationship a second chance, and also called Ana one of the sweetest and most charming girls, who clearly will not have problems finding a new boyfriend.
At the end of March, fans suspected that Affleck and Armas decided to start all over again. These thoughts were prompted by Ana, who posted a photo on her Instagram with a pendant around her neck in the form of a half heart — it is noteworthy that the second part of this heart on a chain was worn by Ben during their romance. So far, no official confirmation of the reunion of the star couple has appeared.
Recall that Ben Affleck and Ana de Armas got close on the set of the film "Deep Waters" and at first did not advertise their romance. Their relationship was declassified in March last year, when they went on vacation together in Costa Rica. During the entire quarantine period, the couple was almost never apart: they spent most of their time at Ben's house and sometimes went out for walks with the dogs, during which they looked absolutely happy.
Fans noted that next to Ana, Ben changed in a positive way, finally forgot about his addictions and learned to enjoy life again. The couple's relationship seemed very serious: Affleck even introduced his beloved to the three children from his marriage to Jennifer Garner, and they got along well.
In November last year, the first rumors about problems in the couple of Ana de Armas and Ben Affleck appeared — then they began to appear in public together much less often than before. However, after a while, the lovers dispelled these suspicions and instead provoked talk in the press about their possible engagement. Apparently, it was at that very moment that Ana and Ben began the first problems in the relationship, which later led to their separation.
Jennifer Lopez and Alex Rodriguez
In mid-April, 51-year-old Jennifer Lopez and 45-year-old Alex Rodriguez announced their separation after four years of romance. They released an official statement saying that it was better for them to remain friends, while clarifying that they would continue to work together on a number of projects.
We realized that it is better for us to remain friends, and we really hope that we will be able to maintain a warm relationship. We will continue to work together and support each other in common causes and projects. We wish our children and each other all the best,
- it was said in the statement.
Later, insiders confirmed that the separation of the couple was peaceful, and it was initiated by Jen. According to people from the star's inner circle, Lopez could no longer trust her former lover, and they had too many unresolved problems.
She was pretty miserable and didn't think it was in her best interest to stay with Alex anymore,
- friends of the singer specified.
Rumors that the couple Jennifer Lopez and Alex Rodriguez had problems, arose in early spring. Then the news spread in the press that the lovers broke off the engagement, but after a while they themselves denied this information and said that they were working on their relationship. Then fans suggested that the relationship between Lopez and Rodriguez deteriorated due to the suddenly surfaced rumors about the basketball star's affair with a young reality TV star Madison LeCroy. Despite the fact that Alex and his close friends claimed that this is just a slander, insiders hinted that this is not the first time that Rodriguez was caught on romantic correspondence with girls.
Whatever it was, at first Jennifer and Alex still tried to maintain their relationship. Rodriguez flew to his beloved on the set in the Dominican Republic, after which the press appeared pictures of the couple gently kissing. However, all efforts were in vain: according to rumors, it was there that the couple made the final decision to break up.
Whether there was cheating or not, it doesn't matter. She would not tolerate the feeling of fear that this might happen floating in the air between them,
- told insiders.
The romance of Jennifer Lopez and Alex Rodriguez began in 2017. The couple's relationship developed rapidly: they quickly started living as a family, introduced their children from previous relationships, and got engaged in 2019. With the wedding, everything went wrong: first, the lovers postponed it because of a large concert tour in honor of Lopez's 50th birthday, and then there was a coronavirus pandemic, because of which the couple also had to postpone the celebration for an indefinite date.
Rebel Wilson and Jacob Bush
In early February, the actress Rebel Wilson, like the previous heroes of our today's selection, takzhe joined the ranks of singles. The 41-year-old star of the movie "Bachelorette Party in Vegas" broke up with the entrepreneur and billionaire, whose family fortune is estimated at $ 13.4 billion, Jacob Bush. This was reported to the press by a close friend of the actress, specifying why exactly the paths of Rebel and Jacob parted.
Jacob was a terrific guy, but just not the kind of guy Rebel needed for a long-term relationship.,
Rebel's friend said.
Wilson and Bush met in a group of mutual friends in 2019, and after a while began dating. At the same time, the actress and the businessman confirmed their romance only in the fall of 2020, when they first came out as a couple, and then began actively posting romantic photos together in social networks. And at the beginning of the relationship with the billionaire, Rebel looked at them very optimistically.
This is the first guy in her life who understands her sense of humor and respects her personality. Someone who has a very successful life of their own. They are both very adventurous and well-versed in business,
- shared then friends of the actress.
By the way, the breakup was quite easy for Rebel. Now the actress, who recently lost 20 kilograms, is completely focused on herself. She participates in a large number of projects and admits that in the new weight she finally found inner harmony and completely accepted herself and fell in love.
I don't think I'll ever get too thin, but I feel much healthier at the moment. I don't know what usually happens to women when they turn 40. However, I feel as if I have just come into harmony with my body and work,
"that's how Wilson describes his emotional state right now.
Iker Casillas and Sara Carbonero
In early March, Western media reported on the separation of 39-year-old Spanish football player Iker Casillas with 37-year-old model and sports journalist Sarah Carbonero. The couple was together for 11 years and raised two sons together. According to rumors, the problems in the relationship of Iker and Sarah began last year, but the official reasons for their breakup are kept secret.
The last few years have been really difficult for the star couple. First, Casillas suffered a heart attack, because of which he had to finish his sports career earlier than planned, and then a new blow struck-Sarah was diagnosed with ovarian cancer. The couple managed to overcome these problems: Iker recovered from his illness, and his wife underwent surgery and went into remission.
Recently, the family changed their place of residence. Iker and Sara returned to their native Spain after five years of living in Portugal, where the athlete played for FC Porto. It is rumored that Carbonero now lives with his sons in their family's country house, while Casillas has settled in an apartment in Madrid.
After the breakup, the lovers, apparently, kept a good relationship. Sarah had recently been admitted to the hospital, and Iker often visited her, and then met her from the clinic. Then some fans of the couple had doubts that they actually put an end to their relationship. However, insiders claim that Casillas was just giving his ex-lover his friendly support.
The relationship between Iker Casillas and Sara Carbonero began very romantically. In 2009, Sarah, who worked as a sports journalist, approached Iker to interview him after one of the matches. Then the football player did not like the girl's questions, and he pointedly interrupted their conversation and left.
After a while, Casillas realized that he had acted rudely, and sent Sarah flowers as an apology. The offended girl rejected the bouquet, which further provoked the football player, and he began to send Carbonero flowers every day until he finally melted her heart.
In 2014, Iker and Sarah became parents for the first time: their son Martin was born. Two years after that, the lovers secretly married — at that time, the model and journalist were waiting for their youngest son, Lucas, who was born in June 2016.