Eva Mendes and Ryan Gosling with their daughters in Los Angeles: new photos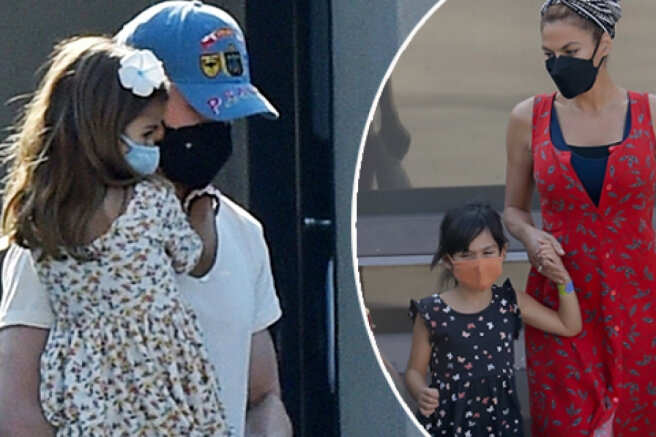 47-year-old Eva Mendes and 40-year-old Ryan Gosling do not often appear in public together with their daughters, six-year-old Esmeralda and five-year-old Amada, but recently they all came under the sights of the paparazzi. The reason to go out was more than a good one — the couple took their daughters to the dentist.
The couple shared their parental responsibilities equally in the literal sense of the word: while Eva led her eldest daughter by the hand, Ryan carried the youngest in his arms.
The actress, who had seemingly changed her image, returned to her usual image — Eva was dressed in a light red button-down sundress with a blue top, and her hair, gathered in a bun, was decorated with a black and white scarf. The couple's daughters were dressed to match their mother — in light dresses with patterns.
Eva Mendes and Ryan Gosling have been together for 10 years. At the same time, for a long time before the romantic relationship, they were friends. However, according to insiders, there has always been chemistry between them, so it was only a matter of time before they gave free rein to their feelings.
A few years ago, Gosling, when asked what he was looking for in a woman, replied that he was no longer looking for anything, because he found everything in Eve.
I know that I'm with the person I should be with, and that's Eva Mendes. I'm not looking for anything else,
— he said.
Eva, in turn, admitted that after meeting Ryan, she revised her attitude to children — she did not want to become a mother before.
I had never wanted children before, until I fell in love with Ryan. It so happened that at the age of 40, my first child was born. At the age of 42, I gave birth to my second child, and after that I focused on my family, putting my career on the back burner,
— she noted.
In the cinema, the actress has really not been removed for many years and devotes herself to raising her daughters. Although he does not rule out the possibility that he will someday return to Hollywood.
Acting is something that I will always love," Eva admitted.