Princess Charlene of Monaco has finally been reunited with her husband Prince Albert II and children after a serious illness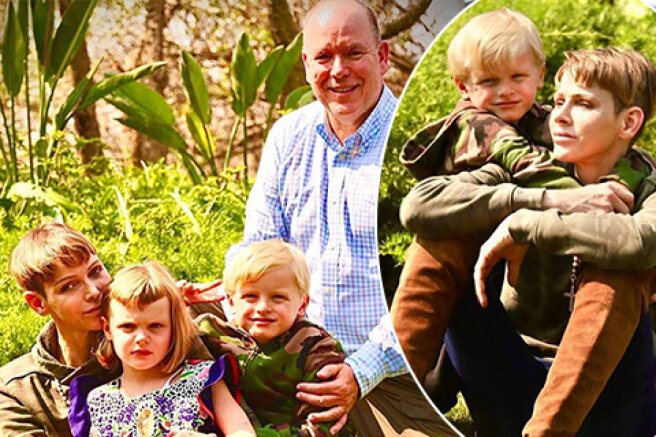 Back in May, 43-year-old Princess Charlene of Monaco caught a severe ENT infection during a trip to her homeland, South Africa. Since then, she has undergone several operations and has remained in South Africa all this time, because doctors have so far forbidden her to return to Monaco. The last time Charlene saw her husband Prince Albert II and twins Jacques and Gabriella was in June. The other day, the family was finally reunited — the Prince of Monaco and his children again visited Charlene in South Africa.
The princess shared pictures from this touching meeting with her 63-year-old husband and six-year-old children on her Instagram page today. In these photos, a happy family in full force poses during a vacation in nature. Charlene said that baby Gabriella cut her own bangs in her absence, but this experiment failed.
I am so happy to be reunited with my family again! Gabriella decided to cut her own hair! I'm sorry, my Bella, I'll do my best to fix your haircut,
- Princess Charlene shared the news.
Recall that two weeks ago, Charlene underwent another operation under general anesthesia, which lasted four hours. It is not specified whether the surgical intervention was directly related to Charlene's ENT infection. So far, doctors forbid the princess to travel long distances, which is why she has been away from her relatives for almost the fourth month. According to forecasts, she will stay in South Africa at least until the beginning of October. The princess misses her children very much and constantly communicates with her family via video link.
Due to the long separation of Charlene from her husband and children, rumors even appeared in the press about problems in their marriage with Albert II. It was even rumored that the princess was already looking for a new home in South Africa to stay there. There is no official confirmation of this yet. Charlene herself, on the contrary, constantly devotes posts to her husband in her Instagram, calling him her main support and support.
In fact, this is the longest period when I am away from Europe and my children, with whom I communicate almost every day via video link. They have already come and will return again to stay with me after the operation. It's an amazing opportunity to be in South Africa, but I'm very sad that I can't spend this summer with my children in Europe,
- Charlene said earlier.