Photo shoots in the church and the slogan "Eat, pray, love": how Madonna travels around Italy with her children and boyfriend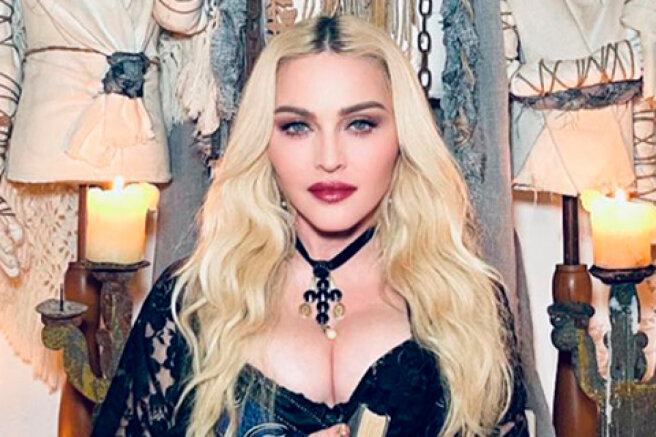 63-year-old Madonna, having loudly celebrated her birthday with her family, is not going to leave Italy — the journey through Italian towns continues. This time, the singer's family and friends went to the Puglia region, from where a few minutes ago the pop diva published a post with the comment "Eat, pray, love".
The impromptu photo shoot took place in the singer's favorite religious style. In the image of the Italian signora, the Madonna posed in a church with a somewhat gloomy atmosphere.
However, judging by the story on the singer's Instagram, the family is in a favorable mood. Madonna's relatives, like herself, enjoy their holidays: they move between cities in retro cars, visit small home-made restaurants and walk along narrow medieval streets.
The singer is accompanied on the trip by her boyfriend, 27-year-old Ahlamalik Williams, and her six children: two biological ones — Rocco and Lourdes-and four adopted ones, Stella, Esther, Mercy James and David.
In one of the photos, the 24-year-old daughter of the singer Lourdes Leon, by the way, poses with a new boyfriend, whereas she usually prefers to hide her personal life from the public.
Well, Madonna and her beloved Akhmalik are not hiding. In the story, she published a frame in which the couple is driving in a car and the pop star, dressed in a dress with a deep neckline, touchingly leaned her head on her boyfriend's shoulder. Recall that the lovers have been dating for more than a year.
The emotions from the past holiday have not let go of the singer for several days: she published a mini-film on her instagram dedicated to her 63rd birthday — in it you can see in detail how fun the holiday was. Another new two-minute video is dedicated to the party held the next day.
The singer also published a funny shot in which the grown-up son of the star, 21-year-old Rocco, rides her on his back.
It seems that the trip to Italy, timed to coincide with a family celebration, is going well.