Kate Middleton with her children and other members of the royal family attended the parade in honor of Elizabeth II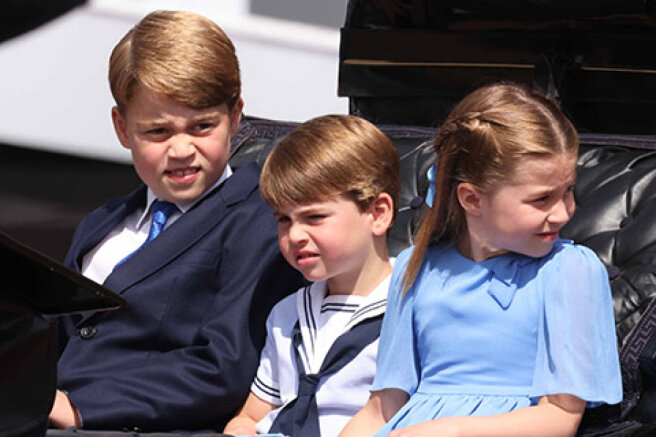 Kate Middleton and her children appeared at the Trooping The Colours parade in London, which became part of the celebrations of the platinum jubilee of Queen Elizabeth II. The Duchess of Cambridge was riding in a carriage with her children, Prince George, Princess Charlotte and Prince Louis, as well as Camilla Parker-Bowles.
Kate Middleton chose a white Alexander McQueen dress for the parade. The image was complemented by a Philip Treacy hat, as well as earrings with sapphires that previously belonged to Princess Diana.
Prince George, Princess Charlotte and Prince Louis are participating in such an event for the first time. The Queen's great-grandchildren waved to the audience during the parade: at one point, Princess Charlotte even made a remark to her brother, asking him to stop waving.
Elizabeth II, Prince Charles, Camilla Parker-Bowles, Prince William, Kate Middleton and their children watched the aviation show and fireworks in the Queen's part from the balcony. Prince Harry and his wife Meghan Markle also arrived to celebrate the anniversary, but they did not go out on the balcony with other family members: earlier, the Dukes of Sussex refused royal duties.
Despite this, Meghan Markle was later noticed at the celebration among the younger members of the royal family: she talked to Zara Tindall's children.
The celebration was not without force majeure: Animal Rebellion activists, who oppose the fact that the royal family owns property and land throughout the country, tried to disrupt the parade by blocking the way to the guards, but they were quickly removed from the road.