Off-duty: Engaged Jennifer Lopez and Ben Affleck in Los Angeles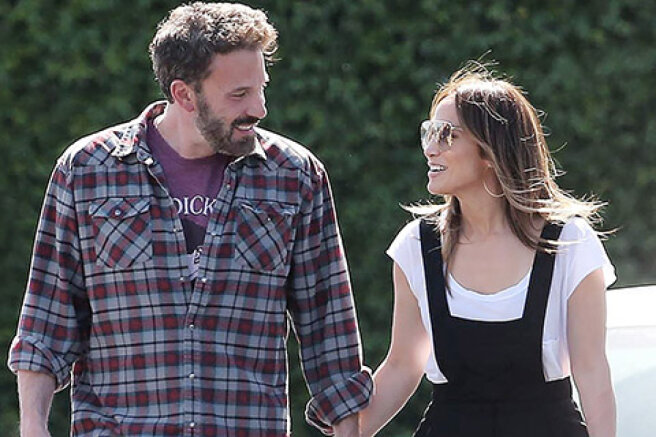 Jennifer Lopez and Ben Affleck, who got engaged for the second time for a day, were again in the paparazzi chronicle. Photographers caught up with them during a walk in Los Angeles. Jennifer chose a laconic look with a white T-shirt and a jumpsuit, which she complemented with Max Mara sunglasses and a Coach bag (she has been cooperating with the Jay Lo brand for several years). Well, Affleck appeared in public again in his favorite plaid shirt, which he wears quite often. The stars hardly took their eyes off each other and held hands tightly.
According to Western tabloids, the couple was heading to school to pick up Jennifer's daughter Emma after school.
Jennifer announced her engagement to Ben at the end of last week. The singer told in detail how the actor proposed to her for the second time and presented her with a ring with a natural green diamond weighing 8.5 carats. The jewelry was created in the jewelry workshop Rahaminov Diamonds. Its value is not disclosed, but experts believe that the ring cost Affleck at least $ 5 million.
Green has always been my lucky color, and now, of course, it will always be so,
— Jennifer reported on her website On the JLo.
Affleck and Lopez got engaged for the first time 20 years ago, but then the wedding never took place.