Eva Mendes and her daughters came to visit Ryan Gosling for filming in France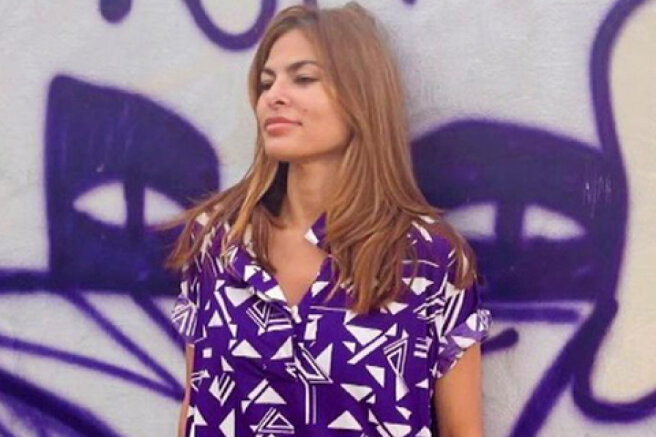 Unlike her 40-year-old lover Ryan Gosling, 47-year-old Eva Mendes is a fairly active user of Instagram and often pleases her subscribers with new content. For example, now the actress is in France with her two daughters, where she accompanies Ryan on the set of his new film "The Gray Man", and publishes new photos from there.
Recently, Eva published several new pictures from the trip: in these photos, Mendes poses in a summer dress with an abstract print from one of the French designers. The actress admitted that she spent the whole day in a comfortable outfit: first she walked in it with children in the park, and then she went to dinner in it.
In the comments, one of the followers asked Eva which of the photos she recently published were taken by Ryan. In response, Mendes admitted that her lover has nothing to do with her instagram, and also explained why.
These pictures are usually taken by my friends, and I photograph them. This is a girl's business,
Eve replied.
Mendes ' Instagram is also missing photos with Ryan and the children from their family archive. Earlier, the actress has already explained to fans why she does not consider it necessary to publish such photos in social networks:
As for Ryan, I will only publish memories of things related to creativity, and not with my personal life (for example, photos from films in which we starred together, and so on). My man and my children are personal. This is important to me, so thank you for your understanding.
At the same time, Eva Mendes is always extremely frank with the audience about herself. So, the star once admitted that she was absolutely not against plastic surgery, and recently told that in her youth she was very complex because of her appearance. Eva said that she did not like herself at all in the pictures taken at the beginning of her career. It took 20 long years to accept herself and love Mendes.
I remember that when I saw this photo, I thought that my face looked strange and that the bone structure was unusual. Well, you know, the whole set of insecurities that a 26-year-old girl can have. But 20 years have passed, and now I would like to have the same "strange" face and the same "unusual" bone structure. Is that why I'm saying this? Maybe if you don't like your photo, you just need to wait until 20 years have passed, and then you will love it. "Use your youth before it goes away," said Oscar Wilde,
Eva summed up under one of her archive photos.