A gift from Kate and William and congratulations from Elizabeth II: how the royal family reacted to the birth of their daughter Meghan and Harry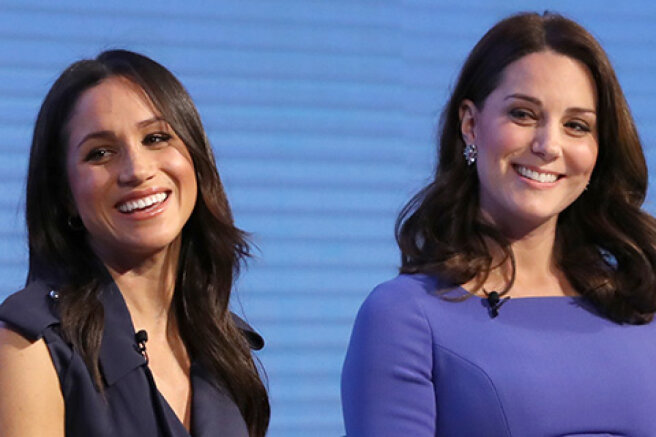 Despite the not very good relations of 39-year-old Meghan Markle and 36-year-old Prince Harry with members of the British royal family, Buckingham Palace warmly welcomed the news of the addition to the family of the Dukes of Sussex. Queen Elizabeth II and other relatives of Prince Harry congratulated them and their wife on the addition to the family and sent them their warmest wishes.
The Queen, the Prince of Wales and the Duchess of Cornwall, as well as the Duke and Duchess of Cambridge, have been informed of the birth of the Duke and Duchess of Sussex's daughter and are very pleased with the news,
Buckingham Palace said in an official statement.
Kate Middleton and Prince William, however, decided to congratulate Meghan and Harry personally and published a message on their official Instagram on their own behalf.
We are all thrilled with the happy news of Lily's birth. Congratulations to Harry, Meghan and Archie,
- they wrote.
It is possible that the couple's statement was made at the request of the 39-year-old Duchess of Cambridge. The relationship between the two brothers after the scandalous interview with Meghan and Harry Oprah Winfrey has deteriorated greatly, and Kate is now actively trying to reconcile them.
Insiders say the Dukes of Cambridge even sent a birthday present to their happy parents to celebrate their daughter's birth.
Princess Eugenie also congratulated her cousin and his wife. She and Harry are very close and have always maintained a good relationship and spent time together.
Congratulations, my dear cousin and cousin. We are very happy and happy for you,
— she wrote on Instagram.
Prince Charles and his wife, the Duchess of Cornwall, Camilla, also sent warm words to their son and daughter-in-law.
Congratulations to Harry, Meghan and Archie on the birth of Lilibeth Diana and wish them all the best at this special time,
- they wrote in social networks.
Recall that for the second time, Meghan and Harry became parents on June 4. They named their daughter Lilibet Diana after her late grandmother Princess Diana and great-grandmother Queen Elizabeth II (Lilibet was her childhood nickname). The couple also have a two-year-old son, Archie.