Norwegian Princess Martha Louise for the first time commented on the bisexuality of her fiance — shaman Durek Verrett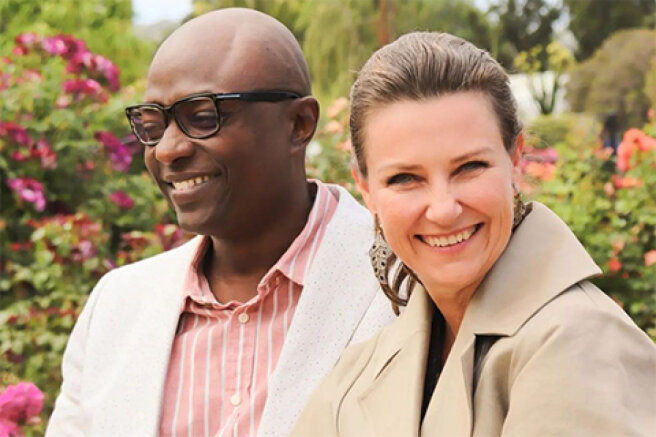 Norwegian Princess Martha Louise, who recently got engaged to shaman Durek Verrett, spoke about her attitude to her fiance's bisexuality. She commented on this topic in the podcast of the popular Norwegian presenter and stylist Jan Thomas. The release was timed to coincide with the so-called Pride Month in honor of the LGBTQ community.
Durek is very open about the fact that he is bisexual. So others ask: "My God, how do you live with this? Isn't it very difficult?". No, it's not difficult at all, he's just like that. I think it's incredibly important to be able to go through this stage of learning freely and with respect. I am so glad that he speaks openly about it, and that everyone who speaks openly about it shows who they are. Everyone who criticizes the way others live, in fact, only shows their own limitations,
— said the daughter of King Harald V.
Before meeting Martha Louise, Durek had been in a relationship with a male masseur Hank Greenberg for eight years. They were also engaged and even planned a wedding, but broke up in 2015. Durek commented on his affair with a man in the press, stating that it was "not about gender, but about love." After the breakup, Greenberg accused Verrett of manipulation and cruelty.
At the beginning of the issue, the princess also joked about the "problem" associated with Pride Month.
I have one problem with Pride Month, and it is that it should last the whole year, not just one month,
— Martha Louise noted.
Martha Louise, 50, and Durek, 47, announced their engagement in early June after three years of relationship. The romance of the princess and the shaman from the very beginning caused increased public attention, often lovers faced criticism and even threats — all because of the color of Verrett's skin.
Firstly, people don't want to see a black person in the royal family, because there has never been a single black person in the history of the European royal family. Secondly, Martha is a woman. It's another thing when a man chooses a dark-skinned woman because he is a man. But when a princess chooses a dark-skinned man, this has never happened in history, so it's really hard for people to come to terms with it,
— Durek told in an Instagram video*, which he recently recorded with Martha Louise and in which the couple talked about the height they had to face.
The Norwegian royal family has officially accepted the engagement of the princess, congratulating Martha Louise and Durek on their engagement and wishing them happiness.
Previously, Martha Louise was married to writer Ari Ben for 15 years — the couple had three daughters in marriage. In 2017, the couple separated — their couple's divorce was the first in the history of the modern royal family of Norway. Two years after the divorce, Ari Ben committed suicide due to problems caused by alcoholism and mental health disorders.
*Instagram belongs to Meta, a recognized extremist organization in the Russian Federation