Transgender actor Elliot Page starred for Esquire and gave an interview: "I will never be a woman"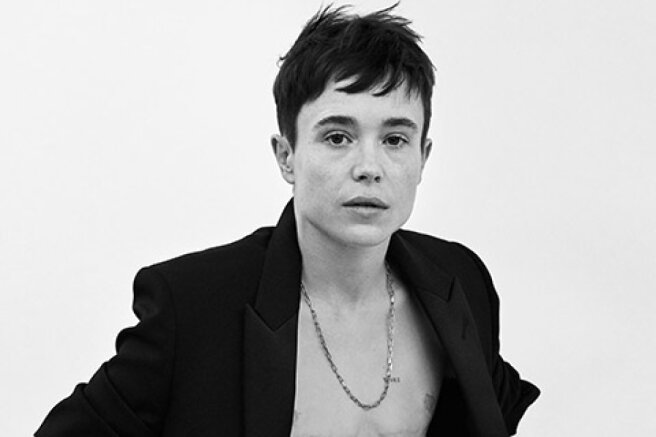 Actor Elliot Page, formerly known as Ellen Page, appeared on the cover of Esquire magazine and gave a big interview in which he talked about panic attacks, transgender transition and the difficulties associated with it. For the photo shoot, the actor posed in Ralph Lauren, Saint Lauren and Gucci brands.
In 2014, Elliot (at that time still Ellen) spoke about his homosexuality, and at the end of 2020, he said that he considers himself a transgender man. When Page later decided on breast removal surgery, he immediately found himself in the spotlight. Elliot noted that he did not expect such a large-scale reaction:I didn't expect her to be so strong. But, of course, I was waiting for this: love and support from many people, and hatred, cruelty and acrimony from others.
When people say, "Oh, now he's going to want to play cis-male characters," I get the feeling that the subtext is this: they think that would be an achievement for me. I am trans, I am queer, and I want to play these roles," he said, adding that he does not mind playing the roles of cis men (men whose gender identity coincides with the biological sex. — Ed.).
The actor admitted that he had problems with not accepting himself and gender identity as a child: he felt much more comfortable in the company of boys. Page said that he loved playing football very much, and the big shock for him was the separation of boys and girls. As a child, I had difficulties in terms of my attitude to my gender. I remember a year when girls and boys were divided into different teams. I was so confused, so upset. I cried and told my mom: "Please, one more year, one more year!". When I played football with the boys, at recess and during lunch, I was delighted. I was allowed to play for another year, then I had to switch to the women's team.
Page noted that he could not imagine himself as an older woman.
I couldn't imagine myself as an aging woman. I had no future. I've never been a girl. I will never be a woman.
The actor said that the film "Juno", in which he played the main role, brought him fame, but provoked serious psychological problems: it was very difficult for him to play a girl, feeling like a man. Page recalled how he was forced to wear dresses for going out — for example, to the premiere of the movie "Juno", and noted that it was very traumatic for him. Page added that many women don't wear dresses, and there's nothing wrong with that.
Elliot admitted that, as a woman, he faced RPP, severe depression and panic attacks. They were so strong that they interfered with his life: he often missed important meetings and could not leave the house because he was very nervous. When I was in my early twenties, I didn't know how to tell people how bad I was. I scolded myself for it. I lived my life and my dreams came true. And yet, for example, when I was filming the movie "The Beginning", I practically could not leave the hotel. 
Elliot Page is known for the films "Juno", "The Beginning", "Lollipop", as well as the superhero series "Umbrella Academy", where he began acting as Ellen Page, and continued after the transgender transition. In 2018, Page married his beloved Emma Portner, but in 2021 they announced their separation.