Travis Barker gave a tour of his mansion for AD before his wedding to Kourtney Kardashian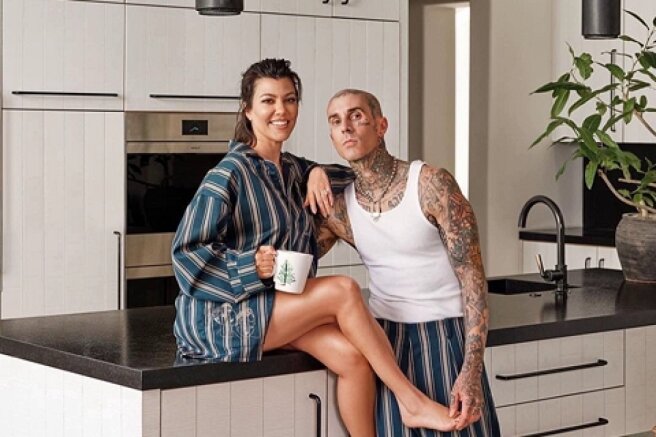 Travis Barker conducted a tour of his mansion in California for Architectural Digest magazine — the room tour took place shortly before the musician married TV star Kourtney Kardashian.
Drummer Blink-182 bought his estate 15 years ago, but only in 2019 he completely renovated it. Then the musician went on tour for a year, and left the work on the house in the hands of the famous interior designer Waldo Fernandez, who consistently ranks in the top 100 designers according to AD.
Interestingly, Travis was advised to hire Fernandez by his future mother-in-law Kris Jenner. The result of the master's work reflected a new stage of the musician's life.
Previously, there were a lot of flashy cars, frescoes in my houses, bikes literally hung from the ceiling. But now I have three children myself, and Courtney's children, so the new design of the house is more in line with my current life,
Barker admitted.
Travis didn't want to make big statements in design or create a caricature style of a rock star. He wanted a home that would allow him to be at peace with himself,
— Fernandez confirmed the musician's words. 
Barker owns a home studio, a movie theater and several dressing rooms, in one of which he collects vintage T-shirts. Since Travis likes to be near the fireplace most of all, there is one in each part of the house — wood or electric. The musician also showed reporters his ping-pong table and said that he was a real salvation during quarantine — Travis' family played table tennis all day and even organized tournaments.
In addition, Barker shared a story about two unusual candlesticks that Kourtney Kardashian gave him when they were just friends. Travis explained that they "pampered" each other with gifts even before they started dating.
Courtney herself appeared for a few seconds in a video with a room tour published on the YouTube channel AD. She took the opportunity to praise the matcha tea that her (then) fiance had made for her. Barker confirmed that he makes the best match in Los Angeles and showed a separate corner in the kitchen for its preparation.
Recently, Kourtney Kardashian and drummer Blink-182 legalized a relationship at a secret ceremony in Santa Barbara. According to TMZ, only the closest were present at the ceremony. After the ceremony, the husband and wife took a ride in a car with the inscription "Newlyweds".