Three bridesmaid outfits and Jim Jarmusch on a visit: Chloe Sevigny got married two years after the marriage was registered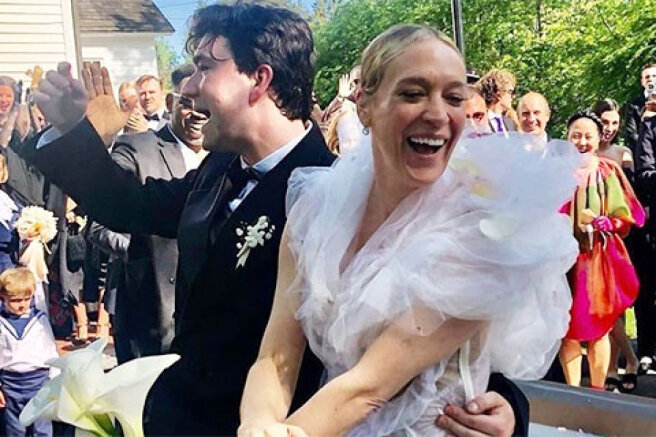 Last year, actress Chloe Sevigny announced that she and the art director of the Karma Art gallery  Sinisha Makovich got married in March 2020, two months before the birth of their son Vanya. Then, at the height of the coronavirus pandemic, everything turned out to be a modest marriage registration at the New York City Hall, but now the couple decided to catch up and play a noisy wedding with family and friends.
The ceremony took place on May 15 in a small church in Connecticut, and then the fun continued in the New York nightclub Paul's Casablanca. Among the guests of the celebration were Derek Blasberg, Jim Jarmusch, Natasha Lyonne and others.
The bride decided to compensate for the waiting for the wedding with outfits — Chloe changed three images at once during the day, and they differed from traditional old-fashioned dresses. Like Kourtney Kardashian, who walked down the aisle with Travis Barker in a tight mini and a bolero veil, Sevigny also decided to take a fresh look at the wedding dress code and turned to modern and discussed fashion collections. So, the main outfit of Chloe's day was a translucent dress created by Glenn Martens for Jean Paul Gaultier as part of a recent couture collaboration.
Then the bride changed into a mini dress with a lace train Loewe, well, and went to the party in a lace jumpsuit Mugler.
Yesterday was undoubtedly the greatest day of my life. We are so happy to finally share our love and dedication with friends and family. So many people have put in so much work to make the day just perfect, so from the bottom of my heart, bursting with emotions, thank you,
— Chloe wrote on her Instagram*.
*Instagram is owned by Meta, a recognized extremist organization in the Russian Federation