Ben Affleck's best friend Matt Damon commented on the rumors about the renewed romance of Ben and Jennifer Lopez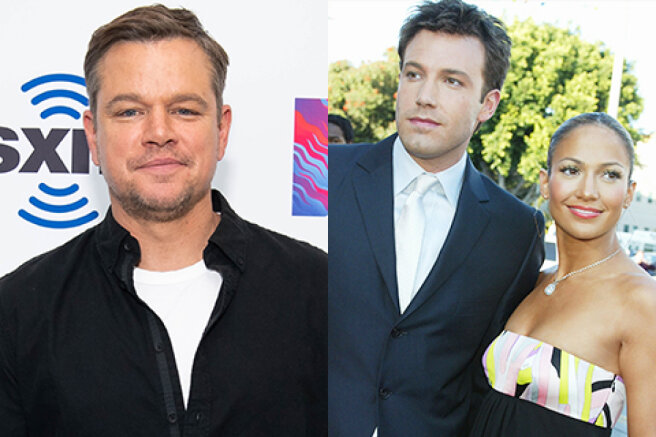 For several days now, the network has been discussing rumors about the reunion of 51-year-old Jennifer Lopez and 48-year-old Ben Affleck. The celebrities, who have been a couple in the past, have been spending a lot of time together since J Lo's breakup with Alex Rodriguez.
The other day, Lopez and Affleck even flew together on vacation. It lasted only a few days, but the fans ' confidence that it is about the resumption of a romantic relationship, and not just friendship, is growing stronger. The situation has now been commented on by one of Affleck's closest friends, 50-year-old Matt Damon. Recall that they have been friends since childhood.
The actor took part in the TV show, the hosts of which could not help but ask his opinion.
There isn't enough liquor in the world for you to make me say anything about it,
Damon joked.
Matt proved to be a true loyal friend and did not blurt out the details, saying that he had just learned about everything from the presenters themselves (Matt himself is now in Australia, so he really can't hear the backstage conversations in Hollywood).
However, the TV presenters did not give up and still insisted that Damon share his attitude to what was happening.
It's an exciting story! I love them both. I hope that's true. That would be awesome,
Matt said.
"I love them both. I hope it's true. That would be awesome." -Matt Damon on speculation that Jennifer Lopez and Ben Affleck have rekindled their relationship pic.twitter.com/GPbmZX9fQT

— TODAY (@TODAYshow) May 11, 2021
Recall that for the first time in the company of the former lover of Jennifer was noticed at the end of April. And recently, she and Ben spent two days in Montana.
It all happened pretty quickly, but Jennifer is happy. She's enjoying her time with Ben.,
- insiders shared with People earlier.
They also told reporters that Jennifer and Ben actually started seeing each other again in February of this year. According to anonymous sources, the reaction of Alex Rodriguez to what is happening is already known. According to them, he is shocked, as he hoped that he and J. Lo would still be able to start all over again.
Affleck and Lopez were engaged in 2002, but in 2003 they canceled their engagement just before the planned wedding, and in January 2004 they announced their separation.