Al Pacino celebrated his 82nd birthday in the company of Nur Alfalla amid rumors of their romance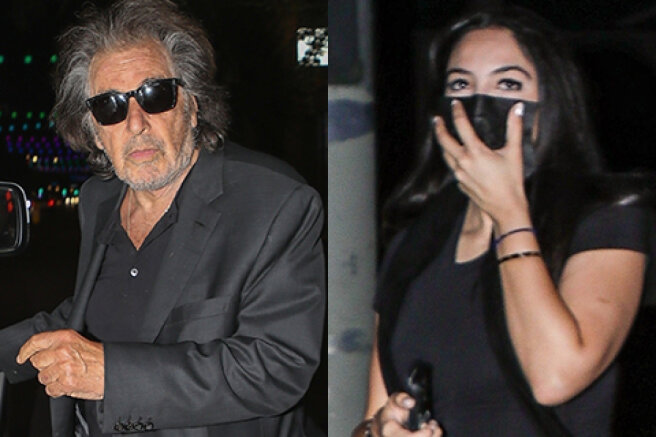 Some time ago, rumors appeared online that Al Pacino was having an affair with 28-year-old Nur Alfalla, who works as a film producer. Now celebrities will be discussed even more actively, because the Hollywood actor celebrated his 82nd birthday in the company of Nur. Together with friends, they were spotted at the Italian restaurant "Jones" in West Hollywood, California.
Together, Al Pacino and Nur did not get to the paparazzi shots, eyewitnesses referred to by Western reporters claim that the couple behaved very casually in the restaurant, and Nur even sat on the actor's lap at some point.
In addition, they arrived and left in the same car, and then reporters saw Noor leaving the actor's mansion early in the morning.
Noor previously dated rock musician Mick Jagger (she was 22 at the time, he was 74). Noor was also credited with a relationship with 91-year-old Clint Eastwood, although she claimed that they were just friends. In 2018, Noor had an affair with billionaire philanthropist Nicholas Berggruen, who is now 60 years old.
She mostly dates very rich older men,
— an insider spoke about Nur.
In a comment for Page Six, he also added that the age difference between Pacino and Noor "does not seem to be a problem" for the couple, despite the fact that the actor is "older than Noor's father."
Noor herself, after parting with Mick Jagger, noted that for her a significant age difference does not matter:
The heart does not see, it only feels. It was my first serious relationship, but it was a happy time for me.
She has not yet commented on rumors about her affair with Al Pacino.
Meanwhile, Pacino's last serious relationship was with Israeli actress Meital Dohan, they broke up when Meital was 40 years old and Pacino was 79. The actor also has three children from different relationships.
Noor has Kuwaiti roots, she grew up in the prestigious Beverly Hills neighborhood and studied at the UCLA School of Film and Television.