Paris Hilton celebrated a bachelorette party in Las Vegas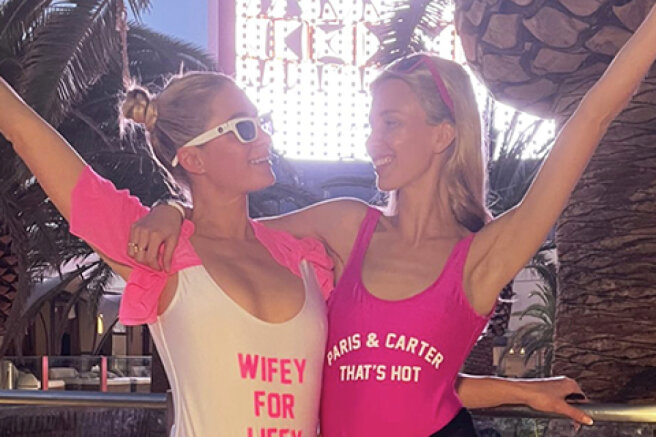 Last weekend, 40-year-old Paris Hilton and her 40-year-old fiance Carter Reum began to say goodbye to bachelor life: the couple hosted a joint party in Las Vegas on the eve of a lavish wedding, to which they invited relatives and close friends. The lovers arrived in Nevada on a private plane, and a special reception was waiting for them here. A huge banner with a photo of Paris was placed on the facade of the Resorts World Las Vegas hotel — this is how the hotel management welcomed the star.
The party was attended by all Paris' close family members: her father Rick, mother Katie, sister Nicky with her husband James Rothschild and brother Barron. Each guest had items with the symbols of the holiday: for example, Katie Hilton wore a white ribbon with the inscription "Mother of the bride", and Paris herself had a pink ribbon "Future bride".
Paris herself chose a short dress in her favorite pink color for the first part of the party, which she complemented with sunglasses with the inscription "Bride" on the glasses and a tiara with a veil on her head. The celebration was held by the pool, so very soon the bride and her guests changed into swimsuits. Bathing suits also reminded everyone of the occasion on which they all gathered today: for example, Paris was in a white one-piece swimsuit with the inscription "Wife for life", and her brother Barron's wife Tess was in a rose with the inscription "Paris and Carter: it's hot."
The party continued in one of the Las Vegas nightclubs. For her, the bride has already changed into a white dress and happily posed with her future husband Carter against the background of press oxen with their names. This holiday was already somewhat more modest than a pool party.
The celebration was held in a separate room. It was an intimate party for the closest ones. Paris and Carter were affectionate to each other. It is obvious that she is very in love and happy. When the song Celebration started playing, she grabbed the microphone and started singing along,
- the insider told.
Paris Hilton has not yet told reporters the specific date of the celebration, but hints that it will take place very soon — "in a few weeks." Paris and Carter have known each other for many years, and started dating in 2019. In February, the businessman proposed to his beloved. Hilton does not hide that Carter is the one she has been looking for for a very long time. According to the star, it is Reum she sees as the father of her future children.