Kate Middleton and Prince William have a beer with students in Northern Ireland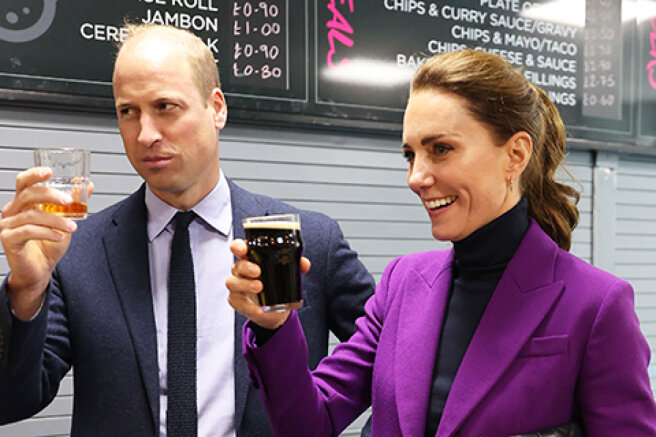 39-year-old Kate Middleton and Prince William began active working days. Immediately after yesterday's secular premiere of the film "No time to Die" in London, the couple went on a one-day visit to the city of Derry in Northern Ireland. Already this morning, Kate and William visited the University of Ulster, where they met with first-year students and their teachers.
For this visit, the Duchess of Cambridge chose a purple pantsuit, a black turtleneck and dark blue pumps. Kate's hair was gathered into a low ponytail, and she complemented the look with a black quilted clutch, laconic gold earrings and a belt with a buckle.
During their visit to the Magee campus of Ulster University, Kate and William talked to medical students, learned about their problems, and also got acquainted with the new scientific program of the Bachelor of Medical Sciences in Northern Ireland. They also saw how the only imitation of an emergency department in the region, built for first-year students on the university grounds, functions.
During this visit, the intrepid Kate and William were not even afraid to hold a real tarantula and a snake in their hands. After this unusual experience, the couple together with the students went to have a snack in the student canteen, where they drank dark beer for a casual conversation.