Tenderness, passion and kisses: how Kourtney Kardashian and Travis Barker spend a romantic vacation in Italy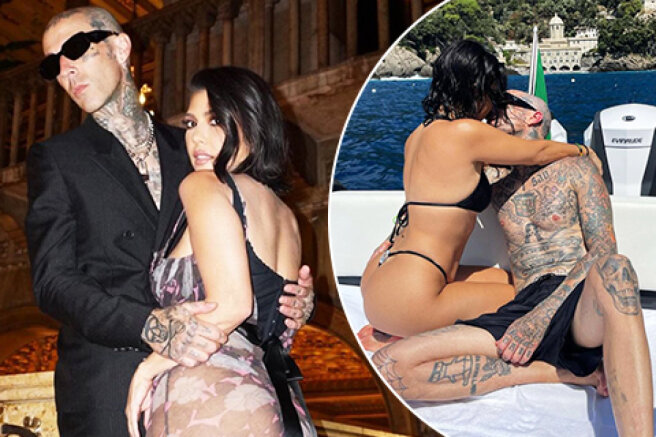 For several days now, 42-year-old Kourtney Kardashian and her 45-year-old boyfriend Travis Barker have been enjoying a vacation in Italy. The couple began their romantic journey with the elite resort of Portofino on the Ligurian coast, which is so loved by the rich and famous.
There, the lovers rented a yacht, on which they enjoyed sunbathing all day, and in the evening they met the sunset. Courtney and Travis shared photos from Portofino on Instagram: they are gently kissing.
This is Love,
Courtney wrote.
After spending a few days on the coast, Courtney and Travis moved to the north of the country. They went to one of the most picturesque cities in Italy — Venice. There, the lovers, along with many other celebrities from the A-list, arrived at the show of the Dolce & Gabbana brand, which in secular circles has already been called one of the largest fashion events since the beginning of the pandemic.
In Venice, the star couple met with Kourtney's mother Kris Jenner and her boyfriend Corey Gamble. They all came to the show together, while Courtney watched the fashion show, sitting on her lover's lap. Right in the middle of the event, which was held in the open air, a light rain began to fall. However, this circumstance did not spoil the couple's mood: Travis immediately covered his beloved and himself under a large black umbrella.
For the event, Courtney chose a translucent Dolce & Gabbana dress with a black corset, decorated with a large flower at the waist. Travis remained faithful to the rebellious image of a rock musician and accompanied his beloved in a black suit with a jacket on his naked body.
Recall that Kourtney Kardashian and Travis Barker have been dating for more than six months. For a long time they were just friends, and then their relationship suddenly turned into a passionate romance. Insiders claim that the reality TV star and the drummer of the band Blink-182 are really happy. Recently, there were rumors in the press that the couple secretly had a wedding in Las Vegas. There is no confirmation of this yet. Both Courtney and Travis had previously had experience of family life, and also had children from previous relationships.