Lily James provoked rumors of an engagement with rock musician Michael Shumen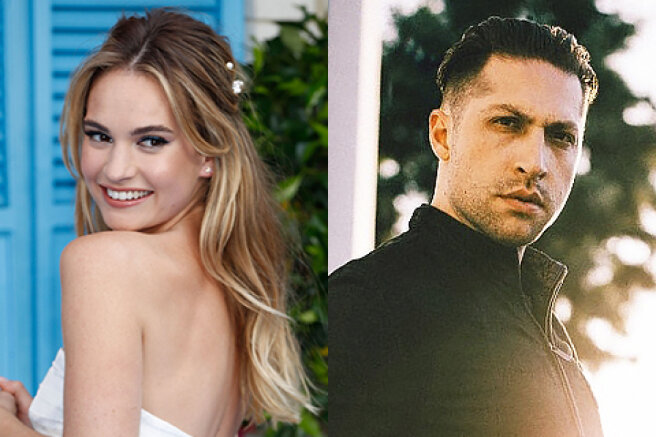 32-year-old Lily James seems to have finally been able to open a new chapter of her life after a scandal over a fleeting affair with married actor Dominic West. Yesterday, rumors appeared in the press about her engagement to the 35-year-old member of the rock band Queens Of The Stone Age, Michael Shumen.
Such thoughts of journalists and fans were prompted by new photos of Lily taken by paparazzi. These shots clearly show a gold ring on the ring finger of the actress ' left hand, resembling an engagement ring. The actress herself and her lover have not yet given any comments on this matter, while the representative of the star has already stated that the rumors about her engagement "are 100 percent untrue."
The romance of Lily James and Michael Shumen became known earlier this year: then the couple was caught kissing near a hotel in Suffolk. Many fans could hardly believe in the relationship between Lily and Michael, because they are from completely different worlds. In the world of cinema, the star of the TV series "Downton Abbey" and the new interpretation of "Cinderella" has a reputation for modesty, not seen in high-profile scandals (not counting the recent story with Dominic West). Her new chosen one has a dubious fame associated with his main activity. Michael and other members of the Queens Of The Stone Age collective, known for their shocking behavior on stage, are often accused of alcohol and drug abuse.
By the way, Lily herself has not officially confirmed her affair with the rocker. The actress generally prefers to carefully hide her personal life after the scandal that broke out last fall. Then the paparazzi caught Lily kissing in Rome with married actor Dominic West. This story has been discussed in the media for a long time, and West's marriage with the mother of his four children, Catherine Fitzgerald, was under threat. However, over time, the couple, apparently, still managed to overcome the crisis and stay together.
Before the scandalous story with West, Lily James was in a long-term relationship with actor Matt Smith, after which she briefly dated another colleague on the shop floor, Chris Evans. Journalists do not know anything about Michael's personal life before meeting Lily.