Naughty and charming: 20 times when Prince George made us smile with his behavior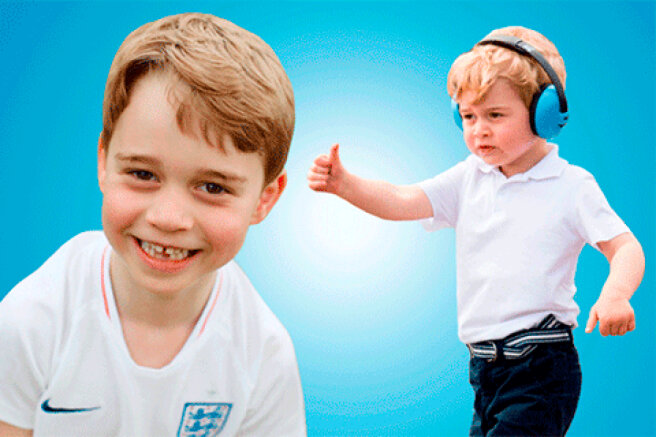 Today, the firstborn of 39-year — old Kate Middleton and Prince William-Prince George-turns eight years old. As soon as he was born, the royal heir immediately got an army of fans around the world. From the very first days of his life, George, being the royal heir (he is the third in line to the British throne), learned what publicity is. He went on royal tours with his parents, was a page at weddings and attended other official events, many of which, despite their importance, did not miss the opportunity to fool around. On his birthday, we remember the most funny moments with the participation of the prince for these eight years.
1. Catch me if you can
Chasing a baby is not an easy job. George did not let his father relax for a minute!
2. " What am I doing here?"
"And the sun is shining too bright, and it's not fun at all, and it's not clear why I was brought here at all," it seems that such thoughts visited Prince George at that moment at the solemn parade on the occasion of the birthday of Queen Elizabeth II.
3. Small, but remote
It's okay that George is the smallest. In this picture, where four generations of the royal family appeared, he looks very happy.
4. It is better not to mess with him!
But actually, behind this charming smile, there may be a fierce guy hiding! So it's bad to joke with him!
5. Politeness first of all
His father taught Prince George that you need to be polite to the public, especially if they are so happy to see you.
6. Chief of the polo game
From the very first months of his life, George began to show interest in sports. And when he got to a polo match at the age of 10 months, he really wanted to join his father and grandfather in the game. It was a good thing that his mother held him tightly, otherwise it would have been impossible to avoid a breakthrough on the field!
7. Mood-Monday
In these photos of Prince George, each of us can recognize ourselves on Monday morning. The state is complete denial and non-acceptance. And there is no desire to put up with reality.
8. " When will it finally end?"
Not only did they put on uncomfortable clothes, they also forced him to be a page — Prince George, it seems, was clearly not in the mood for the wedding of his aunt Pippa Middleton and her fiance James Matthews.
9. Christmas candy
Well, what is Christmas without traditional lollipops? And two-year-old Prince George could not deny himself this delicacy even at a church service. And the parents, apparently, were not at all against it.
10. " Well, how are you there, little sister?"
As an older brother, George began to take care of his sister Princess Charlotte from the birth. And when she was baptized, he seemed to be very worried about her well-being.
11. Image is nothing!
We are delighted with this hairstyle of Prince George — he is like a rock star here.
12. When curiosity eats up
One can only guess what Prince George saw from the plane window that literally stuck to him. But it was clearly something very interesting.
13. Little mischievous
George tried his best to control himself and not laugh at the wedding of Princess Eugenie and Jack Brooksbank, but it was so difficult that he even had to cover his mouth with his hand. That's when George realized that weddings are not always boring. The main thing is to find the right company.
14. Royal pranks
Children are forgiven for almost any mischief, even if they are royal heirs. And this prank of Prince George was so sweet and charming that hardly anyone could have thought of scolding him for it.
15. " Mom, I liked the last shampoo more!"
Prince George, like all small children, was not averse to patting his mother's hair when he was a baby. But he didn't always enjoy it.
16 ." Who else should I show my tongue to?"
This boy has a character. There is a mood-he smiles, no — he can also show his tongue to the camera.
17. " Just magic!"
So that's what they are, soap bubbles! Prince George, it seems, saw them for the first time — and could not hide his sincere surprise and delight.
712-george23.jpg "alt=" Prince George "title= " Prince george">
18. The first Christmas portrait
How charming Prince George is in his first official Christmas picture! He is sitting so relaxed on the steps of Kensington Palace and grinning so sweetly that it is simply impossible not to smile when looking at the picture.
19. Carefree childhood
Perhaps, only children can be sincerely happy. Kate Middleton, who became the author of this picture, perfectly managed to convey the joyful emotions of her firstborn.
20. George is an avid football fan
Prince George's reaction to the ball of the English national team against the Italians at the final mast of the European Football Championship was incredibly emotional. George was so happy about scoring a goal that it became a meme. To his great regret, the national team of England failed to win — the Italians became the champions.