Cannes-2021: Bella Hadid, Carla Bruni, Iris Lowe and other stars at the Dior dinner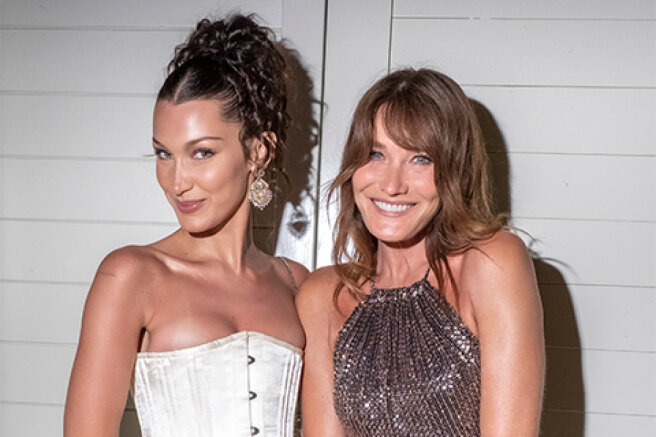 The Cannes Film Festival is not only about daily film premieres, but also, of course, parties, which are an integral part of the screening. So, yesterday a Dior dinner was held in Cannes, which was attended by many celebrity friends and brand ambassadors.
Carla Bruni could not miss the event either. The 53-year-old former first lady of France, apparently, missed the social events-Bruni has already managed to attend several film screenings and receptions. For the Dior dinner, she chose a silver floor-length dress decorated with sequins.
Bruni posed for photographers with Bella Hadid, who has repeatedly admitted to liking Carla, calling her a "twin in spirit".
However, today they are discussing not so much Bella's photo from the Cannes Film Festival, but her affair with art director Mark Kalman. The other day, the rumors that Hadid herself provoked were confirmed — the Western press published photos of a couple in love enjoying a boat trip in Antibes. The pictures do not cause any doubt that there is a romantic relationship between Bella and Mark.
The younger generation of brand ambassadors was represented this evening by Iris Lowe, a model and the daughter of Jude Law and Sadie Frost. At the beginning of the year, Iris signed a contract with Dior, and now she represents the brand's cosmetics line. Her father, by the way, has been an ambassador of this fashion house for several years.
For the party, Iris chose total look Dior. A black dress with cutouts on the shoulders and a dynamic velvet fringe were in harmony with the new haircut of the model.
In addition, the event was attended by Catherine Deneuve, Maggie Gyllenhaal, Adrian Brody, Melanie Thierry and other celebrities.