Jennifer Lopez spent time with her family in the Hamptons: photos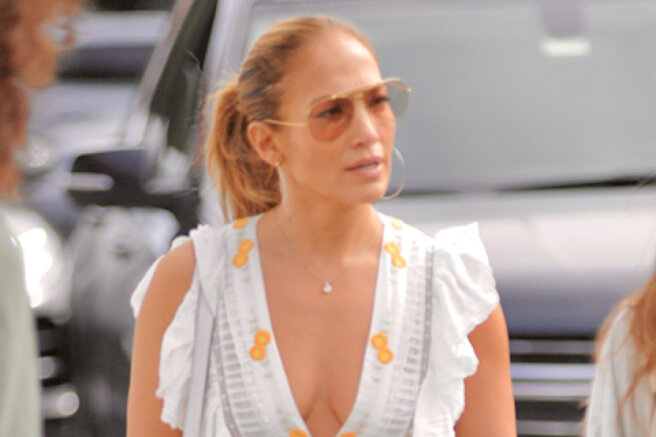 51-year-old Jennifer Lopez is now completely immersed in a relationship with 48-year-old Ben Affleck, but even in such a romantic mood, she does not forget about her family. Yesterday, the paparazzi filmed the star on a walk in the Hamptons with relatives.
At first, a large company was walking down the street and discussing something vividly, and then got into a car and disappeared from the eyes of reporters in an unknown direction. For a walk on a fine summer day, Jen chose a light white dress with a small flower and complemented her look with sandals, a white leather bag and aviator glasses.
By the way, it was in the Hamptons last weekend that Jennifer Lopez was photographed during a romantic walk with Ben Affleck. The couple, who resumed their romance after a 17-year break, is no longer hiding from the paparazzi. At first, fans of Bennifer could hardly believe that their idols could be together again, and were wary of rumors about this couple. Everything changed after reporters recently filmed Jen and Ben kissing — then fans had no doubt that the ex-lovers really decided to give their relationship a second chance.
Insiders claim that Ben gets along well with the Lopez family and children from Marc Anthony. Recently, Jennifer even visited her younger sister's birthday party with Affleck. Eyewitnesses of this celebration claimed that Ben immediately conquered all the relatives of the star with his charm.
Ben is good with children. He asked them questions, smiled a lot. They all left the holiday together. Ben opened the car door and made sure that the children got inside. All evening, a smile never left his face. He seemed very happy,
- insiders shared the details.
Jen herself does not hide that, despite her recent separation from her fiance Alex Rodriguez, she is now going through one of the best periods in her life. In a recent interview, she hinted that she was in love and very happy, but did not specify that it was about Ben.
I want people who care about me to know that I really am now where I feel good. And I think that as soon as you come to the same thing, amazing things will happen to you that you thought would never happen again in your life. This is what is happening to me now,
Lopez said.