Love, breakups and songs about exes: the main thing about Ariana Grande's personal life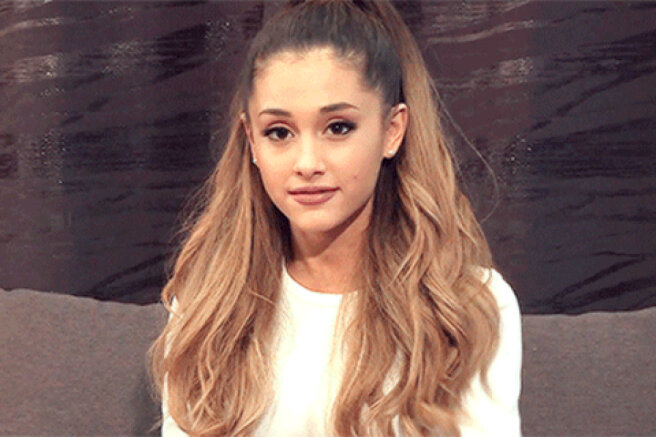 A few days ago, it became known that 27-year-old Ariana Grande secretly married her boyfriend, 25-year-old real estate agent Dalton Gomez. We decided to remember how the singer's personal life developed before she got married. The celebrity was repeatedly going to get married, was in a toxic relationship, publicly confessed her love to her lovers — and dedicated her songs to all this.
Graham Phillips
With the actor Graham Phillips, known for the TV series "Riverdale", Ariana began dating in 2008, she was 15 years old. They met when they played together in the Broadway musical "13", which was Grande's stage debut. The relationship lasted three years, and after the breakup, the ex-lovers remained friends. Graham has been spotted at Ariana's concerts more than once, and a couple of years ago, the artists were even photographed together at dinner in a New York restaurant.
Jay Brooks
In 2012, when Ariana's pop career was just beginning, she had a long-distance affair with Australian blogger Jay Brooks. The guy attracted the attention of the future world star in an unusual way: he and his brother, as part of their humorous vlog, posted videos on YouTube in which they competed for the attention of Grande. The video was noticed by Ariana's mother, and she advised her daughter to write a message to a cute fan.
The singer and the blogger began to communicate, but they met for the first time only six months later. The Internet even stores a video of the first meeting, during which Jay allegedly literally falls at the feet of Ariana — however, it looks very much like a production.
Both Grande and Brooks already had enough fans at that time, and most of them were delighted with this union, but their favorites endlessly sent each other hearts in social networks and flew on romantic dates thousands of kilometers away.
It didn't end well: a year later, the couple broke up, and Jay decided to bring the details of the breakup to the public. He wrote a series of tweets in which he accused Grande of infidelity: he claimed that the girl cheated on him with the lead singer of The Wanted group Nathan Sykes, with whom she then recorded a duet.
The artist denied this, saying that Jay just wanted to get "his 15 minutes of fame." In response to Brooks ' tweets, she wrote a post:
I woke up in the morning and was shocked, although why should I be surprised? You said you'd make me look bad in front of the whole world if I didn't come back to you. I'm no longer afraid of you or your lies.
Big Sean
In 2014, Grande began a relationship with rapper Big Sean, who was previously engaged to Naya Rivera. Ariana and her new boyfriend made their first public appearance as a couple at the 2014 MTV VMA ceremony. They recorded several tracks together, sometimes performing together, but eventually broke up after eight months.
Sources close to the couple claimed that the reason was a mismatch of work schedules: the lovers almost could not spend time with each other. Representatives of the artists also got off with a standard statement that Ariana and Big Sean remain close friends, and journalists are asked to respect their privacy and not try to find out the details.
Apparently, the singer managed to maintain a warm relationship with this former singer. In the winter of 2019, the paparazzi captured the musicians together leaving the recording studio.
Ricky Alvarez
The dancer Ricky Alvarez is remembered by Ariana's fans for the fact that he was captured with her in the sensational video of 2015, where the star licks donuts lying right on the window in a candy store, and also declares that he " hates America and Americans." Then the video caused a lot of indignant comments, the singer had to apologize. In the same video, the public saw Grande kissing a dancer, so the novel became public.
A little later, an insider told reporters that Ricky and Ariana are very happy together, but try to keep their relationship a secret from the public. A year later, the couple broke up. As explained in the environment of Grande, the break was her initiative:
He did not cheat on her, nothing like that, it just became clear to them that it was difficult to continue the relationship. They remain friends.
According to the press, Ariana and Ricky are still on great terms.
Mac Miller
In the summer of 2016, the singer was spotted in a restaurant with rapper Mac Miller. As it turned out, the artists had known each other for about four years before they started dating: since 2012, they have been friends and collaborated.
It was Mac who helped Ariana recover from the tragedy that happened in May 2017 at her concert in Manchester. Recall that during that performance, a terrorist attack occurred, as a result of the explosion, 23 people were killed, and more than 120 fans of the star were injured. The singer herself was not injured, but she experienced the incident hard, having earned post-traumatic stress disorder (PTSD).
Grande, in turn, supported Miller in his struggle with his own "demons": the rapper had problems with illegal drugs and the law — he was detained for drug possession.
In May 2018, Grande and Miller broke up. Ariana posted on Instagram a post in which she called Mac "one of my best friends and most beloved people on the whole planet":
I adore and respect him, and I thank fate for his presence in my life, no matter how our relationship changes and what the universe has in store for each of us. Unconditional love is not selfish. This is when you want the best for a person, even if you can't currently be the best for him. I will always support you and I am very proud of you!
>
Fans were confused only by the fact that Ariana and Mac unsubscribed from each other in social networks: it seems that the separation was not peaceful after all.
Miller's fans were outraged. The fact is that immediately after the breakup, Ariana began dating comedian Pete Davidson. However, Mac admitted to reporters that he was not offended by his former lover at all.
I was in love. We spent two years together. We've had good times, bad times, stress, and so on. And then it all came to an end, and we both move on-it's simple. I'm happy for her and I'm glad that she continues to build her life. I'm sure she feels the same way about me— " Mac Miller said in an interview in the summer of 2018.
Nevertheless, there were rumors that the artist went all out and can not survive the breakup. He was arrested for drunk driving. He released an album where, according to fans, all the songs were dedicated to Ariana. The singer herself eventually responded to the angry comments of Mac's fans by writing an emotional post:
It's just absurd to devalue a woman's sense of self-esteem by saying that you need to stay in a toxic relationship just because songs have been written about you (which, by the way, is not true, only one song is about me). I'm not a nanny, I'm not a mother. I took care of him and tried to support his desire for sobriety, and for years I prayed (and will continue to pray) for his balance, but blaming women for a man's inability to control himself is a big problem. Please, let's stop doing this.
In the fall of the same 2018, 26-year-old Miller, whose real name is Malcolm McCormick, died: on September 7, the body of the performer was found in his home. The examination showed that the death was due to an overdose.
Grande responded to the news of Miller's death by posting a black-and-white photo of him. Comments she had to close, because the singer was hit by a wave of negativity: many commentators began to blame her for the tragedy.
A week after the death of her ex-boyfriend, Ariana wrote:
I've adored you since the first day I met you, when I was 19,and I always will. I can't believe you're gone... I'm angry, I'm sad, I don't know what to do... I'm sorry I couldn't fix it or ease your pain, even though I tried. The kindest, brightest soul with your demons that you never deserved.
Pete Davidson
The most rapid for Ariana was a love story with comedian Pete Davidson, who also has affairs with Kate Beckinsale, Margaret Qually and Kaia Gerber. Davidson and Grande first met back in the spring of 2016 on the set of Saturday Night Live, while both were in a relationship.
But in the spring of 2018, events began to develop at lightning speed. Ariana announced her breakup with Mac Miller, and Pete ended his relationship with his ex-girlfriend, Kazzy David, in the same days. A couple of weeks later, insiders reported on Davidson and Grande's embrace backstage at the Billboard Music Awards. A few more days passed, and the star circle confirmed that Ariana had started dating Pete.
Grande's army of fans received the news ambiguously. Many were upset that the singer is building a relationship with a person suffering from borderline personality disorder. Davidson even addressed the audience:
If a person has a mental disorder, it does not mean that he can not be happy and build relationships. It also doesn't mean that the relationship will be toxic. We are all different, there are many methods of treating such disorders, and I have resorted to them.
Soon Ariana actually confirmed the rumors about the novel, publishing a photo: only his hands were visible on it, but it was enough for the public to recognize Pete by the tattoo.
A few days later, Davidson made two tattoos in honor of Grande: her initials and the image of bunny ears — a kind of trademark of the singer.
Less than two weeks later, the engagement was announced! On June 15, 2018, Pete posted a photo of the ring he gave Ariana. Well, at the last minute, she added a song called Pete to the track list of her new album Sweetener. To the surprised comment of a fan, the singer replied as follows:
Life is too short to make a secret of everything, especially something as beautiful as my love.
The lyrics of the song also said that the singer is madly in love:
My whole life has been preparing me to meet you! I'll be happy, happy, you won't see my tears.
Well, then-the same tattoos, the words of Pete in an interview that he "seemed to have won the lottery", love confessions in social networks and other romance. To the surprised journalists, the lovers declared that they " decided to get married on the first day of acquaintance." Ariana promised to take the double surname — Grande-Davidson-as soon as they were married.
Grande and her fiance made their red carpet debut two months after their engagement: in August 2018, they appeared together at the MTV VMA, and Ariana mentioned Pete in her speech, receiving the statuette for best pop video.
The star shared with the press that the wedding is scheduled for 2019:
My friends, my mother, and everyone close to me are exchanging ideas about the wedding, it's so much fun! I work hard and have never spent so much time planning something personal, it fills my heart and soul. I just want to cry, I'm so excited!
- she said on the show Good Morning America.
The next step to living together? Of course, to have a pet together, which Pete and Ariana did that same fall, sheltering a small pig.
It would seem that the degree of romance was just off the scale! And then, as they say, out of the blue: in mid-October 2018, the tabloids wrote about the breakup. The reasons given were: "both realized that now is not the time for their relationship" and "the romantic period is over." There were also rumors that Ariana was too hard to handle the departure from the life of her former lover, which ruined her new relationship.
Shortly after the press coverage, Grande wrote on Instagram that she would say goodbye to the Internet for a while, but promised to return. And a couple of weeks later, she released a single with the telling title Thank U, Next ("Thank you, next"), from which you could learn something interesting about her previous relationships. She also mentioned Pete, singing that she was " so damn grateful to my ex."
I thought I'd marry Sean, but we weren't right for each other. I wrote songs about Ricky, now I listen and laugh. I almost got married, and I'm so grateful to Pete. I'd like to say thank you to Malcolm, becausehe was an angel. One taught me love, one taught me patience, and one taught me pain. But now I feel good, I loved and lost,
- it says in the text of the track. And in the second verse, Grande sings that she is happy to be alone with herself:
They say I switch too fast. But this relationship is for a long time, because her name is Ari (as the singer is called by fans. - Ed.), and it's so cool.
Later, in an interview for Vogue, the star talked about a bright, but short-lived romance with Pete Davidson.:
I was in a beautiful state of unconsciousness, it was frivolous, fun, crazy, and highly unrealistic. I loved him and I didn't know him at all. I'm like a child, when it comes to real life, I don't trust myself in all these matters.
Mikey Foster
In solitude, the loving singer did not stay for so long. In the summer of 2019, the tabloids wrote about a new romance — with the lead singer of the group Social House Mikey Foster, who also co-produced the very track Thank U, Next. Social House toured with Ariana, serving as the opening act for her world tour, and then the musicians released a joint single, Boyfriend. After the release of the video, everyone started talking about the novel: Grande and Foster portrayed passion on the screen very plausibly.
In February 2020, they were spotted together at Disneyland. But a month later, the affair, which neither Mikey nor Ariana had confirmed, ended abruptly. It is possible that the reason was a new hobby of the singer, because at that time she was already seen in the company of realtor Dalton Gomez, whom the artist eventually married.
Dalton Gomez
The first publications about the next lover of Ariana appeared in March 2020, and fans figured out the young man. During the self-isolation, the singer posted a photo with an unknown guy, whose face she did not show — but, as usual, Internet trackers had no difficulty finding out from the tattoos who the celebrity was dating. It was during the quarantine that Gomez and Grande became close, spending most of their time together at home.
A couple of months later, Dalton appeared in the" quarantine " video of Ariana and Justin Bieber Stuck with U.
Gomez has no direct relation to show business, although he is friends with the stars. How exactly the acquaintance with Grande happened is unknown-journalists suggest that they could have met when the singer was looking for a new home: shortly before the start of the novel, the media wrote that she bought a mansion in Hollywood for $ 13 million. And Dalton is just engaged in elite Hollywood real estate. But perhaps the couple met through mutual friends: Gomez was previously a dancer, in his social circle there are many creative people.
At the end of last year, Ariana announced her engagement and published a photo of the ring.
Well, in May 2021, a representative of the singer said that she had secretly married. As he said, the ceremony was very modest, only the closest ones were invited — only less than 20 guests. The wedding was held at Ariana's home in Montecito. "Beautiful, but without excessive luxury," insiders described the design of the celebration:
Ari wanted everything to look simple and tasteful. The most important thing for them was that their loved ones could be present and share this special moment with them.
Grande's entourage confirmed that the star's family and friends fully approve of her choice and adore Dalton:
Everyone is happy for them. She had a very quiet and, in a good way, uneventful life. Everyone likes Dalton, he and Ari are perfect for each other,
an insider told People magazine.
Another source says:
Ariana's brother Frankie and her mom are so excited, in their opinion, Dalton really balances Ariana, allowing her to remain herself. Ariana appreciates that he accepts and loves her for who she is. He's a bit of a nerd, works hard, and she likes that too. Dalton protects her in every possible way and is ready to do anything to make her happy.
They say that this time Grande does not want to make her romance as public as almost all of her previous relationships were. But in her songs, she is still ready to share her innermost secrets with her fans. In October 2020, she released a new album, Positions, and fans concluded that several songs are dedicated to Dalton. In particular, the title track with the words:
Heaven sent me you, I hope I won't repeat my past stories... Perfect, perfect, you're too good to be true. I'm tired of running, fuck it, now I'm running with you.
We will look forward to Ariana's new hits inspired by her busy personal life-we hope that they will be exclusively about happy love.