Three years since the wedding of Meghan Markle and Prince Harry: we remember the touching quotes of the couple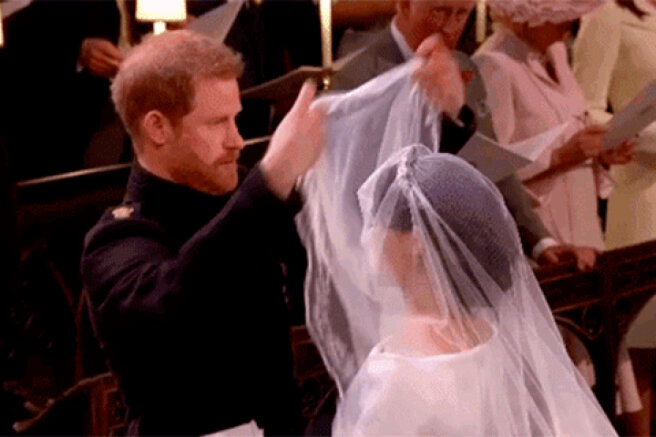 Today, 39-year-old Meghan Markle and 36-year-old Prince Harry celebrate the third anniversary of their wedding, which is popularly called leather. Their relationship began in the summer of 2016, but for a long time they hid from the press and even arranged secret dates for each other in supermarkets. This continued until the fall of 2017, when the star of the TV series "Force Majeure" and the Duke of Sussex finally publicly confirmed their relationship and announced their engagement. Since then, the lovers have managed to play a truly royal wedding, travel the world with official tours, become parents for the first time, and then give up all royal privileges and responsibilities for a quiet family life in the United States. In honor of the wedding anniversary of Meghan and Harry, who are now happily expecting a daughter, MustHub has collected in one material touching quotes from the couple about each other, their marriage and family.
About dating
Our meeting was planned, it was a blind date... I'm from the US, and we don't really follow the royal family there. I didn't really know anything about them. It is now that I understand the interest they arouse in society. So the only question I asked my friend before the date was, " Is he pretty?". If he wasn't kind, none of this would make sense,
Meghan Markle recalled.
And so about the first date with Meghan in their joint interview with Vanity Fair in 2017, Prince Harry recalled:
When did I realize she was the one? On the day of our first meeting! This beautiful woman just tripped and fell right into my life.
About the beginning of the novel
We had two dates in London, and about three or four months after that I persuaded her to come with me to Botswana. And we spent nights together under the stars,
- Prince Harry told me.
In the couple's first joint interview, which they gave shortly after their engagement, Meghan Markle also recalled a wonderful period in their relationship, when their romance was still unknown to the press:
We met quietly for half a year before it became known to the world. All this time I was working, and the only thing that changed for me at that moment was how others began to perceive me. Inside, I was still myself. I'm still the same, because I've always defined myself as a whole person, not someone else's half.
And so Meghan Markle talked about her relationship with Harry shortly before she officially became his wife and part of the British royal family:
We're a couple. We have love. I know that there will come a time when we will have to speak publicly and talk about ourselves and our relationships, but I really hope that people will understand that this is "our" time. We are just happy, and I personally adore the story of a great love.
About the engagement
It was an incredibly cozy evening. We were frying chicken — and then... Surprise! Everything turned out very nice, natural and romantic. Harry even got down on one knee! But I didn't even let him finish. She said, 'Can I say yes right now?'"Megan recalled.
The engagement remained forever in Harry's memory. According to the prince, everything happened so quickly that initially he even forgot to put a ring on her finger:
She didn't even let me finish. We hugged, and the ring remained in my hand. At this point, I realized: "Now can I give you a ring?". She replied: "Exactly! The ring!"
About Meghan's introduction to Harry's family
Corgi liked her immediately. They've been barking at me for 33 years. And she went into the room-and nothing!
- Prince Harry.
About marriage
I know that she will choose me in any situation. I'll choose her. No matter what we face, we will remain a team,
- Harry about Meghan.
About children
During the couple's royal tour in Morocco, Meghan Markle was expecting her first child. During the official visit of the Duke and Duchess to the lyceum in Asni, Harry just decided to make a joke on this topic. In response to the congratulations of one of the teachers of the educational institution on the imminent addition to the family, Harry suddenly turned to his wife:
What, are you pregnant? My baby?
But Harry commented on the news about the next addition to the family without any jokes:
Having any child — one or two-is great, but when you have a boy and then a girl, what else can you dream of? Our family — the four of us and two dogs.
On the resignation of senior members of the royal family
In January last year, Meghan Markle and Prince Harry announced their decision to step down from their royal duties. In his rare interviews on this topic, the Duke admitted that he took this step solely for the sake of his beloved wife and young son:
We just stepped back, not down. Many people saw how difficult the situation was. We all know what the British press can be like, and it took a toll on my mental health. I thought: "It's toxic." I did what any husband and father would do — I just saved my family from all this.
In a recent controversial interview with the couple Oprah Winfrey, Meghan Markle also confirmed that Prince Harry made the difficult decision to abandon royal duties and then move to the United States solely for the benefit of the family, for which she is now sincerely grateful to him:
It was Harry who saved everyone by making a decision that saved my life and helped us all.
nom Archie "alt=" Prince Harry and Meghan Markle with their son Archie " src="https://www.MustHub/img/2021/05/yana/wedding/20210519-meghar-3.jpg">