Kourtney Kardashian was accused of disrespect for religion because of her outfit at the wedding with Travis Barker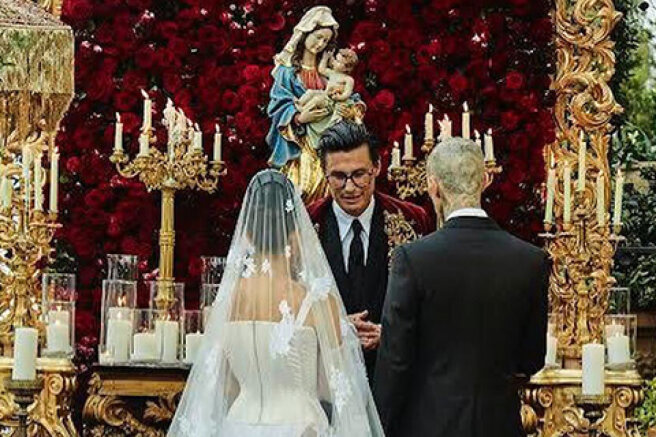 While the world is discussing the wedding of Kourtney Kardashian and rapper Travis Barker, the number of outraged comments is multiplying online: there are many who found some details of the ceremony strange and even disrespectful. So, the feelings of the faithful were touched by the wedding image of the bride: in front of the altar, Courtney was wearing a white Dolce & Gabbana mini-dress with a long veil of transparent lace with the image of the Virgin Mary — this pattern repeats the tattoo on the groom's shaved head.
Only Kardashian's veil in combination with her outfit caused discontent: people did not like the combination of a "chaste" veil with a revealing style of dress. Some perceived it as a "mockery of the Catholic religion":
They don't look like religious people at all, rather, it's all some kind of mockery. I'm not a Catholic, but it doesn't seem normal to me,
— a user under the nickname @bibidoza wrote on Twitter (blocked on the territory of the Russian Federation).
Another user under the nickname @xodollzzz wrote:
To be honest, the image of the Virgin Mary on Kourtney Kardashian's veil wearing this dress offends me as a Catholic.Travis Barker previously called himself a believer. In a 2015 interview with Vice , he said:
I got a tattoo of the Virgin Mary when I was 18 or 19. I grew up in a devout Catholic family. Now I'm praying, I believe in God... I don't go to church every day and I don't force people to be religious. However, I myself believe and pray, as do my childrenIt is not known what religion Courtney professes and how important this issue is for her at all — the celebrity has not talked about it publicly. However, in social networks, she often publishes quotes from the Bible and statements of a religious orientation.
The wedding of Barker and Kardashian took place on May 22 in the Italian Portofino. Before walking down the aisle, they registered their marriage officially in a narrow family circle in Santa Barbara. Even earlier, the couple's "training wedding" took place in Las Vegas, where an Elvis Presley lookalike engaged celebrities in one of the local chapels.
*Instagram (owned by Meta, a recognized extremist organization in the Russian Federation)