Gisele Bundchen starred for the cover of gloss and talked about motherhood and relationships with her husband: "Relationships are not like a fairy tale"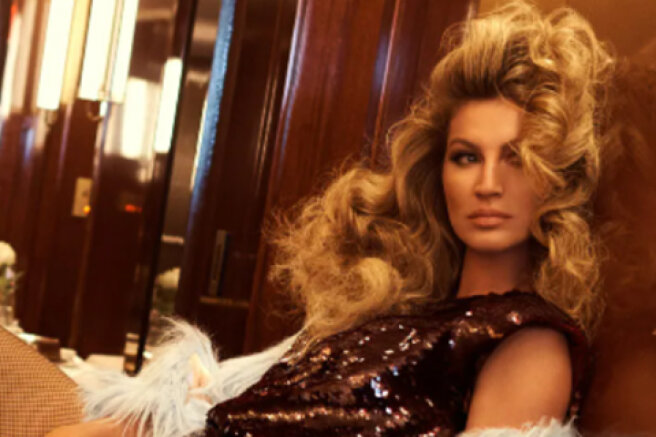 Supermodel Gisele Bundchen appeared on the cover of British Vogue and gave the publication an interview in which she talked about family life and relationships with her husband, football player Tom Brady.
After the model became a mother for the first time 12 years ago, motherhood is in the first place for her. Together with her husband, she has two children: 9-year-old daughter Vivian Lake and 12-year-old son Benjamin Rain.
According to Giselle, she makes decisions in the house. He's focused on his career, and I'm mostly focused on the kids. And I am very grateful to him for allowing me to take the reins in my own hands when it comes to our family. He trusts my decisions," Gisele Bundchen admits.
The model believes that she and her husband completely complement each other: they managed to come to this thanks to their work on the relationship. I don't think relationships happen by themselves. They never look like a fairy tale that people want to believe in. You need to work on really getting together with someone, especially when you have children," she added.
In a video interview for Vogue, the model spoke about the psychological trauma she received at the very beginning of her career.
The model admitted that her first appearance at Fashion Week in 1998 was very traumatic for her. At that time, Giselle was only 18 years old. She got a job in the Alexander McQueen show, which surprised her very much — the model did not fit into the "heroin chic" style, which was trending in the fashion world at that time.
I remember going to all these auditions, and no one even looked at my portfolio, because it was the time of "heroin chic", and I didn't look at all in the style of "heroin chic". And when she saw the revealing outfit, the top of which is made of silver threads that almost do not cover the chest, she burst into tears. In addition, the models said that she would have to pose topless.
She remembered that the makeup artist asked her not to cry, so as not to harm the makeup. I had these feathers attached to my eyelashes, and when I cried, they came off.. The makeup artist said: "Please don't cry!"
I was walking down the runway and all the time I was thinking, "I hope my dad never sees these photos." Bundchen now says that this situation has become an important experience for her.
All I wanted to do was leave. But, you know, it's one of those things that makes you stronger," she said.