Kate Middleton interviewed a midwife from Uganda for a medical magazine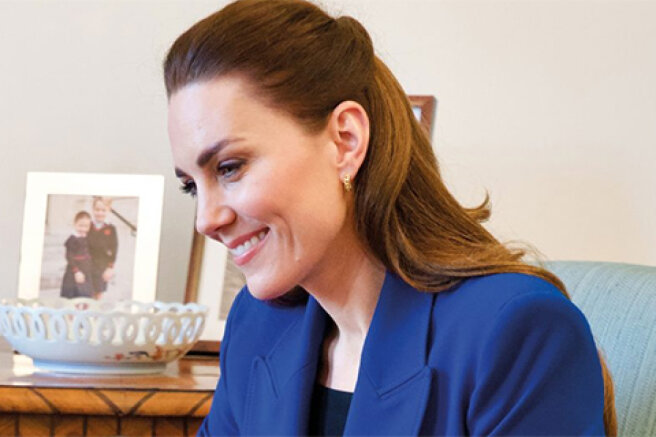 Today, May 5, is the International Day of the Midwife. To draw attention to the holiday, which honors such an important profession, Kate Middleton acted as a journalist and interviewed a midwife from Uganda, Harriet Nayigi, for the May issue of Nursing Times magazine.
The conversation took place via video link — during the pandemic, the Duchess and the Duke of Cambridge, like many of us, perfectly mastered this method of communication and participated in many meetings and events remotely.
At the interview, Kate appeared in a blue Zara jacket, as well as Orelia London earrings. However, in the photo, you can see not only the Duchess's outfit, but also cute interior details — for example, a school photo of Princess Charlotte and Prince George in a frame.
Harriet spoke to the Duchess about her work in Uganda as a nurse, midwife and founder of MILCOT, a community organisation that provides advice and support to women and girls from vulnerable backgrounds. A woman has been working in medicine for seven years.
Kate asked Harriet about the delivery system in Uganda, how the coronavirus pandemic affected her work, and also asked her to tell how Harriet came up with her organization. In response, the midwife shared a story that is unlikely to leave anyone indifferent.
Five years ago, I worked for an organization that takes care of pregnant teenagers in a crisis situation. I took care of them day and night as a mother and as a midwife. I comforted them because many of them felt branded. I was hugging a young girl who was facing difficulties — she is crying, she was raped, she is 10 years old. She sees me as a mother, a sister — I was overcome by this pain. This encouraged me to return to training, I learned an evidence-based approach, gained confidence and the ability to do something to contribute to their health. When I was practicing in the hospital, I saw that many young girls suffer from complications. I met a 17-year-old girl who had nothing. Her baby died and she was at high risk of bleeding. She was bleeding profusely, and her uterus was later removed. This convinced me to take up this social group to help such young girls and provide them with the information they need to prevent such cases,
Harriet said.
The interview, which Middleton took, marked the end of the Nursing Now program — a three-year global campaign to raise the status and authority of nurses. During this time, more than 31 thousand young professionals took part in the campaign, and many teams reported an increase in investment in nursing, as well as expanding career opportunities for nurses.