Johnny Depp again testified against Amber Heard and explained why he tried to save their marriage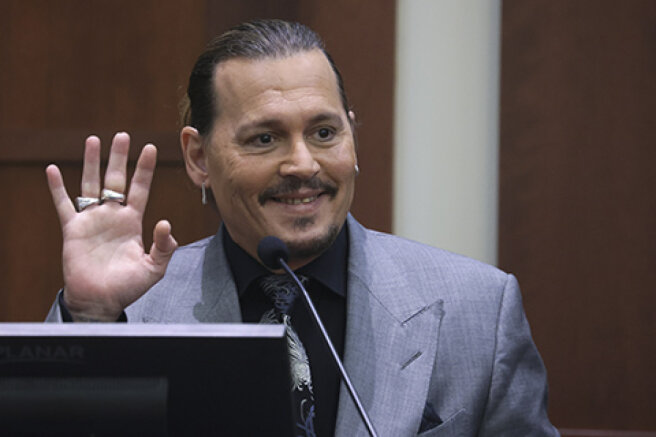 The scandalous trial between the former spouses of Johnny Depp and Amber Heard continues. Depp appeared in court again yesterday and testified against Amber Heard. Musthub has collected the main thing from the actor's statements.
Johnny Depp has filed a $50 million libel lawsuit against his ex-wife because of an article in which she talked about experiencing domestic violence. In connection with the scandal, Depp's reputation was seriously damaged, he lost many roles. Heard filed a counterclaim for $ 100 million, in turn, accusing Depp of defamation in order to destroy her career. The first meeting was held on April 12, and this week the stars met again in court. So far, Johnny's testimony and witnesses from his side have been heard: they are trying to refute the fact that the actor is an abuser. The court has yet to hear from Heard herself and her witnesses.
Johnny still claims that "he has never beaten either Miss Hurd or any other woman in his life," although there were indeed frequent quarrels between him and his ex-wife. Depp, according to him, wants to restore justice primarily for the sake of the children — 22-year-old Lily-Rose and 20-year-old Jack, who were wounded by press reports. The actor says:
It's strange when at one moment you're Cinderella for everyone, let's say, and after a split second you're Quasimodo. I didn't deserve it, and neither did my children, and the people who believed in me all these years... everything that interests me is the truth. Lying is the way to nowhere.
It was not the first time the details of the actor's childhood were discussed at the meeting. He and his older sister (she is also his manager) Kristy Dembrowski was told that Johnny was constantly suffering from physical abuse from their mother. Depp in his testimony called the mother "cruel and aggressive":
Of course, there was physical violence, in various forms — she could throw an ashtray at you, beat you with a shoe, a phone, anything that came to hand... But even worse is the verbal, psychological abuse. You get used to physical pain, but psychological violence, I think, broke us all.
As the actor says, he tried to avoid conflicts and tried to forget himself. At the age of 11, I tried my mother's "nerve pills" for the first time, at the same age I discovered marijuana. Depp does not deny that he later used illegal drugs and alcohol to "hide from the ghosts" that had haunted him since his youth. However, as the actor assures, there were long-term periods when he refrained from any doping. Johnny believes that Amber Heard, knowing about his difficult childhood and history of drug use, uses all this to make him look like a dangerous person.
The speech at the trial was also about how Depp's relationship with Heard began. The actors met on the set of the 2011 film "Rum Diary", but, as Johnny says, they started dating later, during the promotion of the tape:
She seemed like the perfect partner, even too perfect for that to be true. She was attentive, kind, caring, funny and understanding. We had a lot in common — music, literature, everything like that. For a year and a half everything was fine, although some things confused me a little... After a year and a half, she became almost a different person.
Depp said that he was ashamed of his words that he would like to deal with Heard — the actor sent similar messages to friends, and it became known to the press:
I am ashamed that in a fit of feelings I was sometimes in such a gloomy state, sometimes I tried to drown out the pain with the help of black humor.
Amber, according to Johnny, "feels the need for conflict and violence." The actor says that during scandals he usually behaved the same way as his father once did when he was fighting with his mother - he locked himself in the bathroom. And it still came to fights: so, according to Depp, shortly after the wedding, Heard threw two bottles of vodka at him, one of which cut off part of the skin on his finger. This information was previously confirmed by the actor's personal doctor. Why did Johnny stay in this relationship? He answers like this:
I guess because my dad didn't leave, I guess because I used to be in a relationship with Vanessa (Paradis, who is the mother of Depp's children. — Ed.) and lost it. I didn't want a repeat, I thought that all was not lost yet, that maybe I could help Amber, because the Amber I knew in the first year of the relationship was completely different.
Heard, as Depp assures, threatened several times that she would commit suicide if he left:
I remember it very well: when my father left, my mother Betty Sue attempted suicide for the first time. In my mind it has been permanently deposited that this was a direct result of his departure... And this fear never leaves you. Sometimes, when I left, Amber stopped me at the elevator in front of the guards and screamed in tears: "I can't live without you, I'm going to die." But it was still necessary to make this decision.
According to Depp's story, he finally decided to break up with Heard after his mother's death. The actors divorced in 2016, Amber accused Johnny of physical and psychological abuse. Depp had previously tried to sue the press, but lost the court to the tabloid The Sun. After the scandal, the studios refused to cooperate with the star. In particular, Depp lost roles in the movie "Fantastic Beasts: Secrets of Dumbledore" and the sixth part of "Pirates of the Caribbean".
Before the start of the current trial, Amber wrote on social networks that she had always loved her ex-husband and that in an article about domestic violence, "she did not mention his name, but only talked about the price women pay when speaking out against men who have power."
The trial will last about six weeks. Celebrity witnesses are expected to testify at upcoming meetings. Including Elon Musk and James Franco, who had affairs with Amber Heard.