A$AP Rocky and Rihanna flew to Barbados. Amina Muaddi denied rumors about the rapper's infidelity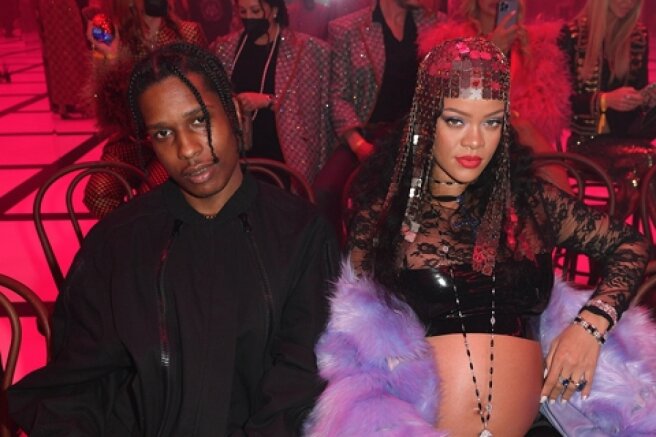 Amina Muaddi has refuted the hotly debated rumors on the web that A$AP Rocky cheated on his beloved Rihanna, who is late in pregnancy, with her.
I have always believed that unfounded lies spread on social networks do not deserve explanations or refutations, especially such vile lies. Initially, I assumed that no one would take this maliciously fabricated gossip seriously, but the last 24 hours reminded me that we live in a society that is ready to judge anything before it learns the facts, easily crossing all possible boundaries. Even when another person is going through such a wonderful period of his life,
— says the official statement of the designer, which she published on social networks.
Therefore, I was forced to speak out, because it concerns not only me, but also people whom I respect and cherish very much. Now Ri continues to dress up and enjoy her serene pregnancy, while I will continue to do my business. I wish you all a happy Easter!
The betrayal of A$AP Rocky was initially reported by fashion influencer Luis Pisano, but this information has already been denied by some Western media. A source told TMZ that the rumors are "a million percent false." Another insider confirmed in a conversation with Page Six that the couple is doing well.
However, the publication also reports that the rapper was extremely excited during a party dedicated to the presentation of his brand of whiskey Mercer + Prince. According to those who attended the event, A$AP Rocky looked detached, could not concentrate and coherently deliver his speech. Everyone expected that he would spend some time with the guests, but the rapper, usually cheerful and charming, left pretty quickly, without properly communicating with anyone.
Luis Pisano later apologized for the fact that the news he reported provoked "unnecessary drama" and could have hurt someone. At the same time, he did not name the source from whom he received the information, and did not say that this information was false.
Meanwhile, today it became known that A$AP Rocky and Rihanna went together to the singer's homeland, the island of Barbados — the couple was spotted leaving together from Grantley Adams International Airport.
The fact that Rihanna is expecting a child from her boyfriend A$AP Rocky, it became known in January of this year. Since then, the singer has repeatedly appeared in bright and candid images, despite the late pregnancy. According to Rihanna, she would like to change society's ideas about how a woman in a position should dress and behave.