Kanye West and Julia Fox attend Schiaparelli show at Paris Haute Couture Week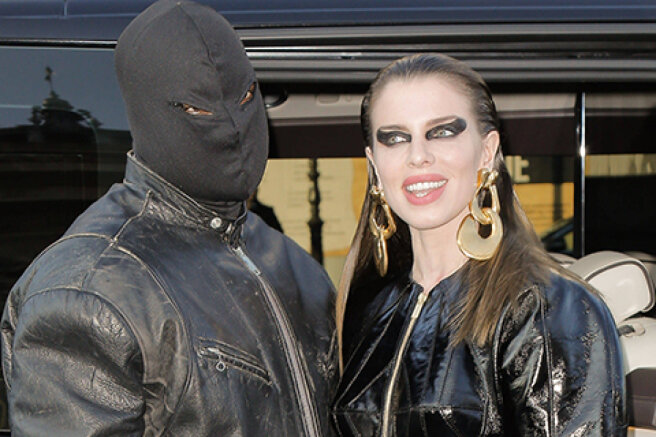 Haute Couture Week opened in Paris today, and the first day began with the Schiaparelli show. The presentation took place in the morning, but immediately attracted everyone's attention, because among the guests was the most discussed couple of recent days — Kanye West and Julia Fox.
Julia hinted yesterday that she would not miss the couture week either — she had already come to the Kenzo show, which closed the men's fashion week, in a Schiaparelli denim outfit. This time, the rapper's new lover chose a jacket dress made of shiny leather with cones on the chest. And West himself turned to his favorite accessory of late — an almost solid balaclava mask.
But, of course, everyone came to see not only West and his girlfriend — Daniel Roseberry's collections always become an event and, as a rule, a real balm for the soul of all true couture fans.
This time the designer worked with a small set of expressive means. The collection is built on only three shades - black, white and gold, but the effect of this was no less.
Inspired by the "mythical High Priestess," Roseberry's new collection is the definition of elegant understated luxury. Simple silhouettes are complemented by large jewelry and accessories branded for the designer, smooth lines emphasize the curves of the female body, and minimalism is framed by complex, detailed gold designs.
The Ukrainian model Kristy Ponomar also took part in the fashion show, which became one of the brightest discoveries of last year. For the girl, it was her debut at the couture show.