Madonna was accused of justifying domestic violence, appropriation and exploitation of labor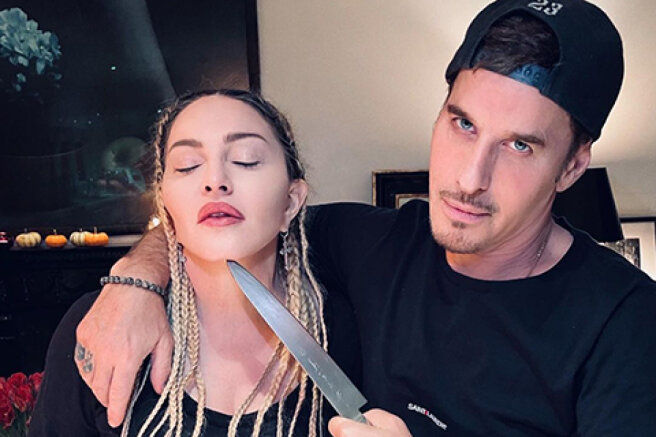 63-year-old Madonna has again caused anger among netizens. Yesterday, the singer shared a series of pictures on Instagram, after which she was accused of justifying domestic violence, cultural appropriation and labor exploitation.
In one of the pictures, the star poses with photographer Steven Klein, who jokingly put a knife to her throat. At the same time, the singer holds a magazine with her photo in her hands, which recreates the scene of Marilyn Monroe's death. On the web, the singer's idea (or her black humor) they did not appreciate it and saw in this shot with a knife the glorification of violence.
This image humiliates and glorifies violence against women, rather than elevating art. Madonna, please don't pose with a man holding a knife to your throat. This is not a photo shoot — it's really bad! Is a knife at a woman's neck an art? The patriarchal system is very pleased with you. Turn on your brain! Women suffer from abuse, and you publish a knife held to your throat. This is a disgusting message,
- they write on the web.
Madonna, it is worth noting, is rumored to have been a victim of domestic violence herself. In the late 1980s, the media wrote a lot that she was often beaten by her ex-husband Sean Penn (and allegedly once even with a baseball bat). The star herself denied this information years later and called it an "outrageous lie." They are on good terms with Penn now.
However, associations with domestic violence are not all that angered people on the new photos of Madonna on Instagram: the singer's hairstyle did not pass the likes test either. Madonna made afrocosas, for which she was accused of appropriating cultural values. For the desire to experiment with the appearance, the singer Adele, who did the traditional hairstyle of the bantu peoples, already got it.
Madonna, we recall, at the same time, in addition to two biological children, there are three foster children, and they are dark—skinned.
People were also angered by Madonna's words about the exploitation of labor — the singer said that her team worked for free on her latest project Madame X.
Worked for free? Why didn't you pay them? Don't you have enough cash? Why do people work for free and sleep on couches when they work for a multimillionaire?
- the network was outraged.
Madonna, however, is no stranger to criticism — she is judged on the web with enviable regularity both for her scandalous statements and for provocative photo shoots.